A Proof-of-Concept Portable Water Purification Device Obtained from PET Bottles and a Magnetite-Carbon Nanocomposite
1
Liceo Scientifico "Ascanio Sobrero", via Candiani d'Olivola 19, 15033 Casale Monferrato, Italy
2
Istituto di Scienze e Tecnologie Molecolari, Consiglio Nazionale delle Ricerche, c/o Polo Scientifico e Tecnologico via G. Fantoli 16/15, 20138 Milano, Italy
3
Department of Polymer Science and Engineering, Montanuniversität, Otto-GlöckelStrasse 8, 8700 Leoben, Austria
†
Present address: Laboratory for Soft and Living Materials, Department of Materials, ETH Zürich, Vladimir-Prelog-Weg 5, 8093 Zürich, Switzerland.
*
Author to whom correspondence should be addressed.
Received: 18 March 2018 / Revised: 22 June 2018 / Accepted: 28 June 2018 / Published: 1 July 2018
Abstract
Widespread access to potable water is still far from being granted to populations of developing countries, especially in rural zones. For this reason, the development of easy-to-make, easy-to-use water purification devices is a topic of great social and economic importance. Poly(ethylene terephthalate) (PET) bottles are available worldwide, even in the remotest and poorest countries, as testified by the increasingly common practice of re-using bottles for solar water disinfection (SODIS). Here, we demonstrate how PET bottles could be re-used as a proof-of-concept water purification system. In this way, virtually the same bottle could be used first for SODIS and then for removing chemical contaminants. In the proposed approach, the bottles are treated with ethylenediamine to introduce amine groups, which are subsequently protonated with dilute acid. These functional groups allow the stable adsorption of a magnetite-activated carbon nanocomposite, which is prepared by a simple coprecipitation protocol. The efficiency of the nanocomposite and of the resulting prototype to remove model inorganic and organic pollutants (hexavalent chromium, industrial dyes) from water has been demonstrated. The proposed purification device is easy, cheap, and effective, all factors which could promote its use in developing and rural countries.
View Full-Text
►

▼

Figures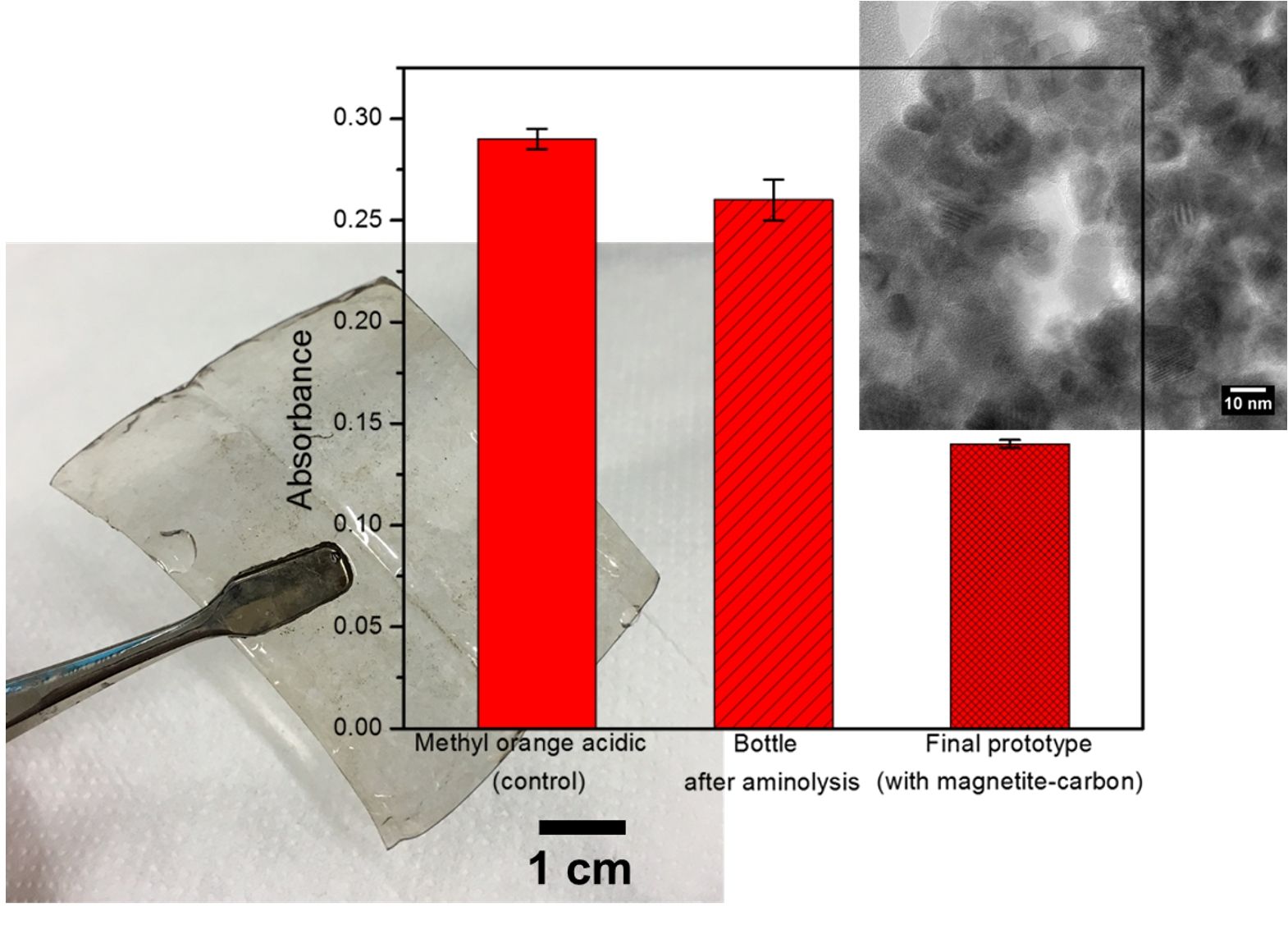 Graphical abstract
This is an open access article distributed under the
Creative Commons Attribution License
which permits unrestricted use, distribution, and reproduction in any medium, provided the original work is properly cited (CC BY 4.0).

Share & Cite This Article
MDPI and ACS Style
Gaita, E.; Evangelisti, C.; Panzarasa, G. A Proof-of-Concept Portable Water Purification Device Obtained from PET Bottles and a Magnetite-Carbon Nanocomposite. Recycling 2018, 3, 31.
Comments
[Return to top]