Potential of Briquetting as a Waste-Management Option for Handling Market-Generated Vegetable Waste in Port Harcourt, Nigeria
1
Pan African University Life and Earth Sciences Institute (including Health and Agriculture), University of Ibadan, Ibadan 200284, Nigeria
2
Department of Wood Products Engineering, University of Ibadan, Ibadan 200284, Nigeria
*
Author to whom correspondence should be addressed.
Received: 8 March 2018 / Revised: 22 March 2018 / Accepted: 27 March 2018 / Published: 28 March 2018
Abstract
The conversion of biomass to high-density briquettes is a potential solution to solid waste problems as well as to a high dependence on fuel wood in developing countries. In this study, the potential of converting vegetable waste to briquettes using waste paper as a binder was investigated. A sample size of 30 respondents was interviewed using a self-administered questionnaire at the D-line fruit and vegetable market in Port Harcourt, Nigeria. Carrot and cabbage leaves were selected for briquetting based on their availability and heating value. This waste was sun-dried, pulverized, torrefied and fermented. Briquettes were produced with a manual briquette press after the processed vegetable waste was mixed with waste paper in four paper:waste ratios, i.e., 10:90, 15:85, 20:80 and 25:75. The moisture content, densities and cooking efficiency of the briquettes were determined using the oven-drying method, the water-displacement method, and the water-boiling test, respectively. There was no observed trend in moisture content values of the briquettes, which varied significantly between 3.0% and 8.5%. There was no significant variation in the densities, which ranged from 0.79 g/cm
3
to 0.96 g/cm
3
for all the briquette types. A degree of compaction above 300% was achieved for all the briquette types. Water-boiling test results revealed that 10:90 paper:sun-dried cabbage briquettes had the highest ignitability of 0.32 min. Torrefied carrot briquettes with 25% paper had the least boiling time and the highest burning rates of 9.21 min and 4.89 g/min, respectively. It was concluded that cabbage and carrot waste can best be converted into good-quality briquettes after torrefaction.
View Full-Text
►

▼

Figures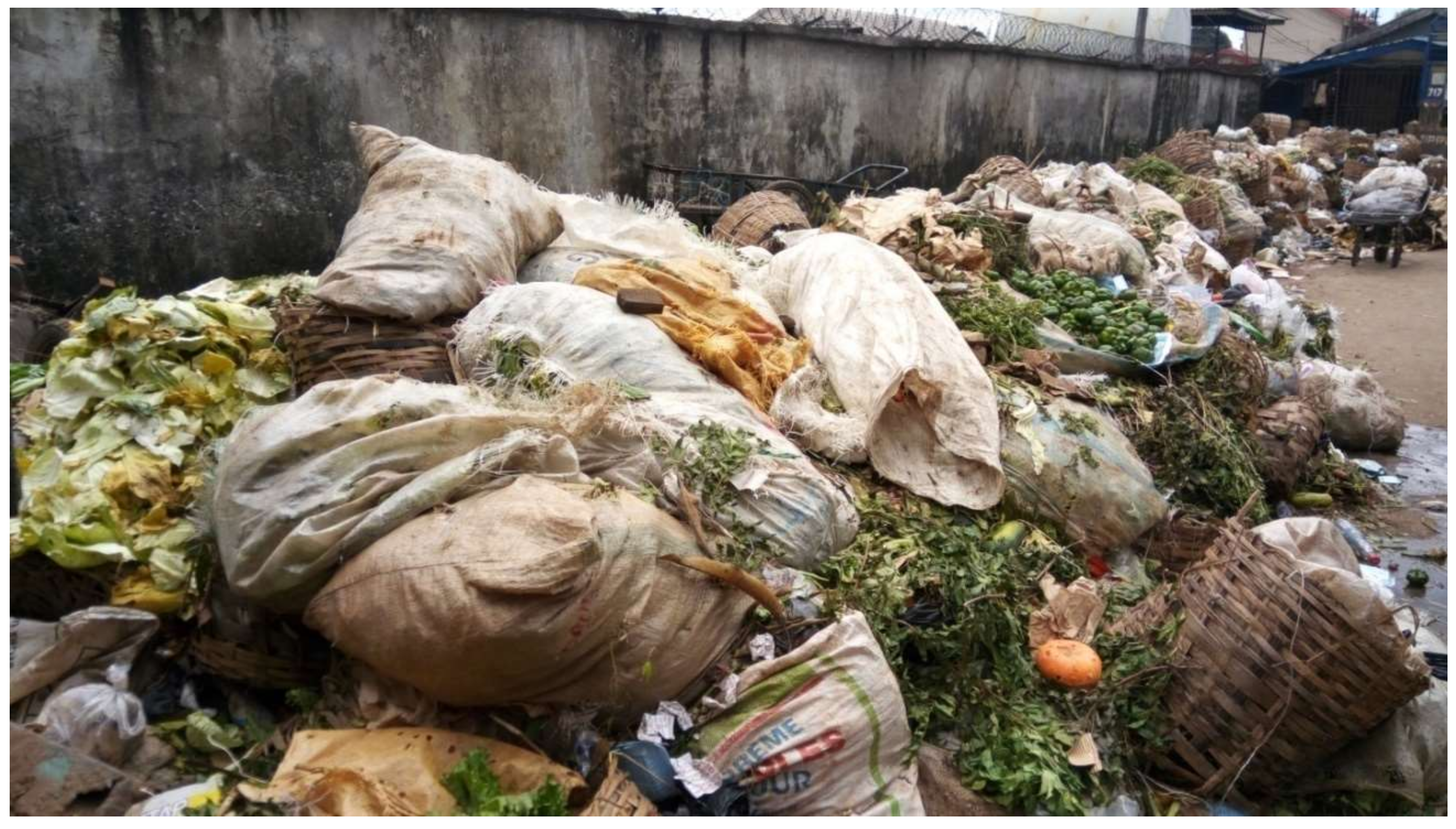 Figure 1
This is an open access article distributed under the
Creative Commons Attribution License
which permits unrestricted use, distribution, and reproduction in any medium, provided the original work is properly cited (CC BY 4.0).

Share & Cite This Article
MDPI and ACS Style
Akande, O.M.; Olorunnisola, A.O. Potential of Briquetting as a Waste-Management Option for Handling Market-Generated Vegetable Waste in Port Harcourt, Nigeria. Recycling 2018, 3, 11.
Comments
[Return to top]