Synthesis, Crystal Structures, and Magnetic Properties of Mixed-Valent Tetranuclear Complexes with Y-Shaped MnII2MnIII2 Core
1
Department of Applied Chemistry for Environment and Reserach Center for Coordination Molecule-Based Devices, School of Science and Technology, Kwansei Gakuin University, 2-1 Gakuen, Sanda 669-1337, Japan
2
Department of Science, Faculty of Science, Yamagata University, 1-4-12 Kojirakawa, Yamagata 990-8560, Japan
*
Author to whom correspondence should be addressed.
Received: 31 December 2018 / Revised: 23 January 2019 / Accepted: 24 January 2019 / Published: 28 January 2019
Abstract
Tetranuclear Mn
II
2
Mn
III
2
complexes with 1,3-bis(5-bromo-3-metoxysalicylidenaminomethyl)-2-propanol (H
3
bmsap) and 1,3-bis(5-chloro-3-methoxysalicylidenaminomethyl)-2-propanol (H
3
cmsap), [Mn
4
(bmsap)
2
(CH
3
CO
2
)
3
(CH
3
O)] (
3
) and [Mn
4
(cmsap)
2
(CH
3
CO
2
)
3
(CH
3
O)] (
4
), were synthesized and characterized by elemental analysis, infrared and diffused reflectance spectra and variable-temperature magnetic susceptibility measurements in the 2–300 K range. The crystal structures of
3
and
4
revealed a Y-shaped tetranuclear manganese cluster formed by the two Schiff-base ligands, three kinds of acetato ligands (bidentate, syn–anti-bridging, and syn–syn-bridging), and µ-methoxido ligand. The magnetic data showed the magnetic interactions among the four manganese atoms are antiferromagnetic as a whole within the tetranuclear cluster.
View Full-Text
►

▼

Figures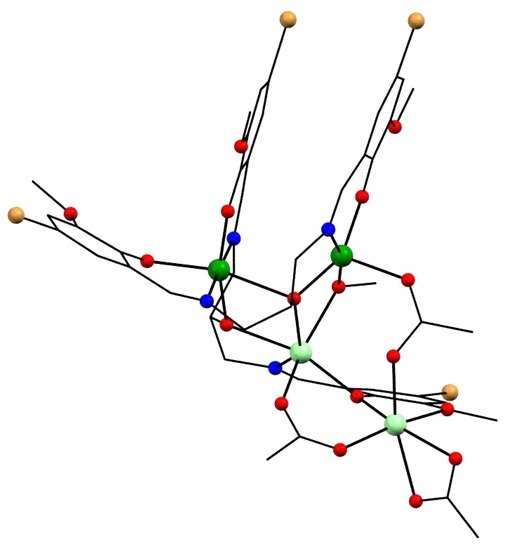 Graphical abstract
This is an open access article distributed under the
Creative Commons Attribution License
which permits unrestricted use, distribution, and reproduction in any medium, provided the original work is properly cited (CC BY 4.0).

Share & Cite This Article
MDPI and ACS Style
Mikuriya, M.; Kurahashi, S.; Tomohara, S.; Koyama, Y.; Yoshioka, D.; Mitsuhashi, R.; Sakiyama, H. Synthesis, Crystal Structures, and Magnetic Properties of Mixed-Valent Tetranuclear Complexes with Y-Shaped MnII2MnIII2 Core. Magnetochemistry 2019, 5, 8.
Note that from the first issue of 2016, MDPI journals use article numbers instead of page numbers. See further details here.
Related Articles
Comments
[Return to top]