Open Access This article is
freely available
re-usable
Article
Synthesis, Characterization and Magnetic Studies of a Tetranuclear Manganese(II/IV) Compound Incorporating an Amino-Alcohol Derived Schiff Base
1
Department of Chemistry, Jadavpur University, Raja S. C. Mullick Road, Kolkata 700032, India
2
Department of Basic Engineering Science and Humanities, Netaji Subhash Engineering College, Panchpota, Kolkata 700152, India
3
Department of Chemistry, Jalpaiguri Government Engineering College, Jalpaiguri 735102, India
4
School of Engineering and Physical Sciences, Heriot Watt University, Edinburgh EH144AS, UK
5
Instituto de Ciencia Molecular (ICMol), Departamento de Química Inorgánica, Universidad de Valencia, 46980 Paterna, Spain
*
Author to whom correspondence should be addressed.
Received: 31 October 2018 / Accepted: 6 December 2018 / Published: 11 December 2018
Abstract
:
A new tetranuclear mixed-valence manganese(II/IV) compound [MnIIMnIV3(μ-Cl)3(µ3-O)(L)3] (1) (where H3L = (3E)-3-((Z)-4-hydroxy-4-phenylbut-3-en-2-ylideneamino)propane-1,2-diol) has been synthesized and characterized by different physicochemical methods. Single crystal X-ray diffraction analysis reveals that 1 is a tetrahedral cluster consisting of a Mn4Cl3O4 core in which the only Mn(II) ion is joined through three μ2-O bridges to an equilateral triangle of Mn(IV) ions, which are connected by a μ3-O and three μ2-Cl bridges. The redox behavior of 1 was studied by cyclic voltammetry. Variable temperature magnetic susceptibility measurements of 1 revealed predominant antiferromagnetic coupling inside the Mn4Cl3O4 cluster.
Keywords:
tetranuclear cluster; manganese(II/IV); Schiff base; crystal structure; tetrahedral clusters; electrochemistry; antiferromagnetic coupling
1. Introduction
Paramagnetic metal clusters are widely utilized in magnetic, electronic, optical, biological, and catalytic studies and applications [
1
,
2
]. Though researchers are engaged in the development of several synthetic strategies to design such complexes with high nuclearity, their synthesis is still challenging [
3
,
4
,
5
]. Polydentate ligands, functioning as chelators and bridges, are capable of coordinating with several metal centers and their pendant donating atoms can join other metal centers to construct various intricate structures [
6
,
7
]. Schiff bases derived from amino alcohols have proven to possess the ability to form polynuclear complexes [
1
,
2
], which play a significant role as biomimetic models of metallobiomolecules [
8
,
9
].
Catalytic and magnetic behaviors of many mixed-valence manganese complexes have been investigated using different synthetic strategies [
4
,
10
]. The most common oxidation state originates in these hetero-valence manganese complexes are Mn
II
, Mn
III
and Mn
IV
[
11
,
12
,
13
]. Due to the presence of numerous possibilities in different magnetic coupling between pairs of ions in various oxidation states (II/II, II/III, II/IV, III/III, III/IV and IV/IV pairs), very high values of total molecular spin (S) [
14
,
15
,
16
,
17
] are an expected phenomenon in these complexes. The molecular magnetism of mixed-valence tetranuclear manganese clusters has been explored, and has been examined as biomimetic models of PS II [
1
,
2
,
14
,
15
,
16
].
In this context, we have isolated a new mixed-valence manganese compound [Mn
II
Mn
IV
3
(μ-Cl)
3
(µ
3
-O)(L)
3
] (
1
), incorporating a new Schiff base ligand H
3
L (H
3
L = (3E)-3-((Z)-4-hydroxy-4-phenylbut-3-en-2-ylideneamino)propane-1,2-diol) (
Scheme 1
). The title compound has been characterized by micro-analytical analysis, FT-IR and UV/Visible spectroscopy, cyclic voltammetry and variable temperature magnetic measurements. The single crystal X-ray structure determination shows that
1
is a tetrahedral manganese cluster bearing a Mn
4
Cl
3
O
4
core. The bond valence sum analysis (BVS) reveals different valence states in the manganese centers, with one Mn(II) and three Mn(IV) ions. The electrochemical characterization of the complex reveals a two-step single electron redox process involving the Mn(IV) centers. Variable temperature magnetic susceptibility measurements show predominant antiferromagnetic intra-cluster coupling in compound
1
.
2. Results and Discussion
4. Conclusions
A new tetranuclear tetrahedral-shaped mixed valence manganese(II/IV) complex based on a bridging tetradentate Schiff base has been synthesized and characterized by spectroscopic methods. Single crystal X-ray diffraction studies reveal that Mn(IV) ions adopt a distorted octahedral geometry whereas the Mn(II) ion displays a slightly distorted trigonal prismatic geometry. The Mn(IV) ions embraced by three μ-chlorido and a single μ3-oxido bridge in a triangular plane are connected with the Mn(II) ion at the apex through endogenic μ-alkoxido bridges, resulting in a Mn4Cl3O4core. The magnetic susceptibility study shows a weak antiferromagnetic coupling inside the Mn4Cl3O4 core of this tetrameric cluster compound.
Supplementary Materials
The following supplementary data are available online. Figure S1: IR spectra of H3L and 1. Figure S2: Electronic spectrums of H3L. Figure S3: 1H NMR spectrum of H3L. Table S1: Crystallographic information and structure refinement parameters for 1.
Author Contributions
M.N. and S.S. planned and designed the experiments; M.N. performed the syntheses and carried out micro-analytical and spectroscopic characterization; G.R. performed crystallographic measurements and characterization; C.J.G.-G. carried out the magnetic studies; M.N. and S.S. wrote the paper.
Acknowledgements
M. Nandy is thankful to the CSIR, New Delhi, Government of India, for presenting a Senior Research Fellowship (SRF) to him [CSIR sanction No.09/096(0598)/2009-EMR-I]. S. Shit is also grateful to UGC, New Delhi, India for financial support (Minor Research Project No. F. PSW-65/12-13 (ERO))]. Financial assistance from the Spanish MINECO (project CTQ2017-87201-P AEI/FEDER, EU) and the Generalitat Valenciana (project Prometeo II/2014/076) are gratefully acknowledged.
Conflicts of Interest
The authors declare there are no conflicts of interest.
Scheme 1. Schematic diagram for the synthesis of the Schiff base (H3L) and its deprotonated form (L3−).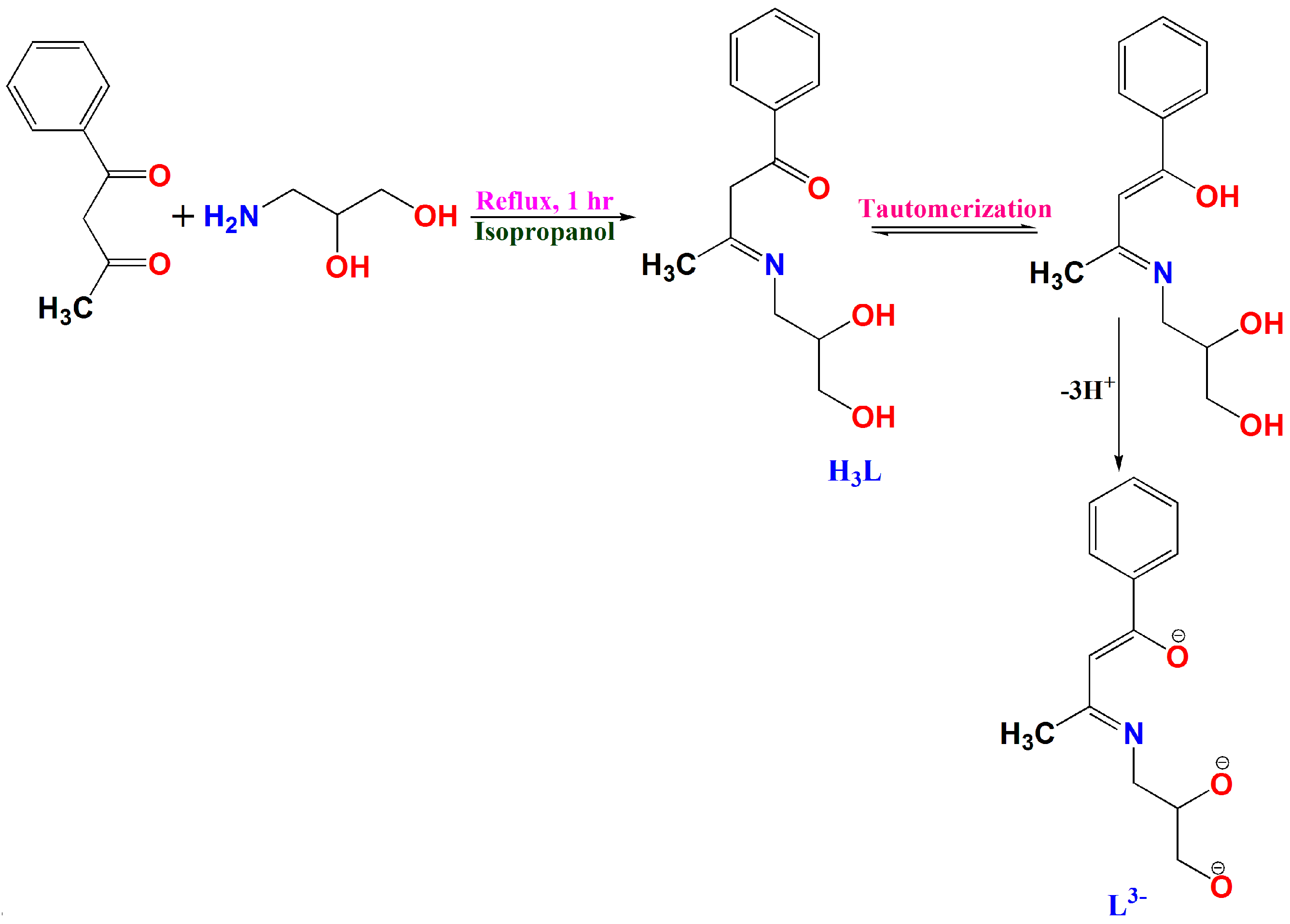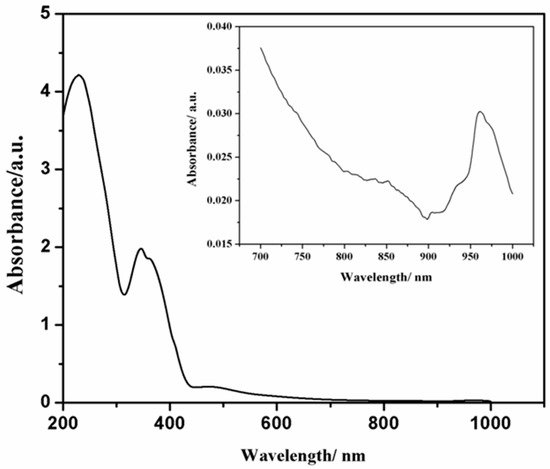 Figure 1. UV/Visible spectrum of 1, recorded in acetonitrile at 300K. Inset: zoom of the high wavelength region showing the d-d band.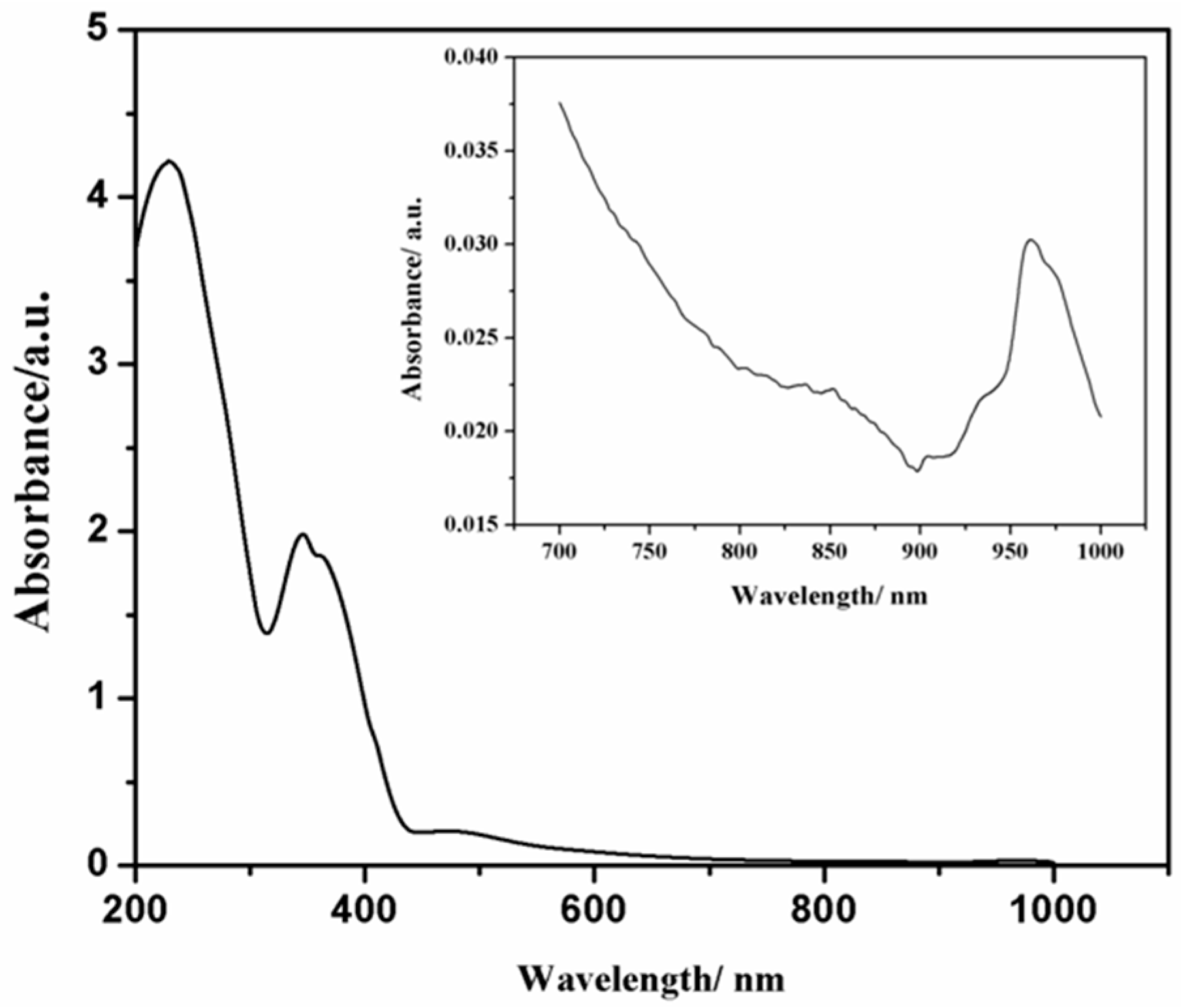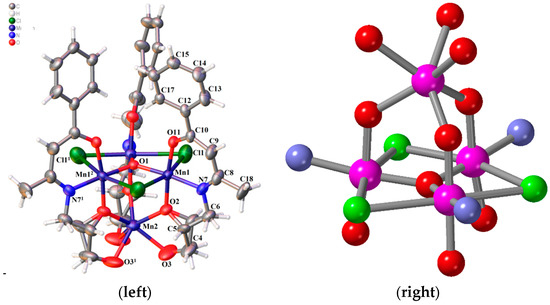 Figure 2. (left) Perspective view of the compound 1 with atom labels. (right) View of atetrahedral Mn4 core with coordinating atoms in compound 1. Symmetry operations: 1 = 1 − y, x − y, z; 2 = 1 + y − x, 1 − x, z.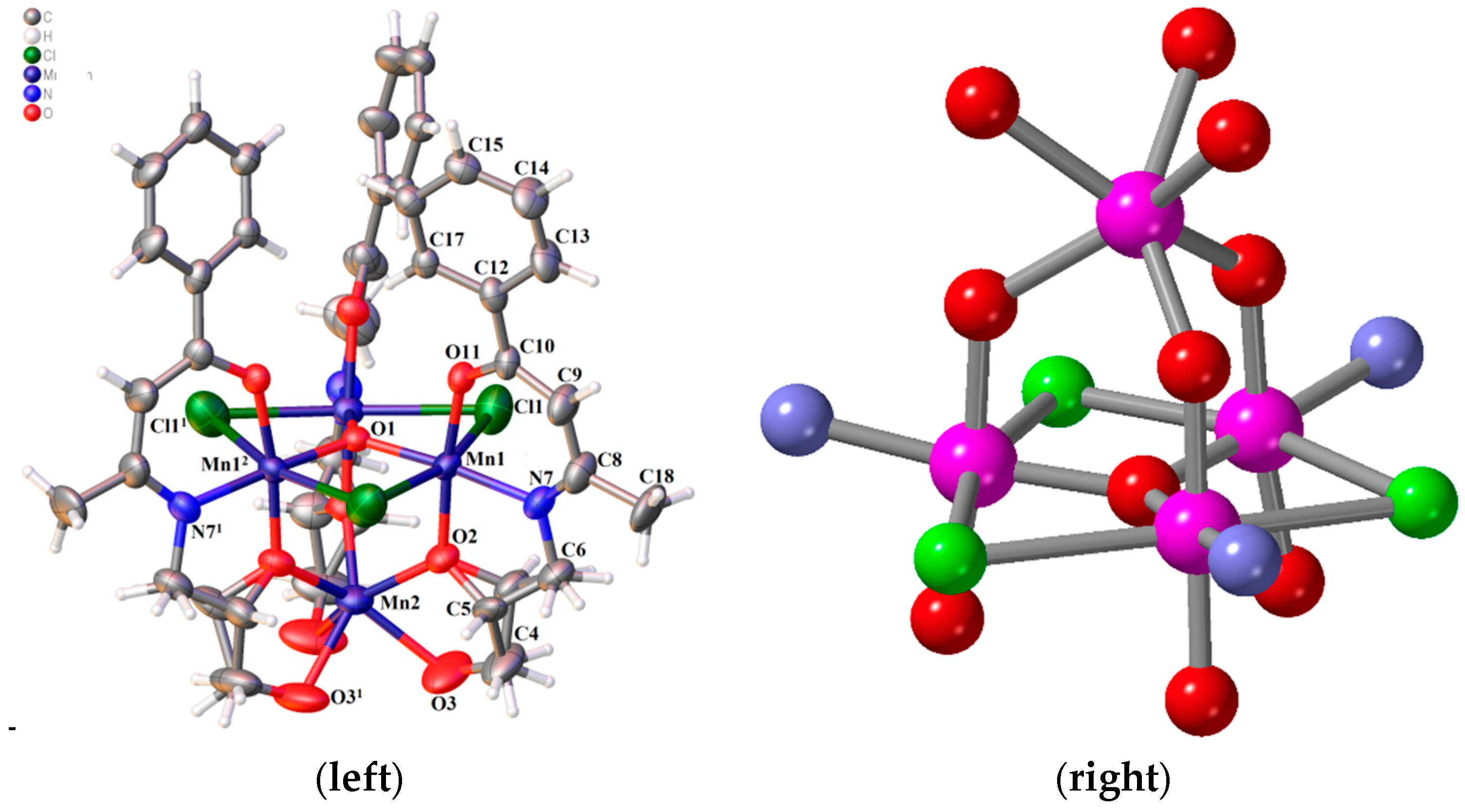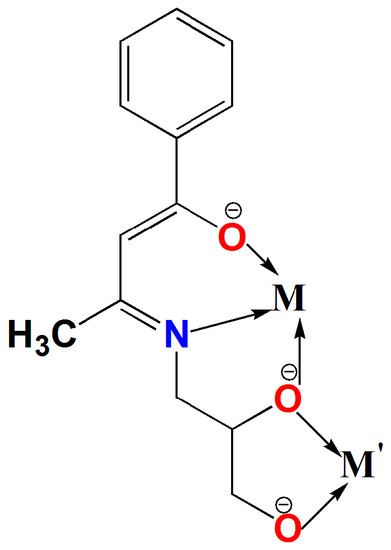 Scheme 2. Coordination modes of deprotonated Schiff base ligand L3− with metal ion (M = Mn(IV) and M′ = Mn(II)) in 1.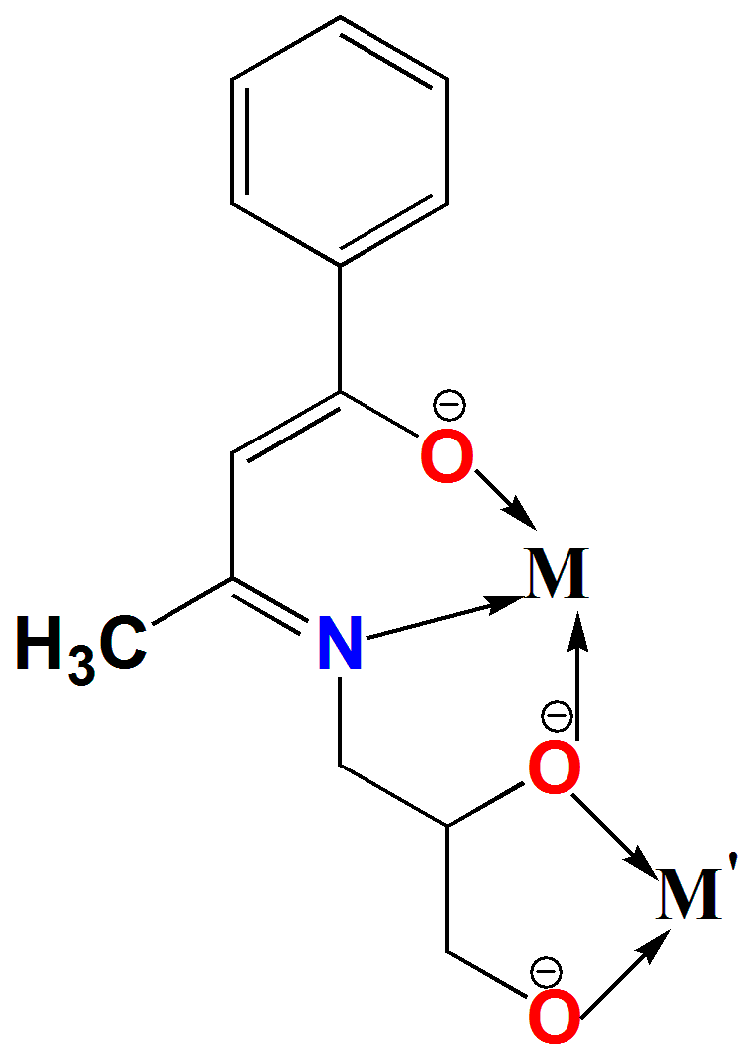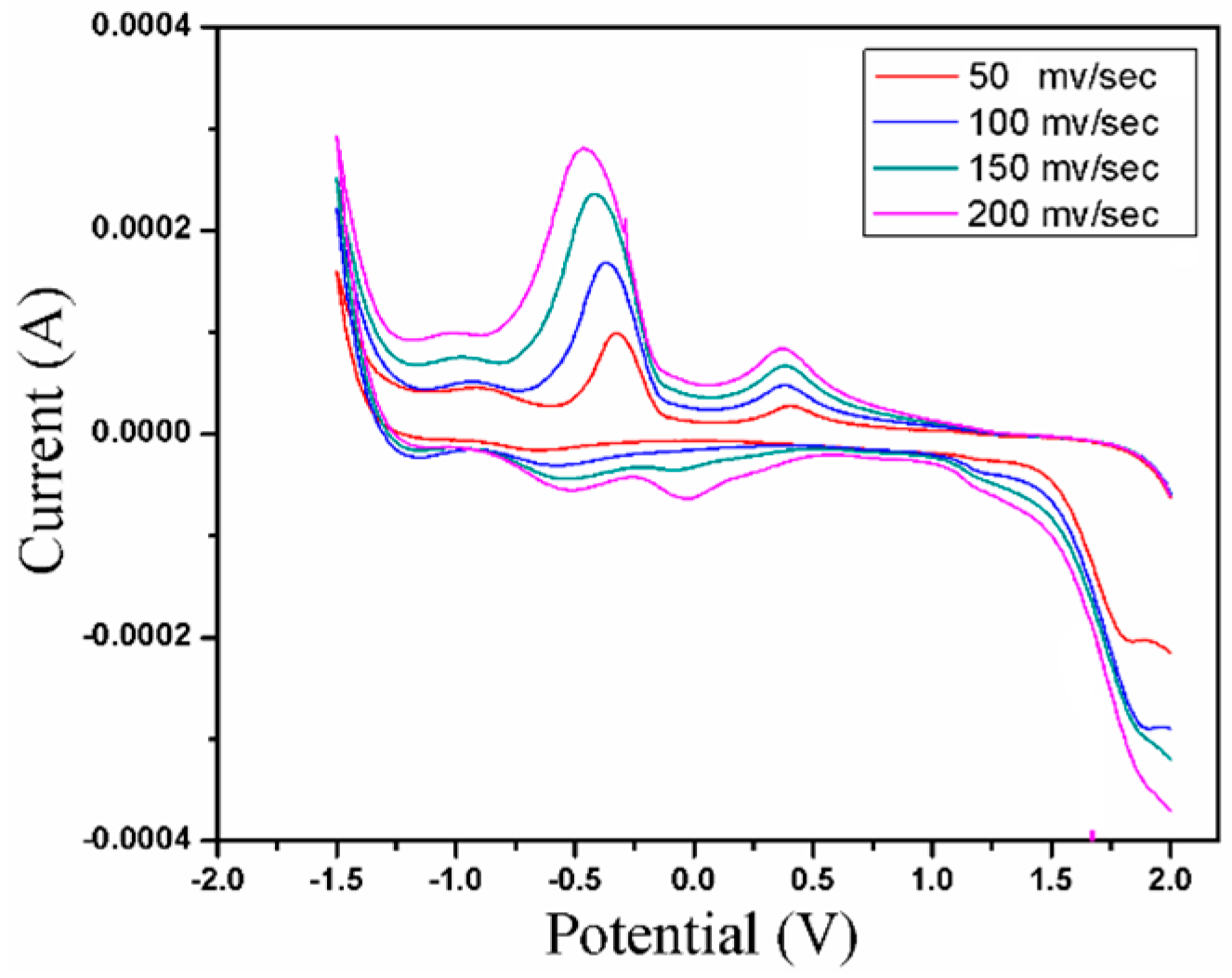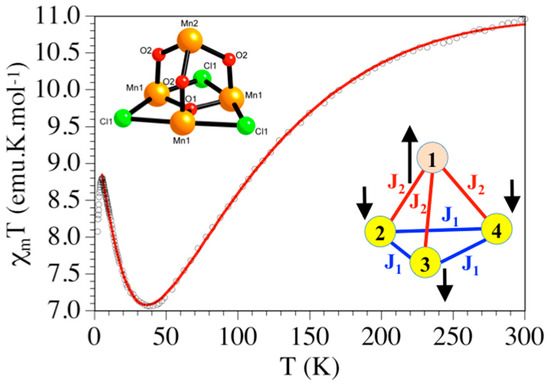 Figure 4. χmT (per Mn4 cluster) vs. T plot for compound 1. Solid line indicates the best fit to the tetramer model (see text). Inset shows exchange scheme of the Mn4 cluster.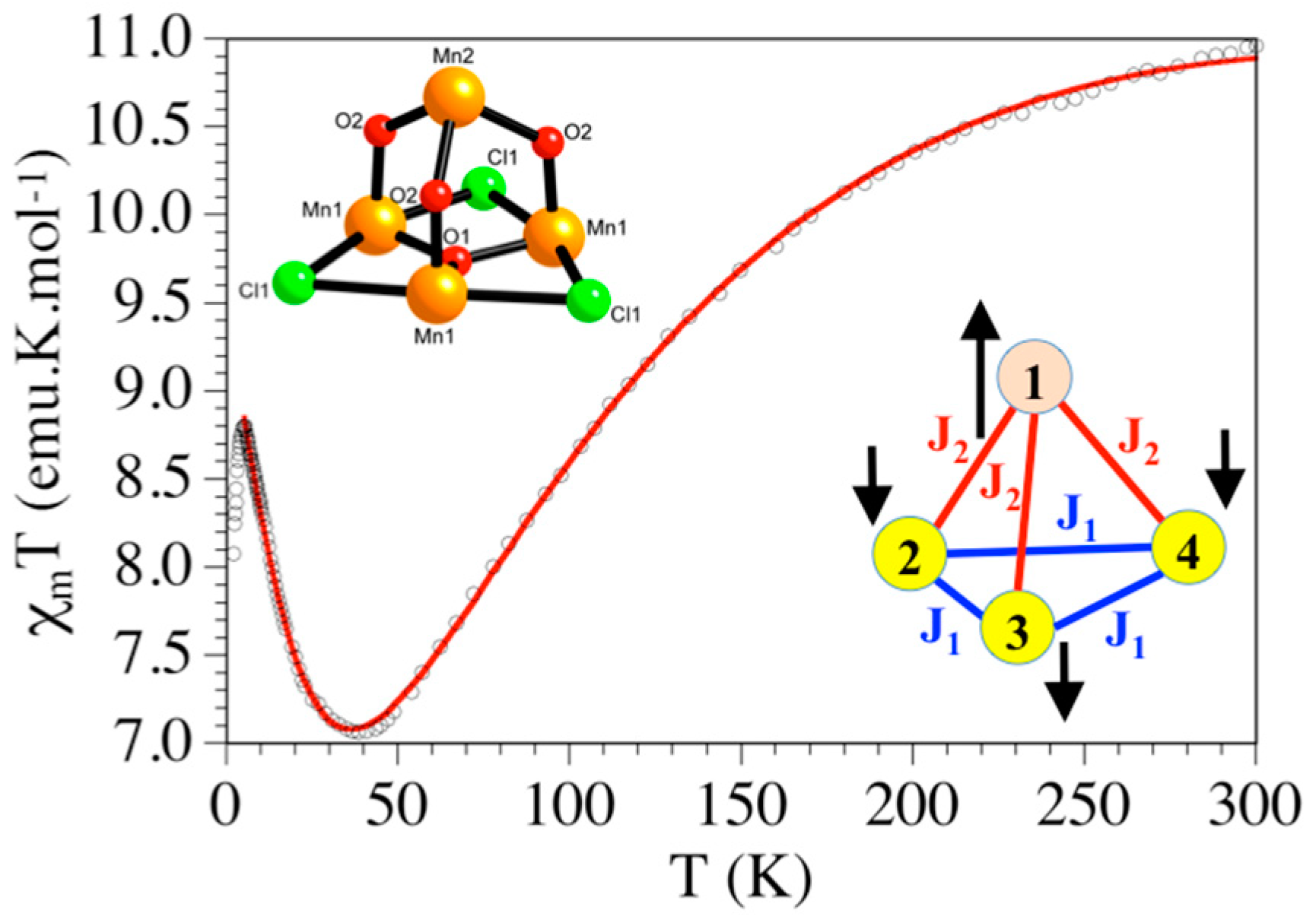 Bond Lengths (Å)
Mn1-Cl1
2.663(3)
Mn2-O2
2.134(5)
Mn1-O1
1.8873(11)
Mn2-O3
2.115(8)
Mn1-O2
1.892(5)
Mn2-O3
2.227(7)
Mn1-O11
1.890(4)
Mn2-O31
2.228(7)
Mn1-N7
1.984(6)
Mn1-Cl11
2.719(3)
Bond Angles (°)
Cl1-Mn1-Cl11
164.90(8)
O21-Mn2-O2
93.30(18)
O1-Mn1-Cl1
83.38(6)
O21-Mn2-O3
147.6(4)
O1-Mn1-Cl11
81.83(7)
O22-Mn2-O3
116.6(4)
O1-Mn1-O2
93.2(3)
O2-Mn2-O3
74.1(2)
O1-Mn1-O11
94.3(2)
O32-Mn2-O3
85.0(3)
O1-Mn1-N7
174.7(3)
O31-Mn2-O3
85.0(3)
O2-Mn1-Cl1
91.20(18)
O32-Mn2-O31
85.0(3)
O2-Mn1-Cl11
92.64(17)
Mn1-Cl1-Mn12
74.35(8)
O2-Mn1-N7
82.1(2)
Mn11-O1-Mn12
119.00(7)
O11-Mn1-Cl1
91.87(16)
Mn1-O2-Mn2
125.5(2)
O11-Mn1-Cl11
86.22(16)
O11-Mn1-O2
172.2(2)
O11-Mn1-N7
90.3(2)
N7-Mn1-Cl1
99.1(2)
N7-Mn1-Cl11
95.9(2)
Symmetry operations: 1 = 1 − y, x − y, z; 2 = 1 − x + y, 1 − x, z.

Table 2. Shape values for the five possible coordination geometries found for coordination number six in Mn1 and Mn2 in compound 1. The minimum values are indicated in bold.
| Geometry | Symmetry | Mn1 | Mn2 |
| --- | --- | --- | --- |
| HP-6 | D6h | 33.617 | 36.993 |
| PPY-6 | C5v | 25.913 | 18.084 |
| OC-6 | Oh | 3.592 | 8.406 |
| TPR-6 | D3h | 14.942 | 2.205 |
| JPPY-6 | C5v | 28.178 | 22.087 |
HP-6 = Hexagon; PPY-6 = Pentagonal pyramid; OC-6 = Octahedron; TPR-6 = Trigonal prism; JPPY-6 = Johnson pentagonal pyramid J2.

© 2018 by the authors. Licensee MDPI, Basel, Switzerland. This article is an open access article distributed under the terms and conditions of the Creative Commons Attribution (CC BY) license (http://creativecommons.org/licenses/by/4.0/).