Abrupt Spin Crossover Behavior in a Linear
N1

,

N2

-Triazole Bridged Trinuclear Fe(II) Complex

1

Institute of Inorganic and Analytical Chemistry, Johannes Gutenberg University Mainz, Duesbergweg 10-14, 55128 Mainz, Germany

2

Graduate School Materials Science in Mainz, Staudingerweg 9, D-55128 Mainz, Germany

3

Fachbereich Physik, Technische Universität Kaiserslautern, Erwin-Schrödinger-Street 46, 67663 Kaiserslautern, Germany

*

Author to whom correspondence should be addressed.

Received: 28 June 2018 / Revised: 31 July 2018 / Accepted: 1 August 2018 / Published: 7 August 2018
Abstract
The synthesis, structures and magnetic properties of a new trinuclear spin crossover complex
[FeII3(
pyrtrz)6(TsO)6]·10H2O
·2CH3OH
(
C2
) and its analogue binuclear
[Fe
II
2
(
pyrtrz
)5(SCN)4]·7H2O
(
C1
), are reported here. These two compounds are synthesized based on the
pyrrolyl
functionalized Schiff base 1,2,4-triazole ligand 4-((1
H
-pyrrol-2-yl)methylene-amino)-4
H
-1,2,4-triazole (pyrtrz), which represent rare discrete multi-nuclear species, with
µ
2
-
N1
,
N2
-triazole bridges linking the Fe
II
centers. DC magnetic susceptibility measurements revealed an abrupt single-step spin crossover (SCO) behavior for compound
2
on the central Fe
II
site and single-crystal X-ray diffraction (173 K) showed that this compound crystallizes in the monoclinic space group (
P21/c
), and multiple intramolecular interactions were found responsible for the abrupt transition. Compound
1
is a binuclear complex with thiocyanate as terminal ligands. This compound stays in high spin state over the whole temperature range and displays weak antiferromagnetic exchange coupling.
View Full-Text
►

▼

Figures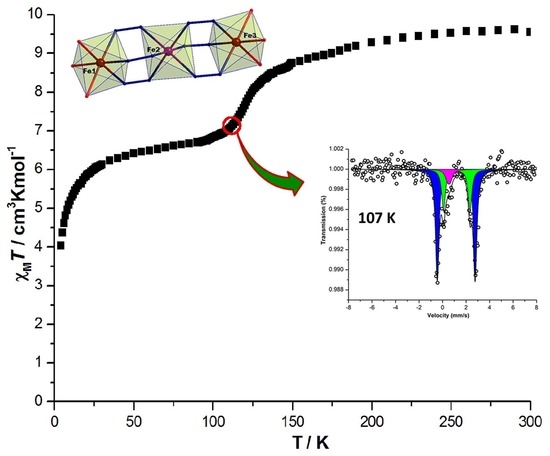 Graphical abstract
This is an open access article distributed under the
Creative Commons Attribution License
which permits unrestricted use, distribution, and reproduction in any medium, provided the original work is properly cited (CC BY 4.0).

Share & Cite This Article
MDPI and ACS Style
Li, A.-M.; Hochdörffer, T.; Wolny, J.A.; Schünemann, V.; Rentschler, E. Abrupt Spin Crossover Behavior in a Linear N1,N2-Triazole Bridged Trinuclear Fe(II) Complex. Magnetochemistry 2018, 4, 34.
Note that from the first issue of 2016, MDPI journals use article numbers instead of page numbers. See further details here.
Related Articles
Comments
[Return to top]