Synthesis, Crystal Structures, and Magnetic Properties of Lanthanide (III) Amino-Phosphonate Complexes
1
School of Chemistry, The University of Manchester, Oxford Road, Manchester M13 9PL, UK
2
Department of Chemistry, College of Education, Salahaddin University-Erbil, 44002 Kurdistan Region, Iraq
Received: 28 May 2018 / Revised: 19 June 2018 / Accepted: 19 June 2018 / Published: 22 June 2018
Abstract
Two isostructural lanthanide amino-phosphonate complexes [Ln
10
(μ
3
-OH)
3
(µ-OH)(CO
3
)
2
(O
2
C
t
Bu)
15
(O
3
PC
6
H
10
NH
2
)
3
(O
3
PC
6
H
10
NH
3
)
2
(H
2
O)
2
][Et
2
NH
2
] (Ln = Gd(III),
1
and Tb(III),
2
) have been obtained through reflux reactions of lanthanide pivalates with, a functionalized phosphonate, (1-amino-1-cyclohexyl)phosphonic acid and diethylamine (Et
2
NH) in acetonitrile (MeCN) at 90 °C. Both compounds have been characterized with elemental analysis, single-crystal X-ray diffraction methods, and magnetic measurements. The molecular structure of compounds
1
and
2
reveal two highly unsymmetrical complexes comprising ten lanthanide metal centers, where the lanthanide metal ion centers in the cages are linked through pivalate units and further interconnected by CPO
3
tetrahedra to build the crystal structure. The magnetic behavior of
1
and
2
was investigated between ambient temperature and ca. 2 K, the magnetic measurements for compound
1
suggests antiferromagnetic interactions between the Gd(III) metal ion centers at low temperatures. The large number of isotropic Gd(III) ions comprising
1
makes it a candidate for magnetocaloric applications, thus the magnetocaloric properties of this molecular cage were investigated indirectly through isothermal magnetisation curves. The magnetic entropy change was found to be 34.5 J kg
−1
K
−1
, making
1
a plausible candidate in magnetic cooling applications.
View Full-Text
►

▼

Figures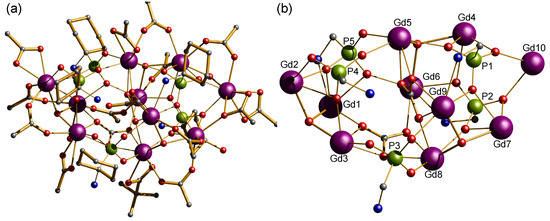 Figure 1
This is an open access article distributed under the
Creative Commons Attribution License
which permits unrestricted use, distribution, and reproduction in any medium, provided the original work is properly cited (CC BY 4.0).

Share & Cite This Article
MDPI and ACS Style
Zangana, K.H. Synthesis, Crystal Structures, and Magnetic Properties of Lanthanide (III) Amino-Phosphonate Complexes. Magnetochemistry 2018, 4, 29.
Note that from the first issue of 2016, MDPI journals use article numbers instead of page numbers. See further details here.
Related Articles
Comments
[Return to top]