Cu(II)–N6-Alkyladenine Complexes: Synthesis, X-ray Characterization and Magnetic Properties
1
Departament de Química, Universitat de les Illes Balears, Ctra. de Valldemossa km 7.5, 07122 Palma de Mallorca, Baleares, Spain
2
Department of Inorganic and Organic Chemistry, University of Barcelona, Martí i Franquès 1-11, 08028 Barcelona, Spain
3
Institut de Ciència de Materials de Barcelona (ICMAB-CSIC), Campus Universitat Autònoma de Barcelona, 08193 Cerdanyola, Spain
*
Author to whom correspondence should be addressed.
Received: 8 May 2018 / Revised: 17 May 2018 / Accepted: 19 May 2018 / Published: 23 May 2018
Abstract
Three new dinuclear copper(II) complexes [Cu
2
(μ–HL
n
)
2
(μ-Cl)
2
Cl
2
]Cl
2
(
1
–
3
) have been synthesized and structurally characterized by single-crystal X-ray diffraction, where HL
x
, (HL
1
= N
6
-propyladeninium, HL
2
= N
6
-butyladeninium and HL
3
= N
6
-isobutyladeninium) are N
6
-alkyl bidentate NN donor adenine bases. Complexes
1
–
3
exhibit a coplanar arrangement of both N
6
-alkyladeninium moieties with UD conformation, with the terms U(up) or D(down) referring to the coordination of each pyrimidinic N
3
atoms to the upper or lower metal center. In the three complexes, both copper atoms are five-coordinated (N
2
Cl
3
donor set), resembling a compressed trigonal bipyramid. Each adenine moiety is protonated in N
1
and the positive charge balanced by chloride counterions. Magnetic measurements of complexes
1
and
3
in the 2–300 K temperature range indicate antiferromagnetic coupling with
J
= −156.1(7) and
J
= −151(2) cm
−1
, respectively. Density functional theory calculations have also been performed in order to estimate the exchange coupling constants in these complexes. The theoretically calculated
J
values are in good agreement with the experimental values.
View Full-Text
►

▼

Figures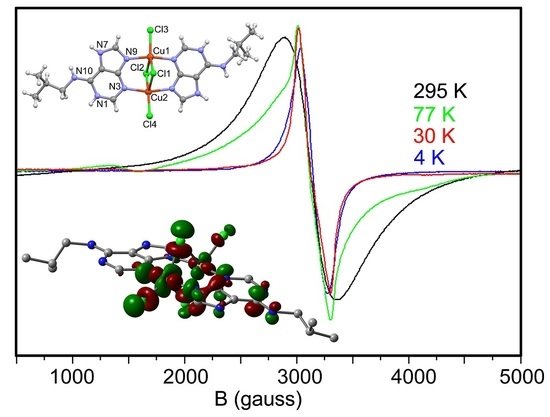 Graphical abstract
This is an open access article distributed under the
Creative Commons Attribution License
which permits unrestricted use, distribution, and reproduction in any medium, provided the original work is properly cited (CC BY 4.0).

Share & Cite This Article
MDPI and ACS Style
Martínez, M.S.; Bauzá, A.; Caubet, A.; García-Raso, Á.; Terrón, Á.; Fiol, J.J.; Molins, E.; Barceló-Oliver, M.; Frontera, A. Cu(II)–N6-Alkyladenine Complexes: Synthesis, X-ray Characterization and Magnetic Properties. Magnetochemistry 2018, 4, 24.
Note that from the first issue of 2016, MDPI journals use article numbers instead of page numbers. See further details here.
Related Articles
Comments
[Return to top]