Effects of Internal and External Pressure on the [Fe(PM-PEA)2(NCS)2] Spin-Crossover Compound (with PM-PEA =
N

-(2′-pyridylmethylene)-4-(phenylethynyl)aniline)

1

CNRS, Univ. Bordeaux, ICMCB, UPR9048, 87 Avenue du Dr. Schweitzer, F-33600 Pessac, France

2

Department of Chemistry, University Science Laboratories, South Road, Durham—DH1 3LE, UK

*

Authors to whom correspondence should be addressed.

Academic Editors: Guillem Aromí and José Antonio Real

Received: 15 January 2016 / Revised: 26 February 2016 / Accepted: 29 February 2016 / Published: 4 March 2016
Abstract
The spin-crossover properties of the strongly cooperative compound [Fe(PM-PEA)
2
(NCS)
2
] (with PM-PEA =
N
-(2′-pyridylmethylene)-4-(phenylethynyl)aniline) have been investigated under external
in situ
pressure, external
ex situ
pressure and internal pressure.
In situ
single-crystal X-ray diffraction investigations under pressure indicate a Spin-Crossover (SCO) at about 400 MPa and room temperature. Interestingly, application of
ex situ
pressure induces the irreversible enlargement of the hysteresis width, almost independently from the pressure value. Elsewhere, the internal pressure effects are examined through the magnetic and photomagnetic investigations on powders of the solid-solutions based on the Mn ion, [Fe
x
Mn
1−

x
(PM-PEA)
2
(NCS)
2
]. Growing the Mn ratio increases the internal pressure, allowing to control the hysteresis width and the paramagnetic residue but also to enhance the efficiency of the photo-induced SCO. The comparison of the quenching and light-induced behaviors reveals a complex phase-diagram governed by internal pressure, temperature and light.
View Full-Text
►

▼

Figures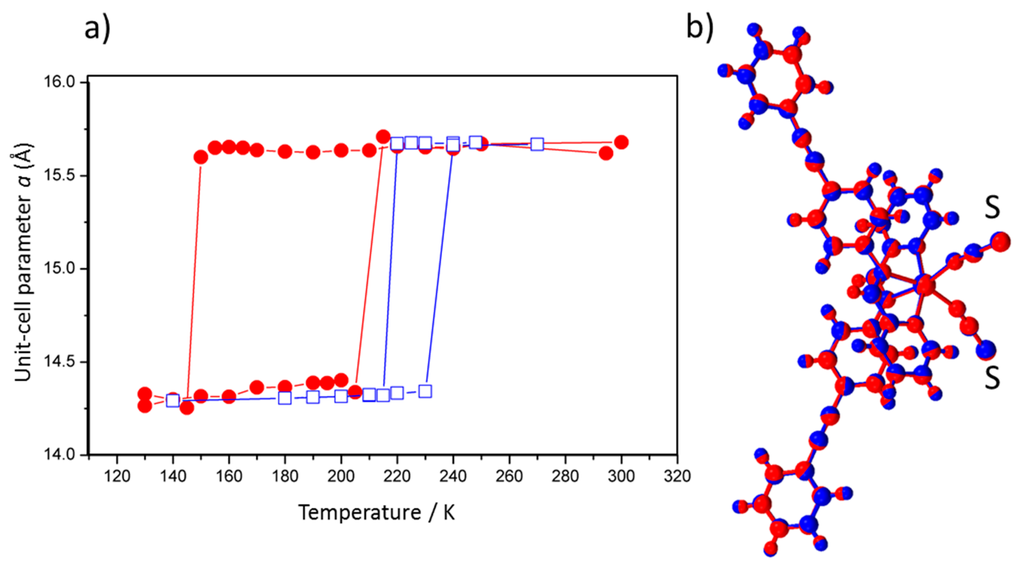 Figure 1
This is an open access article distributed under the
Creative Commons Attribution License
which permits unrestricted use, distribution, and reproduction in any medium, provided the original work is properly cited (CC BY 4.0).

Share & Cite This Article
MDPI and ACS Style
Paradis, N.; Le Gac, F.; Guionneau, P.; Largeteau, A.; Yufit, D.S.; Rosa, P.; Létard, J.-F.; Chastanet, G. Effects of Internal and External Pressure on the [Fe(PM-PEA)2(NCS)2] Spin-Crossover Compound (with PM-PEA = N-(2′-pyridylmethylene)-4-(phenylethynyl)aniline). Magnetochemistry 2016, 2, 15.
Note that from the first issue of 2016, MDPI journals use article numbers instead of page numbers. See further details here.
Related Articles
Comments
[Return to top]