Hexakis (propargyl-
1H

-tetrazole) Iron(II)

X

2 [

X

= BF4, ClO4]—Spin Switchable Complexes with Functionalization Potential and the Myth of the Explosive SCO Compound

1

Institute of Applied Synthetic Chemistry, Vienna University of Technology, Getreidemarkt 9/163-AC, A-1060 Vienna, Austria

2

Faculty of Geosciences, Geography and Astronomy, University of Vienna, Althanstraße 14 (UZA 2), A-1090 Vienna, Austria

3

Institute of Solid State Physics, Vienna University of Technology, Wiedner Hauptstraße 8-10/138, A-1040 Vienna, Austria

*

Authors to whom correspondence should be addressed.

Academic Editors: Guillem Aromí and José Antonio Real

Received: 14 January 2016 / Revised: 2 February 2016 / Accepted: 14 February 2016 / Published: 26 February 2016
Abstract
Spin crossover complexes with ligands suitable for further functionalization could allow for an easy access to multifunctional switchable materials. Within this context, we recently characterized the Fe(II) SCO complexes of propargyl-
1H
-tetrazole. Although the design of the ligand seems similar to the one of the well-known propyl-
1H
-tetrazole, the spin transition behavior is notably different. Both compounds reported herein feature a gradual spin transition with a
T
1/2
shifted to lower temperatures, compared to the more flexible propyl-ligand. Due to the potential instable structure of these compounds, especially of the perchlorate complex, we also investigated our compounds with regard to their sensitivity against thermal and mechanical stress. These experiments led to the conclusion that the proper handling includes no enhanced risk of explosive decomposition.
View Full-Text
►

▼

Figures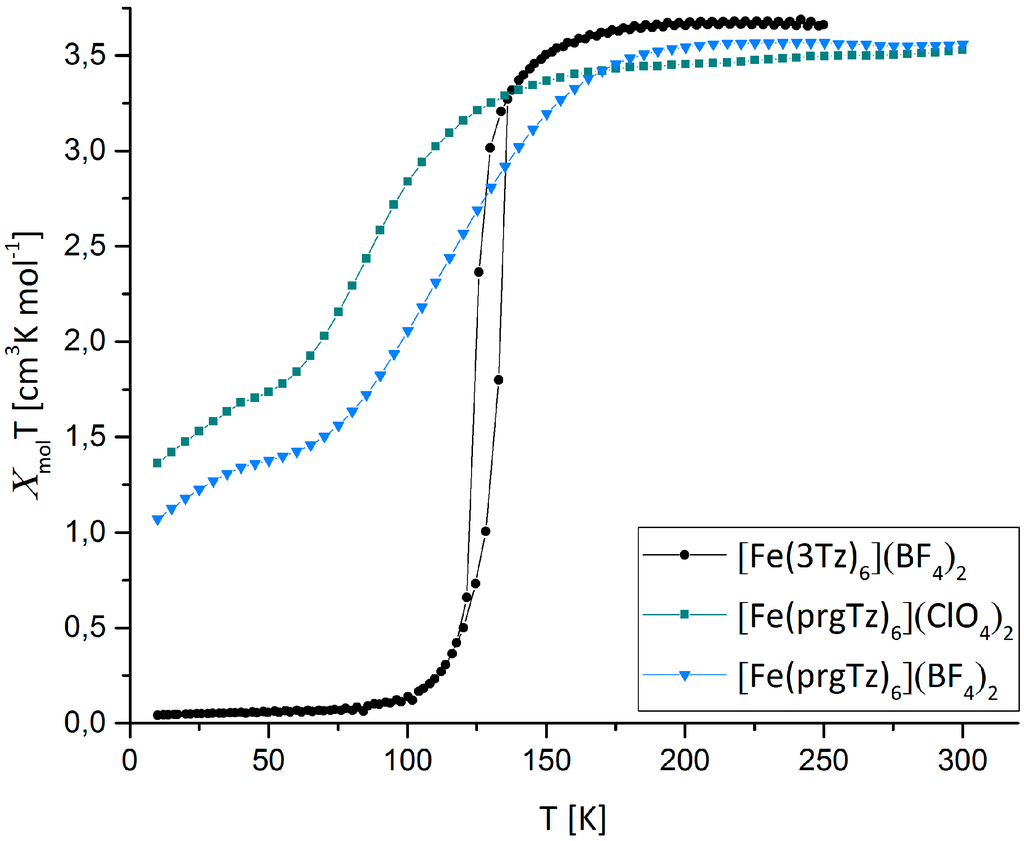 Figure 1
This is an open access article distributed under the
Creative Commons Attribution License
which permits unrestricted use, distribution, and reproduction in any medium, provided the original work is properly cited (CC BY 4.0).

Share & Cite This Article
MDPI and ACS Style
Seifried, M.; Knoll, C.; Giester, G.; Reissner, M.; Müller, D.; Weinberger, P. Hexakis (propargyl-1H-tetrazole) Iron(II) X2 [X = BF4, ClO4]—Spin Switchable Complexes with Functionalization Potential and the Myth of the Explosive SCO Compound. Magnetochemistry 2016, 2, 12.
Note that from the first issue of 2016, MDPI journals use article numbers instead of page numbers. See further details here.
Related Articles
Comments
[Return to top]