Punicalagin Content and Antifungal Activity of Different Pomegranate (
Punica ganatum

L.) Genotypes

1

CREA-DC Research Centre for Plant Protection and Certification, via C.G Bertero, 22, 00156 Rome, Italy

2

CREA-OFA Research Centre for Olive, Citrus and Tree fruit, Via di Fioranello, 52, 00134 Rome, Italy

*

Author to whom correspondence should be addressed.

Received: 16 May 2019 / Revised: 14 June 2019 / Accepted: 1 July 2019 / Published: 16 July 2019
Abstract
This study investigated the antifungal activity of a number of pomegranate genotypes. Since the main compound of pomegranate extract is punicalagin, an important substance involved in antifungal and antimicrobial activity, we analyzed the contents of punicalagin (α and β) in 21 different pomegranate genotypes. Ellagic acid content, total phenolic content, acidity and pH were also determined. This work allowed us to determine which genotypes of pomegranate can be used to obtain extracts with the highest content of punicalagin, with the goal of developing a green alternative to synthetic pesticides. To improve the extraction system from pomegranate peel fruits, several different solvents were tested. All the pomegranate genotypes tested showed antifungal activity; some genotypes were able to almost completely inhibit the fungus, while others had very low inhibitory activity. Research results also showed that the use of water as a solvent for extraction is very effective, especially when it is combined with ethanol. This is very important for the practical use of the extracts since water is economical and environmentally friendly. The research showed that among the genotypes there is also great variability regarding the chemical parameters. Genotypes with a high phenolic and punicalagin content were significantly correlated with antifungal activity. All the other chemical parameters (pH, titratable acidity and ellagic acid content) were not correlated with antifungal activity. The results obtained indicate that the fruits of some pomegranate genotypes could be used to obtain extracts very rich in punicalagins and that these substances could be used as an alternative to synthetic products to control plant disease and improve the quality of the plant products, avoiding the impact of synthetic chemicals on the environment.
View Full-Text
►

▼

Figures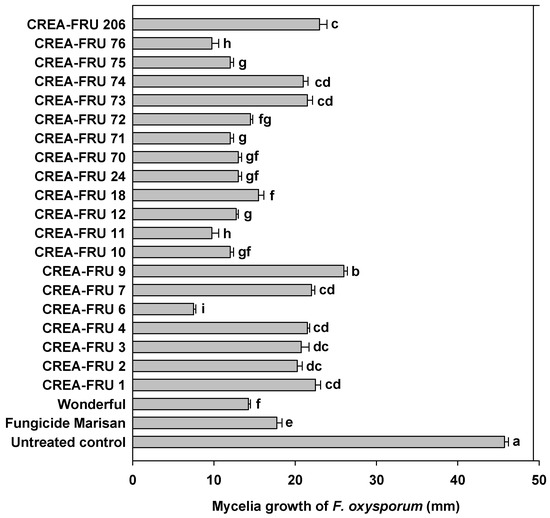 Figure 1
This is an open access article distributed under the
Creative Commons Attribution License
which permits unrestricted use, distribution, and reproduction in any medium, provided the original work is properly cited (CC BY 4.0).

Share & Cite This Article
MDPI and ACS Style
Rongai, D.; Pulcini, P.; Di Lernia, G.; Nota, P.; Preka, P.; Milano, F. Punicalagin Content and Antifungal Activity of Different Pomegranate (Punica ganatum L.) Genotypes. Horticulturae 2019, 5, 52.
Note that from the first issue of 2016, MDPI journals use article numbers instead of page numbers. See further details here.
Related Articles
Comments
[Return to top]