Operando DRIFTS-MS Study of WGS and rWGS Reaction on Biochar-Based Pt Catalysts: The Promotional Effect of Na
Departamento de Química Inorgánica, Instituto de Ciencia de Materiales de Sevilla, Centro Mixto CSIC–Universidad de Sevilla, 49 Av. Américo Vespucio, 41092 Sevilla, Spain
*
Author to whom correspondence should be addressed.
Received: 17 July 2018 / Revised: 14 August 2018 / Accepted: 15 August 2018 / Published: 21 August 2018
Abstract
Biochar-based Pt catalysts, unpromoted and Na-promoted, were prepared by an incipient wetness impregnation method and characterised by Inductively coupled plasma mass spoectrometry (ICP-MS) analysis, X-ray diffraction, N
2
adsorption and transmission, and scanning electron microscopy. It was demonstrated that a sodium promoter modifies the acid-base properties of the support, altering the Pt-support interaction. An operando Diffuse reflectance infrared fourier transform spectroscopy-mass spectrometry (DRIFTS-MS) study was performed to gain insights into the reaction pathways and the mechanism of the Water-Gass-Shift (WGS) and the Reverse Water-Gass-Shift (rWGS) reactions. It was demonstrated that the addition of Na enhances the catalytic performance due to the changes induced by the alkali in the electronic structure of the Pt active sites. This effect favours the activation of H
2
O molecules during the WGS reaction and the dissociation of CO
2
during the rWGS reaction, although it may also favour the consecutive CO methanation pathway.
View Full-Text
►

▼

Figures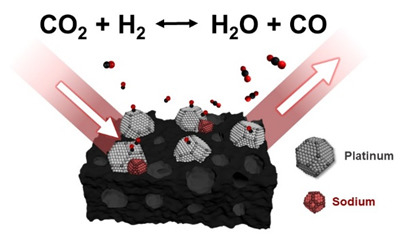 Graphical abstract
This is an open access article distributed under the
Creative Commons Attribution License
which permits unrestricted use, distribution, and reproduction in any medium, provided the original work is properly cited (CC BY 4.0).

Share & Cite This Article
MDPI and ACS Style
Santos, J.L.; Bobadilla, L.F.; Centeno, M.A.; Odriozola, J.A. Operando DRIFTS-MS Study of WGS and rWGS Reaction on Biochar-Based Pt Catalysts: The Promotional Effect of Na. C 2018, 4, 47.
Note that from the first issue of 2016, MDPI journals use article numbers instead of page numbers. See further details here.
Comments
[Return to top]