Electrochemical Li Storage Properties of Carbon-Rich B–C–N Ceramics
1
Institut für Materialwissenschaft, Technische Universität Darmstadt, 64289 Darmstadt, Germany
2
Institut für Angewandte Geowissenschaften, Technische Universität Darmstadt, 64289 Darmstadt, Germany
*
Author to whom correspondence should be addressed.
Academic Editor: I. Francis Cheng
Received: 15 January 2016 / Revised: 2 March 2016 / Accepted: 18 March 2016 / Published: 24 March 2016
Amorphous BCN ceramics were synthesized via a thermal conversion procedure of piperazine–borane and pyridine–borane. The synthesized BC
2
N and BC
4
N ceramics contained, in their final amorphous structure, 45 and 65 wt % of carbon, respectively. Elemental analysis revealed 45 and 65 wt % of carbon for BC
2
N and BC
4
N, respectively. Transmission electron microscopy (TEM) and X-ray diffraction (XRD) confirmed the amorphous nature of studied compounds. Lateral cluster size of carbon crystallites of 7.43 and 10.3 nm for BC
2
N and BC
4
N, respectively, was calculated from Raman spectroscopy data. This signified a higher order of the carbon phase present in BC
4
N. The electrochemical investigation of the low carbon BC
2
N composition as anodes for Li-ion batteries revealed initial capacities of 667 and 235 mAh·g
−1
for lithium insertion/extraction, respectively. The material with higher carbon content, BC
4
N, disclosed better reversible lithium storage properties. Initial capacities of 1030 and 737 mAh·g
−1
for lithium insertion and extraction were recovered for carbon-rich BC
4
N composition. Extended cycling with high currents up to 2 C/2 D revealed the cycling stability of BC
4
N electrodes. Cycling for more than 75 cycles at constant current rates showed a stable electrochemical behavior of BC
4
N anodes with capacities as high as 500 mAh·g
−1
.
View Full-Text
►

▼

Show Figures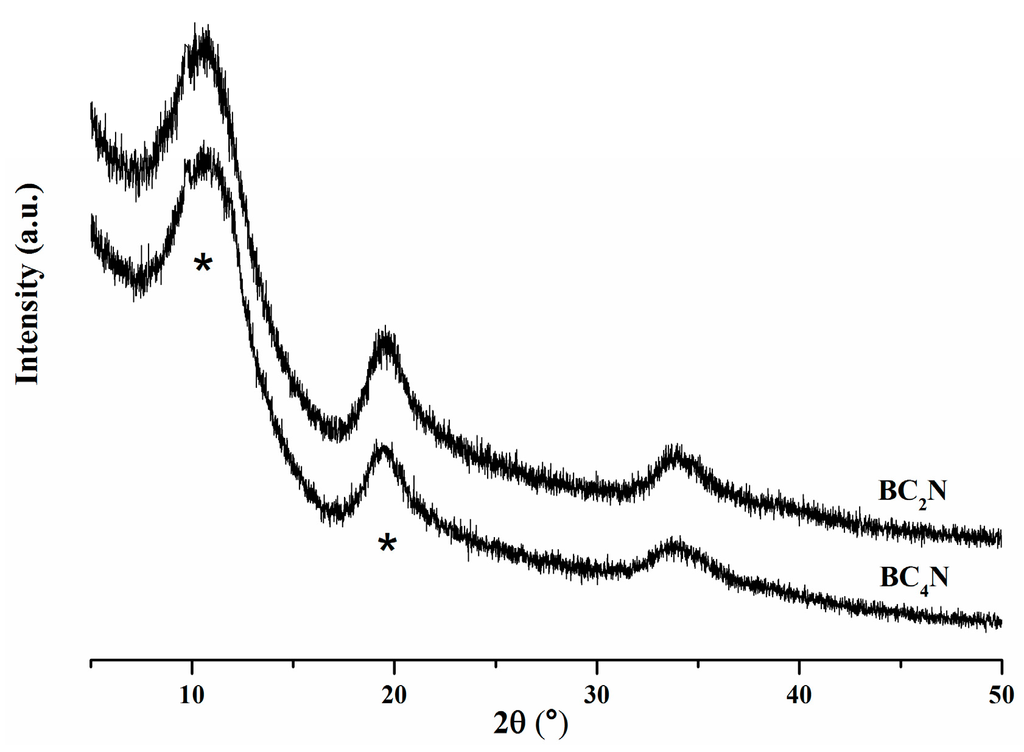 Figure 1
This is an open access article distributed under the
Creative Commons Attribution License
which permits unrestricted use, distribution, and reproduction in any medium, provided the original work is properly cited

Note that from the first issue of 2016, MDPI journals use article numbers instead of page numbers. See further details
here
.