Argonaute 2 Expression Correlates with a Luminal B Breast Cancer Subtype and Induces Estrogen Receptor Alpha Isoform Variation
1
Vanderbilt University Medical Center, Department Medicine, Nashville, TN 37232, USA
2
Department of Biological and Agricultural Engineering Louisiana State University Baton Rouge, LA 70803, USA
3
Department of Medicine-Section of Hematology and Medical Oncology, Tulane University, New Orleans, LA 70112, USA
4
Department of Biological Sciences, Florida Gulf Coast University, Fort Myers, FL 33965, USA
5
Department of Structural and Cellular Biology, Tulane University School of Medicine, New Orleans, LA 70112, USA
6
Medical Sciences and Department of Cellular and Integrative Physiology, Indiana University School of Medicine, Bloomington, IN 47405, USA
7
Department of Pharmacology, Tulane University, New Orleans, LA 70112, USA
8
Tulane Cancer Center, Tulane University, New Orleans, LA 70112, USA
*
Author to whom correspondence should be addressed.
Academic Editor: George A. Calin
Received: 7 April 2016 / Revised: 24 August 2016 / Accepted: 9 September 2016 / Published: 21 September 2016
Abstract
Estrogen receptor alpha (ERα) signaling pathways are frequently disrupted in breast cancer and contribute to disease progression. ERα signaling is multifaceted and many ERα regulators have been identified including transcription factors and growth factor pathways. More recently, microRNAs (miRNAs) are shown to deregulate ERα activity in breast carcinomas, with alterations in both ERα and miRNA expression correlating to cancer progression. In this study, we show that a high expression of Argonaute 2 (AGO2), a translation regulatory protein and mediator of miRNA function, correlates with the luminal B breast cancer subtype. We further demonstrate that a high expression of AGO2 in ERα+ tumors correlates with a poor clinical outcome. MCF-7 breast cancer cells overexpressing AGO2 (MCF7-AGO2) altered ERα downstream signaling and selective ERα variant expression. Enhanced ERα-36, a 36 kDa ERα isoform, protein and gene expression was observed in vitro. Through quantitative polymerase chain reaction (qPCR), we demonstrate decreased basal expression of the full-length ERα and progesterone receptor genes, in addition to loss of estrogen stimulated gene expression in vitro. Despite the loss, MCF-7-AGO2 cells demonstrated increased estrogen stimulated tumorigenesis in vivo. Together with our clinical findings on AGO2 expression and the luminal B subtype, we suggest that AGO2 is a regulator of altered ERα signaling in breast tumors.
View Full-Text
►

▼

Figures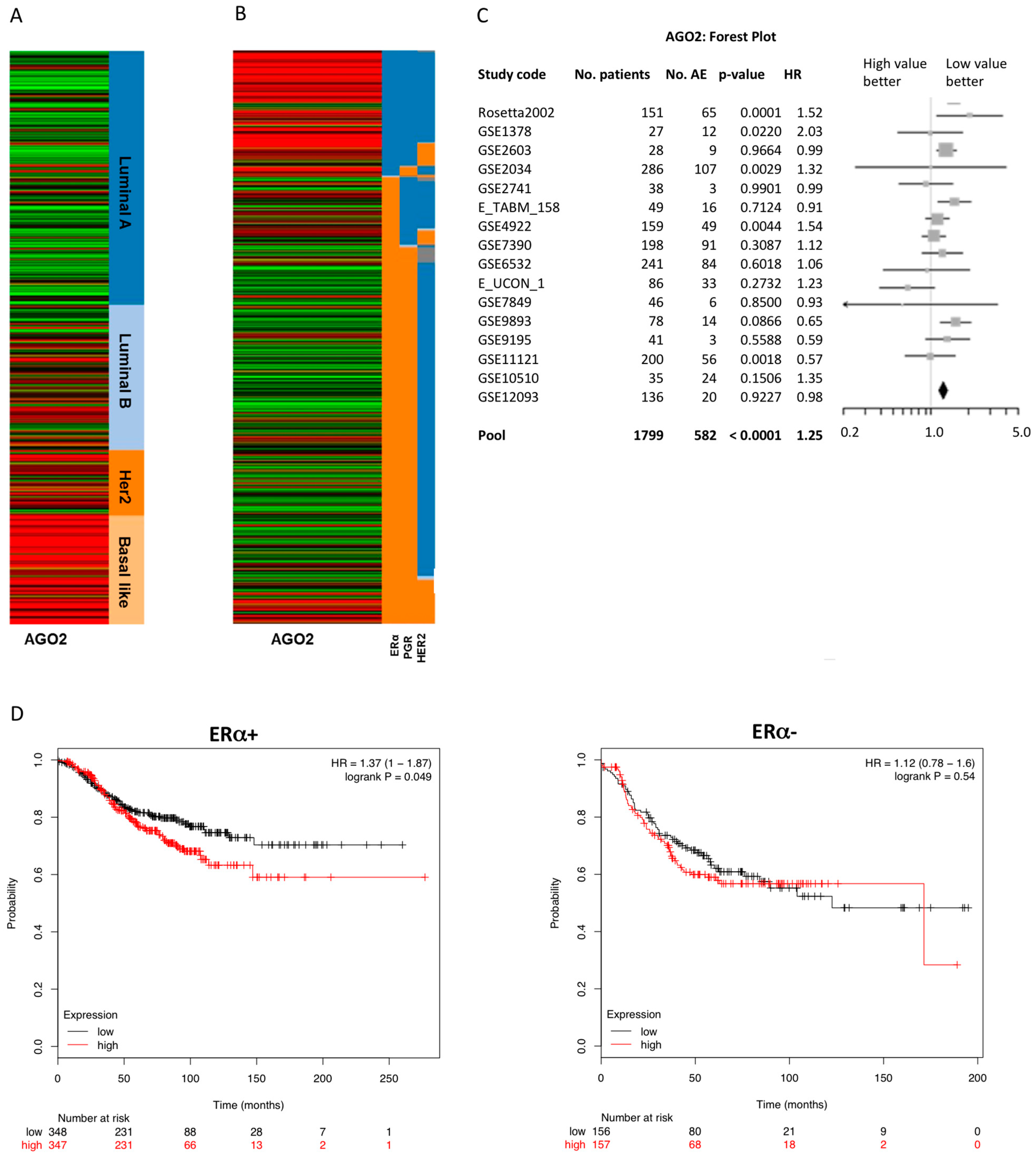 Figure 1
This is an open access article distributed under the
Creative Commons Attribution License
which permits unrestricted use, distribution, and reproduction in any medium, provided the original work is properly cited (CC BY 4.0).

Share & Cite This Article
MDPI and ACS Style
Conger, A.K.; Martin, E.C.; Yan, T.J.; Rhodes, L.V.; Hoang, V.T.; La, J.; Anbalagan, M.; Burks, H.E.; Rowan, B.G.; Nephew, K.P.; Collins-Burow, B.M.; Burow, M.E. Argonaute 2 Expression Correlates with a Luminal B Breast Cancer Subtype and Induces Estrogen Receptor Alpha Isoform Variation. Non-Coding RNA 2016, 2, 8.
Note that from the first issue of 2016, MDPI journals use article numbers instead of page numbers. See further details here.
Related Articles
Comments
[Return to top]