Open Access This article is
freely available
re-usable
Review
Candida glabrata
, Friend and Foe
School of Applied Sciences, RMIT University, Bundoora, Victoria 3083, Australia
*
Author to whom correspondence should be addressed.
Academic Editor: John R. Perfect
Received: 18 August 2015 / Accepted: 9 September 2015 / Published: 16 September 2015
Abstract
:
Candida glabrata
is mostly good, but, at times, it is an opportunistic pathogen. Previously known as
Torulopsis glabrata
, it enjoyed a good reputation and was even present in starter cultures. Its haploid genome and lack of mating made it an attractive challenge for yeast genetics studies. However, more recently it has become better known due to its character as an emerging cause of candidiasis, and for its resistance to multidrugs that are employed for candidiasis treatment. While now classified as
Candida glabrata
, it is still not a good fit and tends to stand alone as a very unique yeast. In terms of sequence, it is dissimilar to other
Candida
yeast and most similar to
Saccharomyces cerevisiae
.
Keywords:
antifungal resistance; azole; candidiasis; ergosterol; opportunistic pathogen; starter culture; statins; Torulopsis; yeast
1. Introduction
Candida glabrata
was previously known as
Torulopsis glabrata
.
Torulopsis
is now an obsolete genera with such yeast being reassigned into other genera including
Cryptococcus
and
Candida
[
1
].
C. glabrata
is also found in fermented foods and drinks [
2
]. Although
Candida glabrata
is recognised as a starter culture, to our knowledge it not used as a pure starter culture. However, it has enjoyed a good reputation, and can lead to ethanol production.
Candida glabrata
was initially placed in the
Torulopsis
genera because of its lack of hyphae and pseudohyphae formation that defined the
Candida
genus at the time. However, in 1978, it was determined that this was not enough of a distinguishing factor and it was reclassified. In fact, only
C. albicans
,
C. dubliniensis
, and
C. tropicalis
can form hyphae. Belonging to the class Fungi Imperfecti [
3
], it is also now considered to belong to the
Candida
genus following evidence of its emerging human pathogenicity in
Candida
infections with isolated
C. glabrata
becoming increasingly evident. However, many current reports and reviews still use the name
Torulopsis glabrata
when referring to
C. glabrata
. There are large inconsistencies in the scientific community in the appropriate classification of this species [
4
].
Sequence analyses show
C. glabrata
has the highest similarity to
Saccharomyces cerevisiae
(see
Figure 1
) [
5
] and much less similarity to
Candida albicans
. As
S. cerevisiae
is primarily known as a food or drink fermenter, similarities to
C. glabrata
should be investigated. It is currently known that the two species of yeast share a relation in important proteins. The Epa proteins of
C. glabrata
that are the main pathogenic adhesins, are closely related to the Flo proteins of
S. cerevisiae
, that are responsible for flocculation in beer fermentation [
6
]. There is still debate among scientists regarding the biochemistry of flocculation and the process of aggregating cells at the end of the fermentation process through cell wall composition and cell-cell interaction [
7
]. It could be suggested that there are opportunities within the close protein relationships for further genetic analysis of functions.
Figure 1.
The phylogenetic tree of some yeast species constructed by comparison of
ERG11
sequences and using the tools available at
http://www.candidagenome.org/
.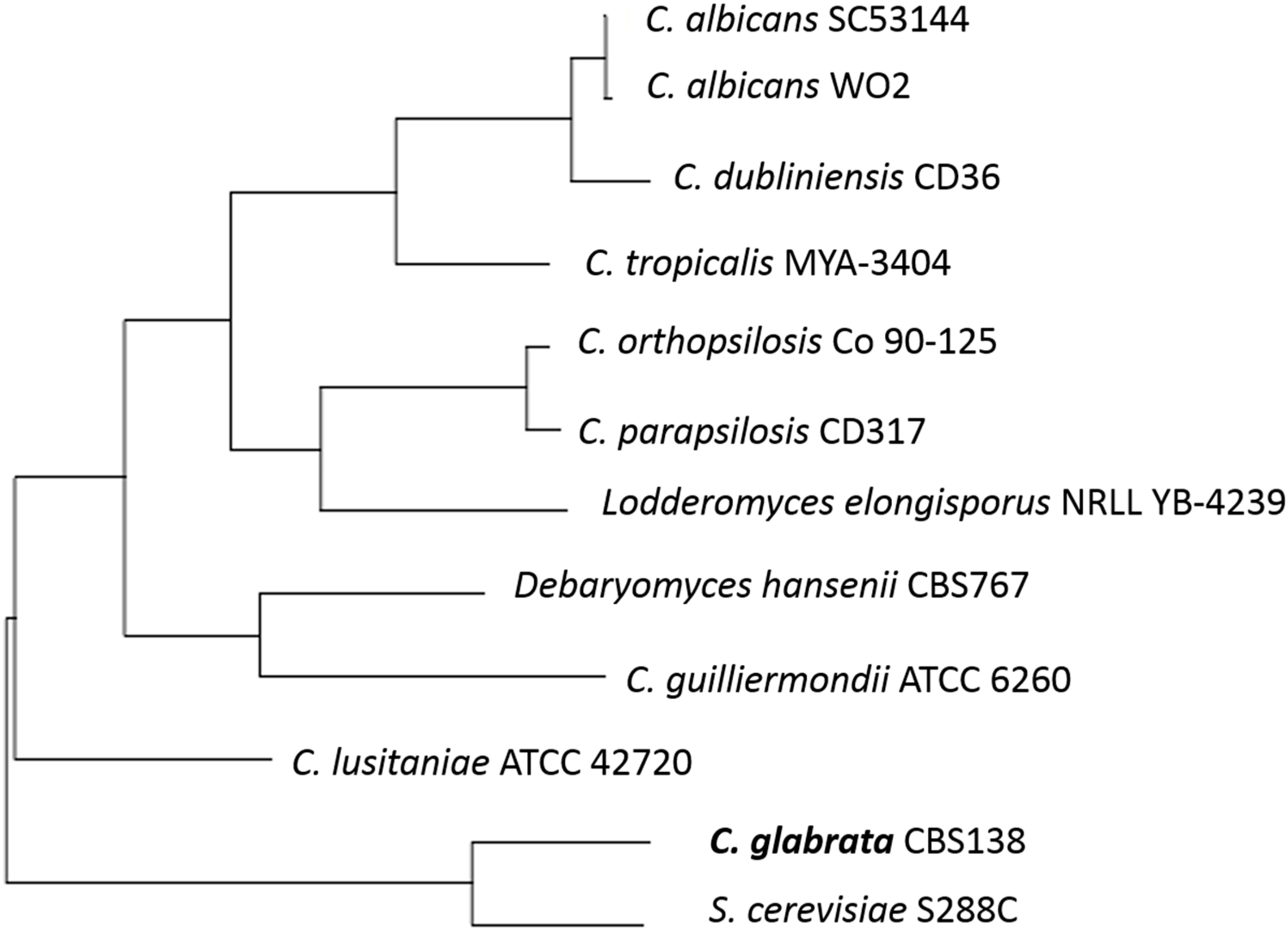 Although it is readily found in small numbers on human skin and in mucosa, some evidence of
C. glabrata
in food and beverage fermentation has come to light in various areas. For example, studies have isolated
C. glabrata
, among other yeast species, in traditional ragi in different parts of India using PCR and commercial identification kits to cross analyse and confirm results [
8
]. Ragi is a grain based food or alcoholic drink starter culture made from finger millet and naturally occurring yeast colonies that have a broad application across domestic India, from porridge, to flatbread and milk substitutes for infants. Despite being isolated and identified in several starter cultures,
C. glabrata
is often found fermenting and coexisting with other species of yeast, particularly
S.
cerevisiae
and
C. albicans
[
9
].
C. glabrata
has also more recently been studied within African fermented food products in relation to assisting the digestion and absorption of minerals in the human gut and its ability to grow in the presence of phytate as a sole phosphate source [
9
]. Again, this was within a community of related yeast species that shared a similar ability, for example
S. cerevisiae
. Yet another example of African mawe, a local fermented food, looked into the dynamics of spontaneous fermentation and found the predominant yeast identified was
Candida krusei
, followed by
C. glabrata
and
Kluyveromyces marxianus
[
9
]. Other species found were in lower numbers and considered secondary. Wet processed coffee isolates from another spontaneous fermentation system have also identified
C. glabrata
among some 144 yeasts. These were studied to benefit improvement to the wet process enhancing volatile aroma compounds in coffee beverages using single or multi strain inoculations [
10
].
Further research is required to investigate why it is always coisolated and if there are situations in food where it may exist as a single isolate. Spontaneous fermentation will generally result in a mix of wild, naturally occurring yeast species that are capable of fermenting in the given environment [
11
]. Questions should be considered about the possibility of co-dependency of
C. glabrata
and common fermenting yeast species and where this information may lead. It is still obscure whether or not there are benefits to people in using
C. glabrata
in fermentation, however there are certainly new opportunities for deeper research into the functionality of these yeasts in a positive light.
2. The Opportunistic Pathogen
2.1. Adherence and Cell Wall
2.3. Extracellular Phospholipases and Enzyme Production
3. Drug Resistance
3.1. Azole Resistance
Of the
Candida
species,
C. glabrata
appears to have the least sensitivity to azoles [
3
]. Additionally, the growing use of azole antifungals to treat invasive candidiasis has led to the selection of many resistant strains [
28
]. The mechanisms responsible for azole antifungal resistance in
C. albicans
are largely agreed to be: (i) changes in the cell wall or plasma membrane leading to reduced drug uptake; (ii) changes in the P-450 lanosterol demethylase enzyme (see
Figure 2
), encoded by
ERG11
, which results in loss of drug affinity or overexpression of
ERG11
; and (iii) employment of an energy-dependent drug efflux mechanism mediated by membrane transport proteins of the ATP binding cassette (ABC) transporter superfamily or the major facilitator (MDR) superfamily [
32
]. Of these three mechanisms, the latter two are the most widely studied and have been observed as resistance mechanisms employed by
C. glabrata
.
Genes associated with drug efflux mechanism are
CDR1
and
CDR2
[
28
,
33
]. In fluconazole resistant
C. glabrata
isolates, most isolates had up-regulated
CDR1
and
CDR2
[
33
] with
CDR1
consistently expressed more than
CDR2
. Regulation of
ERG11
, a gene encoding the azole target enzyme (P-450 lanosterol demethylase) has also been associated with azole resistance, with increased
ERG11
expression observed in resistant isolates [
34
,
35
]. However,
ERG11
in some azole resistant isolates remained at similar levels to susceptible isolates. [
33
,
35
,
36
]. Therefore,
ERG11
may play a minor role in azole resistance. Interestingly Redding
et al.
[
35
] also had a resistant isolate that had no measurable overexpression of either
CDR1
,
CDR2
,
SNQ2
or
ERG11
suggesting that an alternate, yet to be identified gene is also responsible for azole-resistant behaviour.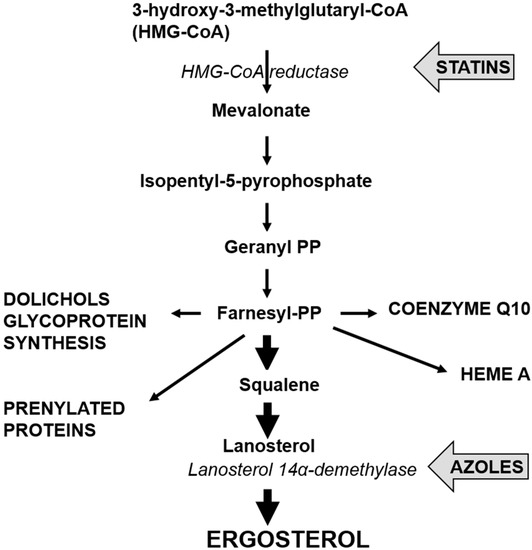 Figure 2. Pathway for the synthesis of ergosterol, showing sites for inhibition by statins and azoles.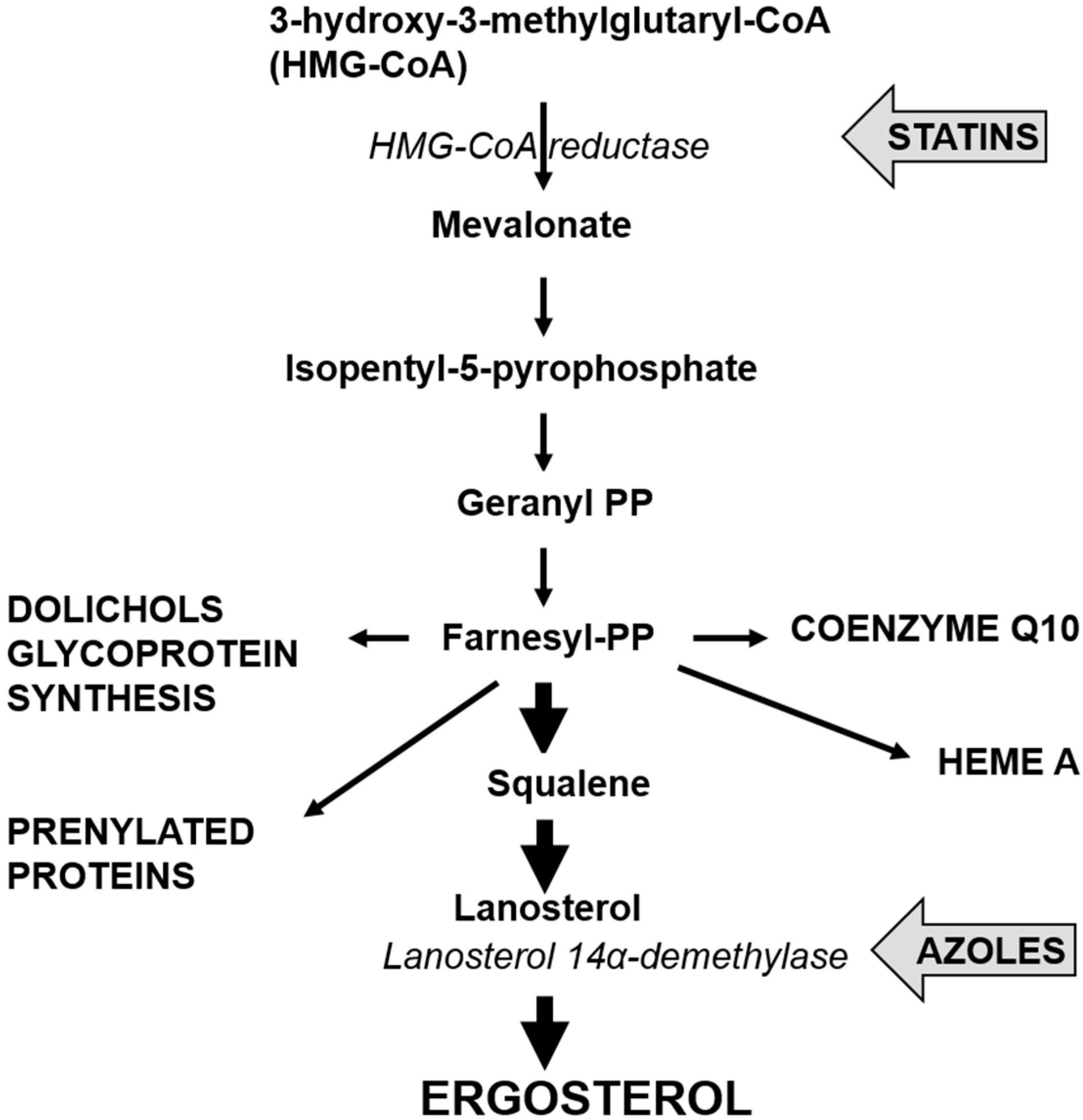 Due to the number of genes established to be associated with azole resistance, it is clear that azole resistance in
C. glabrata
is a complex mechanism that needs further investigation. Moreover, a transcription factor, Pdrp1, regulates the expression of
CDR
genes by binding directly onto the azole drug to activate the expression of the efflux drug genes. In a study conducted by Ferrari
et al.
[
28
], 57 single point mutations located in 3 main hot spots of the
PDR1
gene were observed to cause hyperactivity to the transcription factor CgPdrp1 resulting in azole resistance. Disruption and/or removal of the
PDR1
gene was found to increase susceptibility to azoles supporting the notion that
PDR1
plays a distinct role in azole resistance in
C. glabrata
isolates. Possible investigation into the inhibition of this transcription factor could prove beneficial in combatting azole resistance. The study also found that the mutations to
PDR1
would enhance virulence and resistance in mice models suggesting the rise of Gain Of Function (GOF) mutations. This characteristic is particularly worrying to the medical community as previously increased antifungal resistance was always correlated to a decrease in yeast pathogenic fitness: however, this study suggests otherwise. Therefore, when treating a patient, we must be wary that an azole resistant
C. glabrata
strain may have an increased virulence
in vivo
. Further investigation into GOF mutations needs to be conducted in order to understand and address this issue.
3.2. Echinocandin Resistance
Due to the rising resistance of
C. glabrata
isolates to azole antifungals, different classes of antifungals are being explored to combat invasive candidiasis. It is well documented that echinocandins were the most recent class of antifungals to be used in yeast infection treatment. The drug acts on the yeast pathogen in a different manner to azoles and in the first decade of use the occurrence of cross-resistance between the two antifungals was rare [
29
]. Furthermore, the drug has a good safety profile and was found to cause lower resistance in a broad range of
Candida
species [
37
]. With these qualities, it was not surprising that echinocandins were and still are recommended as first-line therapy for invasive candidiasis. However, there is currently an increase in echinocandin resistance [
37
]. Unlike azole antifungals, secondary resistance to echinocandins has conclusively been unrelated to the drug-efflux mechanism as they prove to be poor substrates for most multidrug efflux transporters [
38
]. Instead, echinocandin resistance is caused by interference between the drug and the target enzyme β-(1,3)-
d
-glucan synthase. The target subunits for this enzyme are encoded by three genes,
FKS1
,
2
and
3
and the mutations in gene
FKS1
and
2
have been linked to secondary resistance of echinocandins in
C. glabrata
[
39
]. Mutations in "hot spots" of
FKS1
and
FKS2
cause a high prevalence of amino acid substitutions conferring echinocandin resistance [
40
]. Interestingly, all the amino acid substitutions in
FKS2
caused a greater decrease in susceptibility to echinocandins suggesting that mutation in
FKS2
plays a greater role than
FKS1
in echinocandin resistance [
40
]. The incidence of multi-drug resistance between different classes of antifungals is a major concern and recent studies have detected strains of
C. glabrata
resistant to both fluconazole and echinocandins. In the study by Pfaller
et al.
[
29
], the mutations observed in isolates with fluconazole resistance were also associated with the
FKS
genes. Interestingly F659Δ and S663F were involved in cross-resistance to echinocandins and fluconazole but F625Δ was not observed in the study. This suggests that each isolate can harbour different mutations and levels of resistance and treatment should be isolate specific.
3.3. Polyenes Resistance
Research regarding antifungal resistance in
C. glabrata
is largely focused upon azole and echinocandin treatment. Coupled with the rarity of resistance to polyenes, little information is known about the exact mechanism for resistance to polyene antifungals in
C. glabrata
[
41
]. As mentioned previously, the main target for polyene antifungals is the vital cell membrane component ergosterol. A clinical isolate susceptible to polyene treatment was observed to have severe changes in the sterol composition of its cell membrane [
41
]. Instead of having ergosterol in its cell membrane, the resistant isolate had accumulated numerous sterol intermediates that were still able to maintain membrane viability. The study found that a missense mutation in the
ERG6
gene caused an amino acid substitution resulting in a change to the subsequent protein, C-24 sterol methyltransferase. This was reasoned to have caused a change in the biosynthesis pathway of ergosterol. In addition, real time PCR was carried out in this study to investigate the gene expression of multiple genes responsible for controlling the ergosterol biosynthesis pathway. Overexpression of the genes encoding enzymes in the later stage of ergosterol biosynthesis was observed and reasoned to be responsible for the accumulation of other sterols in the cell membrane. A similar study by Vandeputte
et al.
[
42
] also demonstrated a mutation, nonsense as opposed to missense, in the
ERG6
gene and obtained similar results with altered sterol composition in the cell membrane. Interestingly, it is known that polyene resistance is associated with azole resistance. This is because the lack of ergosterol reduces the importance of the role for the P450-dependent enzyme lanosterol-demethylase: hence reducing azoles will have a lesser effect on the yeast pathogen. Although both isolates were observed to up-regulate the
ERG11
,
CDR1
and
CDR2
genes, suggesting an enhancement of the yeasts ability for azole resistance, the opposite was observed in this study. The exact reasoning for these observations was not elucidated but it was suggested the presence of toxic intermediate sterols play a role. Hence further investigation into this anomaly is required. In addition, as only two isolates have been studied to date for the mechanism of polyene resistance it is recommended further investigation be conducted for this.
4. Cholesterol Lowering Statins and
Candida glabrata
Although not designed as antifungals, statins, the main drugs used for treating hypercholesterolemia have antifungal properties [
43
]. Two of these, simvastatin and atorvastatin, are the first blockbuster drugs reaching billion dollar sales figures for Merck and Pfizer. Many millions of people take these drugs on a daily basis to inhibit the activity of HMG-CoA reductase (see
Figure 2
) and reduce cholesterol synthesis to acceptable levels. However, HMG-CoA reductase is also present in all eukaryotes and in
Candida
the statins lead to reductions in ergosterol production that inhibit growth. Their end effect on cells is similar to the azoles: both lead to lower ergosterol levels and that inhibits growth [
44
].
Not all
Candida
species are equally sensitive to simvastatin and atorvastatin:
Candida glabrata
is less sensitive than
Candida albicans
[
43
]. This suggests that people taking the statins might reduce candidemia or result in different
Candida
populations to those found in the untreated normal population. Some studies have reported reduced candidemia for statin users [
45
,
46
] while another study reported no effect on outcomes [
47
]. However, it was noted that in the last two years of their study, non
Candida albicans
species, particularly,
C. glabrata
and
C. parapsilosis
increased [
47
]. This is in agreement with the finding that
C. glabrata
is less susceptible and may emerge to be a bigger problem with high statin use.
It is also noteworthy that statins can be associated with muscle weakness and reduced performance in athletes. After growth with simvastatin,
Candida glabrata
also has reduced performance: specifically, reduced respiratory growth. The reduced performance is due to simvastatin causing a loss of the mitochondrial genome, which is required for respiratory function. The loss of the mitochondrial genome may be related to reduced ergosterol levels in the mitochondrial membrane and reduced activity of the mitochondrial DNA polymerase, which is associated with the mitochondrial membrane. It is plausible that humans also experience reduced mtDNA synthesis while on statins and this could lead to reduced ability for mitochondrial respiration [
48
].
5. Conclusions
Candida glabrata
appears good for healthy individuals. However, in challenging situations where the natural organisms are not in balance, it can exhibit robust growth and present problems. We can learn much from
Candida glabrata
, and indeed it deserves more attention, since it has an existence in a class all of its own.
Author Contributions
Phyllix Tam, Kirsten Gee, Miryam Piechocinski and Ian Macreadie contributed equally in the writing and research for this review.
Conflicts of Interest
The authors declare no conflict of interest.
© 2015 by the authors. Licensee MDPI, Basel, Switzerland. This article is an open access article distributed under the terms and conditions of the Creative Commons Attribution license ( http://creativecommons.org/licenses/by/4.0/).