Open Access This article is
freely available
re-usable
Article
4-D Computational Modeling of Cardiac Outflow Tract Hemodynamics over Looping Developmental Stages in Chicken Embryos
1
Department of Biomedical Engineering, Oregon Health and Science University, Portland, OR 97239, USA
2
School of Public Health, Portland State University, Portland, OR 97035, USA
3
Camas High School, Camas, WA 98607, USA
4
Knight Cardiovascular Institute, Oregon Health and Science University, Portland, OR 97239, USA
*
Author to whom correspondence should be addressed.
Received: 13 December 2018 / Accepted: 21 February 2019 / Published: 27 February 2019
Abstract
:
Cardiogenesis is interdependent with blood flow within the embryonic system. Recently, a number of studies have begun to elucidate the effects of hemodynamic forces acting upon and within cells as the cardiovascular system begins to develop. Changes in flow are picked up by mechanosensors in endocardial cells exposed to wall shear stress (the tangential force exerted by blood flow) and by myocardial and mesenchymal cells exposed to cyclic strain (deformation). Mechanosensors stimulate a variety of mechanotransduction pathways which elicit functional cellular responses in order to coordinate the structural development of the heart and cardiovascular system. The looping stages of heart development are critical to normal cardiac morphogenesis and have previously been shown to be extremely sensitive to experimental perturbations in flow, with transient exposure to altered flow dynamics causing severe late stage cardiac defects in animal models. This paper seeks to expand on past research and to begin establishing a detailed baseline for normal hemodynamic conditions in the chick outflow tract during these critical looping stages. Specifically, we will use 4-D (3-D over time) optical coherence tomography to create in vivo geometries for computational fluid dynamics simulations of the cardiac cycle, enabling us to study in great detail 4-D velocity patterns and heterogeneous wall shear stress distributions on the outflow tract endocardium. This information will be useful in determining the normal variation of hemodynamic patterns as well as in mapping hemodynamics to developmental processes such as morphological changes and signaling events during and after the looping stages examined here.
Keywords:
cardiovascular development; computational fluid dynamics; congenital heart defects; hemodynamics; outflow tract
3. Results
4-D OCT scanning, synchronization, segmentation, and embryo-specific simulations were performed for a total of 16 embryos spanning the cardiac looping stages: three HH14; one HH15; and four each of HH16, HH17, and HH18 embryos. Due to meshing constraints, we were not always able to simulate the more closed lumen configurations, when the cushions are fully coapted and in contact with each other; in all cases, however, >60% of the cardiac cycle was simulated. The data means were compared in Excel, using two-sample t-tests assuming either equal or unequal variance based on the results of an
f
-test, although we were unable to compare HH15 to the other groups using this method as we had only one embryo that fell into this stage. We had relatively equal sex representation within each staging group as well as for our whole cohort (
Table 1
). Although our data is too limited to draw sweeping conclusions, it did not show any obvious differences between male and female embryos (
Figure S1
).
3.1. Physiology and Geometry
The
cardiac cycle lengths
decreased with increasing stage (
Table 1
). The value ranges were consistent with those reported in Reference [
20
] and comparable to those from Reference [
37
]. Consistent with the growth of the OFT, the
maximum lumen volume
increased with stage, as did the
mean lumen volume
(
Table 1
). The
centerline length
appeared to increase until HH17, with a slight decrease in the centerline length for HH18, likely due to the decrease in visibility at the outlet as the embryo expands. The HH16, HH17, and HH18 groups did not significantly differ from each other in maximum volume or centerline length. However, HH14 had a significantly lower
maximum volume
compared with HH16, HH17, and HH18 (
p
= 0.010,
p
= 0.001, and
p
= 0.010, respectively), as well as a lower
centerline length
than HH16–18 (
p
= 0.013,
p
= 0.024, and
p
= 0.033) (
Table 1
). HH16 had a slightly lower
mean volume
than HH17 (
p
= 0.026), and HH14 also had a lower mean volume than HH16, HH17, and HH18 (
p
= 0.006,
p
< 0.001, and
p
= 0.007). Size as quantified by area-motion plots (
Figure 5
) also showed an increase in both lumen and cardiac wall area with stage. Motion of tissue in the longitudinal direction (along the heart OFT length) is apparent, and area-motion plots of the lumen, normalized to both OFT length and cardiac cycle length, visually indicate that the phase lag (time between points of maximum expansion) from inlet to outlet decreases only very slightly with stage (
Figure 5
). Generally, the lumen cross-sectional area increases with stage, as does the cardiac wall area. There was considerable variability within staging groups for all size measurements.
4. Discussion
The primary limitation of our study is the natural movement of the embryo during the scan period. Because the heart volume scanned is so small (approx. 1.2 × 1 × 1.2 mm) and the embryo itself is small and very sensitive, anything from temperature fluctuations to the angle of the surface of the yolk after the egg is placed under the scanner to the reverberations of its own heartbeat can cause the embryo to move. Although we made every effort to keep the egg level and at a stable temperature and the scan time as short as possible (~4 min) given the amount of data collected, many of the embryos we scanned (about 35%) exhibited enough motion to be immediately discarded or to completely derail the synchronization algorithm, at which point they were discarded. The scans that were successful and that are presented here very likely experienced some slight embryo movement as well, which has the potential to affect the resulting segmented geometry. However, these motions were negligible, as we were able to visually monitor the embryo movement throughout the scanning process using video images (approx. 0.014 mm/pixel) taken at the beginning of each b-mode sequence, and from those video images, no embryo motion was visually detected.
This study was designed to further our understanding of spatiotemporal wall shear stress and velocity distributions within the normal chick embryonic outflow tract during a subset of the looping stages of cardiac development (HH14–18). Morphological changes during cardiac development have been extensively studied, but the changes in blood flow dynamics and hemodynamic stimuli that take place have yet to be well-characterized. The objective of the study was to determine the hemodynamic baseline associated with cardiac growth during looping stages. While we acknowledge that an analysis of more embryos would have been desirable, our study is a stepping stone in characterizing hemodynamics and hemodynamic transitions during looping stages. We plan to expand our sample sizes and to build upon these initial results in order to establish a robust baseline for normal hemodynamic parameters within the chick heart outflow tract.
Supplementary Materials
The following are available online at
https://www.mdpi.com/2308-3425/6/1/11/s1
, Video S1: The corresponding 3-D and 2-D videos of WSS over the cardiac cycle in an HH17 embryo, Figure S1: The hemodynamic parameters by stage and sex.
Author Contributions
Conceptualization, S.R.; methodology, K.C.; software, K.C.; validation, K.C.; formal analysis, K.C. and K.B.; investigation, K.C., M.G., and K.B.; resources, S.R. and K.T.; data curation, K.C.; writing—original draft preparation, K.C. and M.G.; writing—review and editing, S.R. and K.T.; visualization, K.C.; supervision, S.R.; project administration, S.R.; funding acquisition, S.R.
Funding
This research was funded by a grant from the National Institutes of Health (NIH) R01 HL094570 and a grant from the Medical Research Foundation (MRF). The content is solely the responsibility of the authors and does not necessarily represent the official views of grant giving bodies.
Acknowledgments
We are grateful to Graham Rykiel for assisting M.G. in sexing embryos.
Conflicts of Interest
We have no conflicts of interest to declare.
Figure 1. A simplified schematic of our custom 4-D optical coherence tomography (OCT) scan pattern. 200 b-modes (frames) are collected along the approximate centerline of the outflow tract (OFT) (longitudinal scan). Then, a series of 200-frame b-mode sequences are collected perpendicular to the initial scan (cross-sectional scans) at evenly spaced distances along the OFT.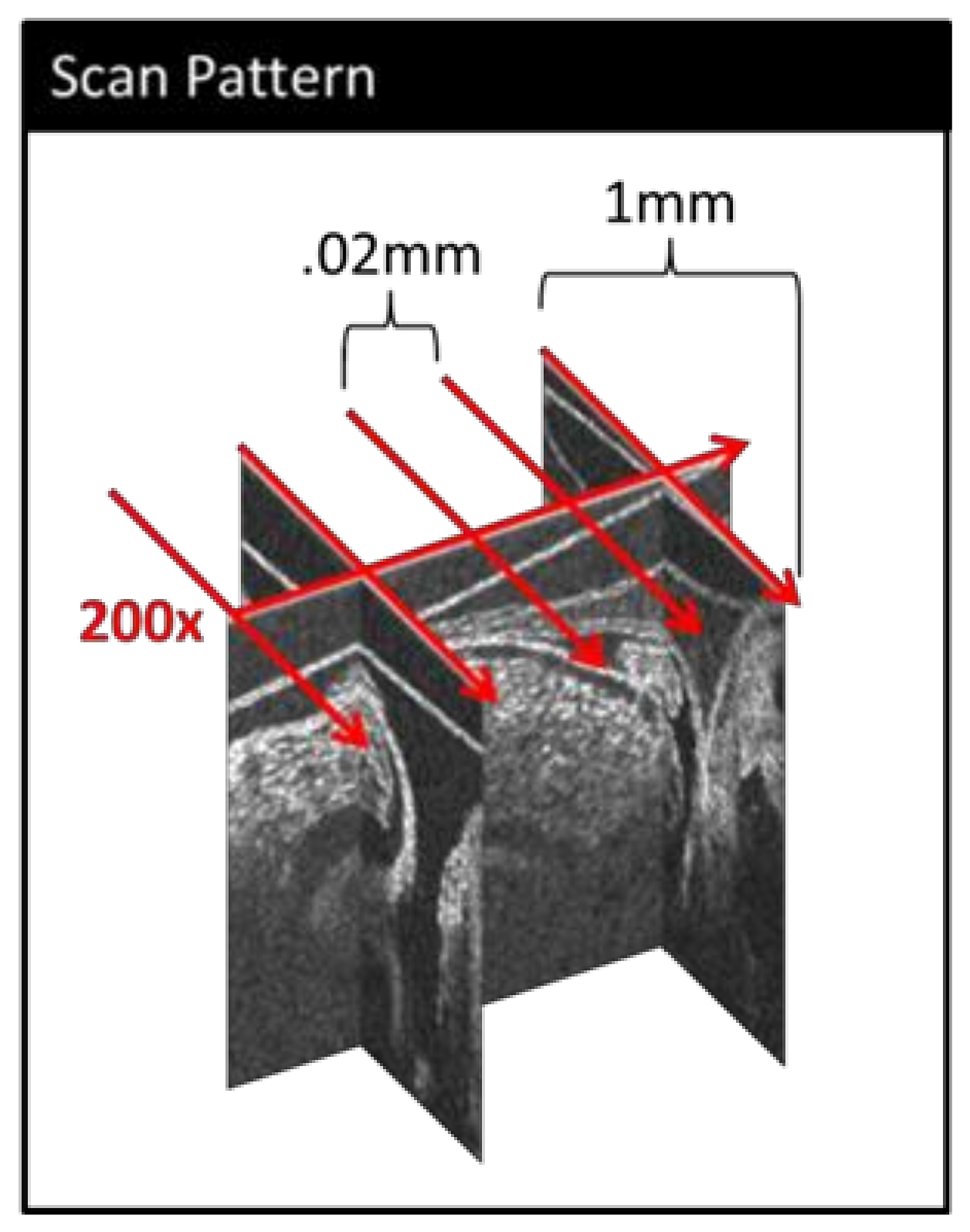 Figure 2. An illustration of the synchronization method employed to reconstruct 4-D OFT images from non-gated OCT datasets: (a) a schematic showing how m-modes are used to pool cardiac cycle information and to align cross-sectional datasets with the longitudinal dataset. Scale bars: 150 µm. (b) A plot showing an example of how the initial synchronization can be corrected and smoothed by the user: The phase scale is in units of pooled frames (1/200th of a cardiac cycle).
Figure 3. OCT image segmentation. First row: The longitudinal OCT scan location (black lines) superimposed on images of representative embryos at the stages considered. Subsequent rows: Representative structural OCT images reconstructed from synchronized cross-sectional datasets, with the results of our semiautomatic segmentation algorithm, shown here at a longitudinal section corresponding to the location of the black scan lines. Both open and closed OFT configurations are shown for each stage to illustrate the expansion and contraction of the OFT walls during the cardiac cycle which allows flow from the ventricle while blocking most backflow. Scale bars: 150 µm.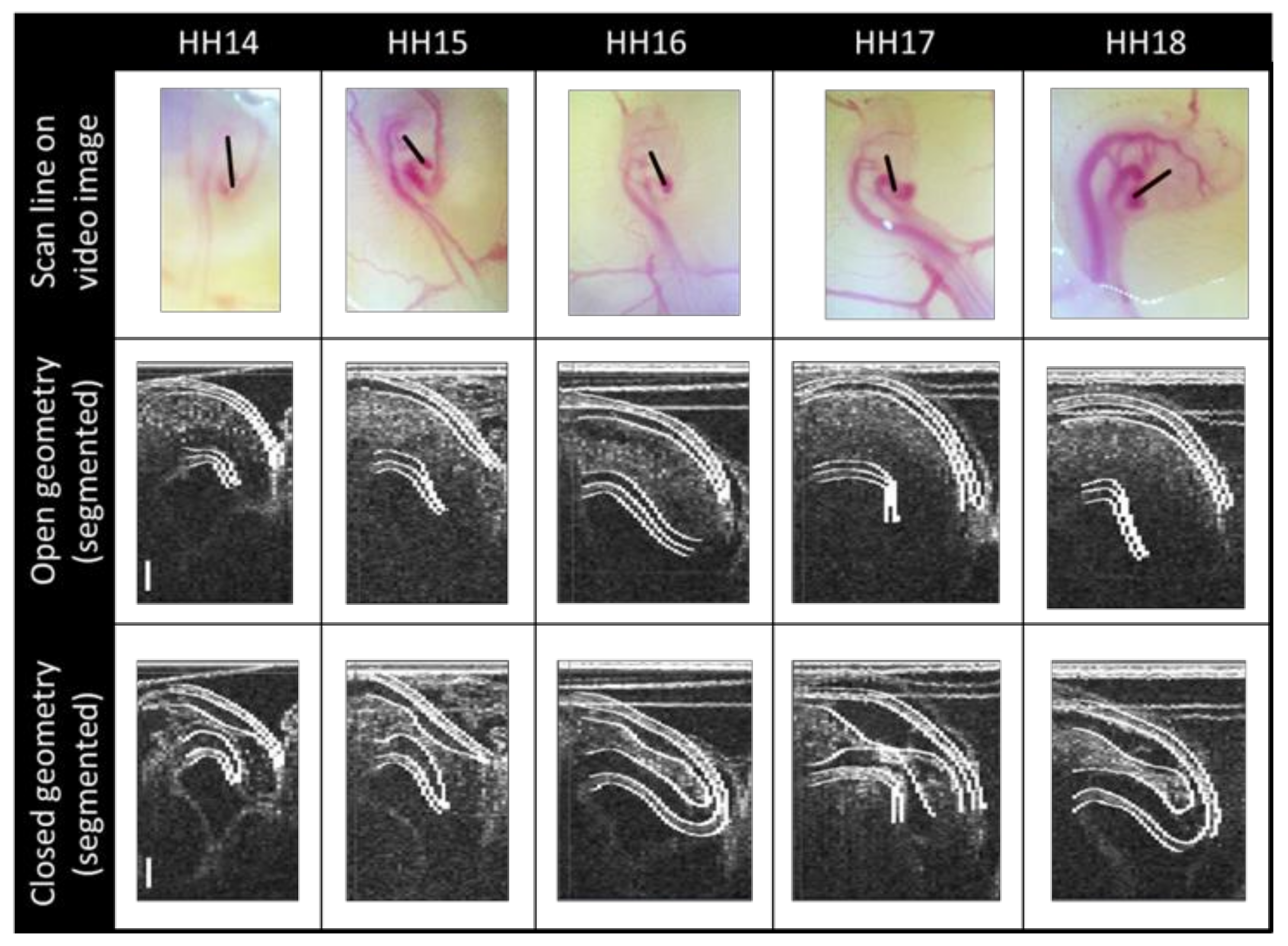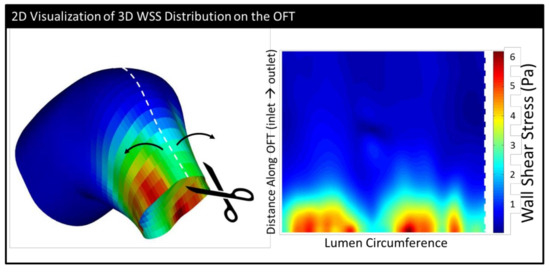 Figure 4. A schematic showing how the wall shear stress distribution on the endocardium is represented in 2-D. The surface of the endocardium is "cut" along the top and "unrolled" so that in the 2-D image, the inlet is at the bottom and the outlet is at the top. (The surface depicted is from an HH18 embryo at the point of maximum wall shear stress (WSS).)
Figure 5. The OFT size depicted as the color-coded area of its cross sections over time (normalized cardiac cycle, horizontal axis) and space (normalized OFT length, inlet to outlet, vertical axis): (a) the spatiotemporal changes in the OFT lumen cross-sectional area and (b) the spatiotemporal changes in the OFT wall (cushions plus myocardium) cross-sectional area. The embryos have been ordered from youngest to oldest within each stage group and aligned in rows by stage.
Figure 6. The flow parameters over the simulated portion of the normalized cardiac cycle: (a) the velocity magnitude at evenly spaced points along the centerline and (b) the flow rate (Q). The embryos have been ordered from youngest to oldest within each stage group and aligned in rows by stage.
Figure 7. The mean (temporally averaged) wall shear stress over the simulated portion of the cardiac cycle shown on an "unrolled" endocardium surface (inlet at the bottom and outlet at top). The embryos have been ordered from youngest to oldest within each stage group and aligned in rows by stage.

Table 1. A summary of the heart outflow tract hemodynamic results. The values are presented as the mean plus or minus the standard deviation.
HH14
HH15
HH16
HH17
HH18
(

n

= 3)
(

n

= 1)
(

n

= 4)
(

n

= 4)
(

n

= 4)
# Male
2
0
3
2
1
Cardiac cycle (ms)
486 ± 54
507
408 ± 35
410 ± 30
400 ± 35
Maximum lumen volume (mm3)
03 ± 005
04
07 ± 02
095 ± 02
09 ± 02
Mean lumen volume (mm3)
02 ± 0.004
02
04 ± 01
05 ± 01
05 ± 01
Centerline length (mm)
54 ± 01
59
73 ± 07
78 ± 12
69 ± 0.08
Maximum WSS (Pa)
6.3 ± 7
6.3
11.0 ± 5.5
10.6 ± 2
7.9 ± 3.4
Mean WSS (Pa)
1.1 ± 5
97
1.1 ± 22
9 ± 0.17
75 ± 0.20
Mean oscillatory shear index (OSI)
25 ± 11
31
29 ± 03
21 ± 0.12
16 ± 0.13
Maximum OSI
45 ± 08
49
49 ± 01
38 ± 0.16
3 ± 0.22
Maximum backflow velocity (mm/s)
30 ± 19
40
50 ± 6
30 ± 12
21 ± 11
Maximum forward velocity (mm/s)
43 ± 12
35
82 ± 29
90 ± 15
62 ± 6
Backflow volume (mm3/beat)
02 ± 02
04
04 ± 002
04 ± 0.02
02 ± 0.02
Forward volume (mm3/beat)
07 ± 02
1
15 ± 02
25 ± 0.11
21 ± 0.02
Stroke volume (mm3/beat)
05 ± 01
06
12 ± 02
21 ± 0.1
19 ± 0.03
Cardiac efficiency
75 ± 19
64
76 ± 02
84 ± 0.1
92 ± 0.08
Maximum flow rate (mm3/s)
72 ± 6
87
1.7 ± 0.21
2.8 ± 1.24
2.4 ± 0.17

© 2019 by the authors. Licensee MDPI, Basel, Switzerland. This article is an open access article distributed under the terms and conditions of the Creative Commons Attribution (CC BY) license (http://creativecommons.org/licenses/by/4.0/).