Immunostaining for p53 and p16CDKN2A Protein Is Not Predictive of Prognosis for Dogs with Malignant Mammary Gland Neoplasms
Pathobiology, School of Veterinary Science, Massey University, Palmerston North 4442, New Zealand
*
Author to whom correspondence should be addressed.
Received: 24 January 2019 / Revised: 8 March 2019 / Accepted: 21 March 2019 / Published: 25 March 2019
Abstract
Mammary gland tumors (MGTs) are common in dogs and show a variable clinical behavior that is difficult to predict. Currently, few immunohistochemical markers have been established to predict the prognosis of a canine MGT. However, p53 immunostaining has been variably reported to be prognostic for canine MGTs. Additionally, while p16
CDK2NA
protein (p16) immunostaining has been found to be prognostic for human breast cancers, this marker has never been evaluated as a prognostic marker for canine neoplasms. In the present study, the prognostic utility of p53 and p16 was evaluated in 35 canine malignant MGTs. It was observed that 19 (54%) dogs died due to their MGTs with an overall mean survival time (MST) of 882 days. Seven MGTs showed p53 immunostaining, but this was not significantly associated with death (4 of 7 vs. 15 of 28;
p
= 0.6) or MST (670 vs. 934 days;
p
= 0.57). Five dogs had MGTs with no p16 immunostaining, 28 MGTs had intermediate p16 immunostaining, and two MGTs had increased p16 immunostaining. Neither death due to MGT (4 of 5, 14 of 28, or 1 of 2;
p
= 0.28) nor MST (683, 927, and 307 days;
p
= 0.31) were significantly associated with p16 immunostaining. Interestingly, p53 immunostaining was significantly associated with an increase or loss of p16 immunostaining. This is the first time that p16 has been evaluated as a prognostic marker for canine neoplasms. While these results suggest that a proportion of canine MGTs develop by cellular mechanisms that alter both p53 and p16 expression, there was no evidence that defects in p53 or p16 alter the behavior of a MGT. Neither p53 nor p16 was found to significantly predict prognosis, although this could reflect the limited number of MGTs included in the study.
View Full-Text
►

▼

Figures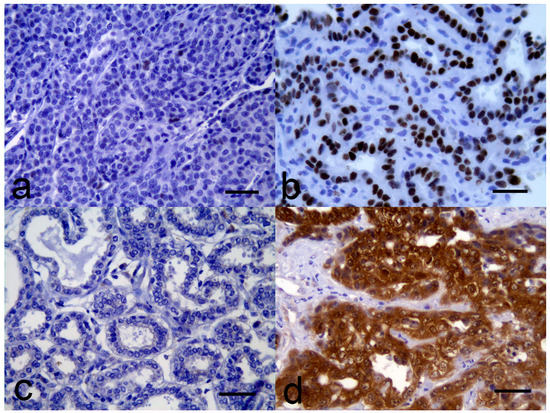 Figure 1
This is an open access article distributed under the
Creative Commons Attribution License
which permits unrestricted use, distribution, and reproduction in any medium, provided the original work is properly cited (CC BY 4.0).

Share & Cite This Article
MDPI and ACS Style
Munday, J.S.; Ariyarathna, H.; Aberdein, D.; Thomson, N.A. Immunostaining for p53 and p16CDKN2A Protein Is Not Predictive of Prognosis for Dogs with Malignant Mammary Gland Neoplasms. Vet. Sci. 2019, 6, 34.
Note that from the first issue of 2016, MDPI journals use article numbers instead of page numbers. See further details here.
Related Articles
Comments
[Return to top]