Open Access This article is
freely available
re-usable
Review
Review of Diagnostic and Therapeutic Approach to Canine Myxomatous Mitral Valve Disease
Department of Small Animal Clinical Sciences, Virginia-Maryland College of Veterinary Medicine, 205 Duck Pond Dr., Blacksburg, VA 24061, USA
*
Author to whom correspondence should be addressed.
Academic Editors: Sonja Fonfara and Lynne O'Sullivan
Received: 23 June 2017 / Accepted: 20 September 2017 / Published: 26 September 2017
Abstract
:
The most common heart disease that affects dogs is myxomatous mitral valve disease. In this article, we review the current diagnostic and therapeutic approaches to this disease, and we also present some of the latest technological advancements in this field.
Keywords:
dogs; heart; echocardiography; mitral repair
Conflicts of Interest
The authors declare no conflict of interest.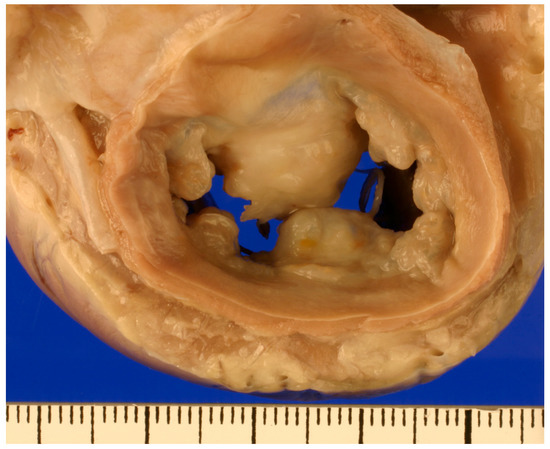 Figure 1. Gross pathology specimen fixed in 10% formalin showing the MV of a dog affected by MMVD. The LA was removed and thick, nodular mitral leaflets are shown.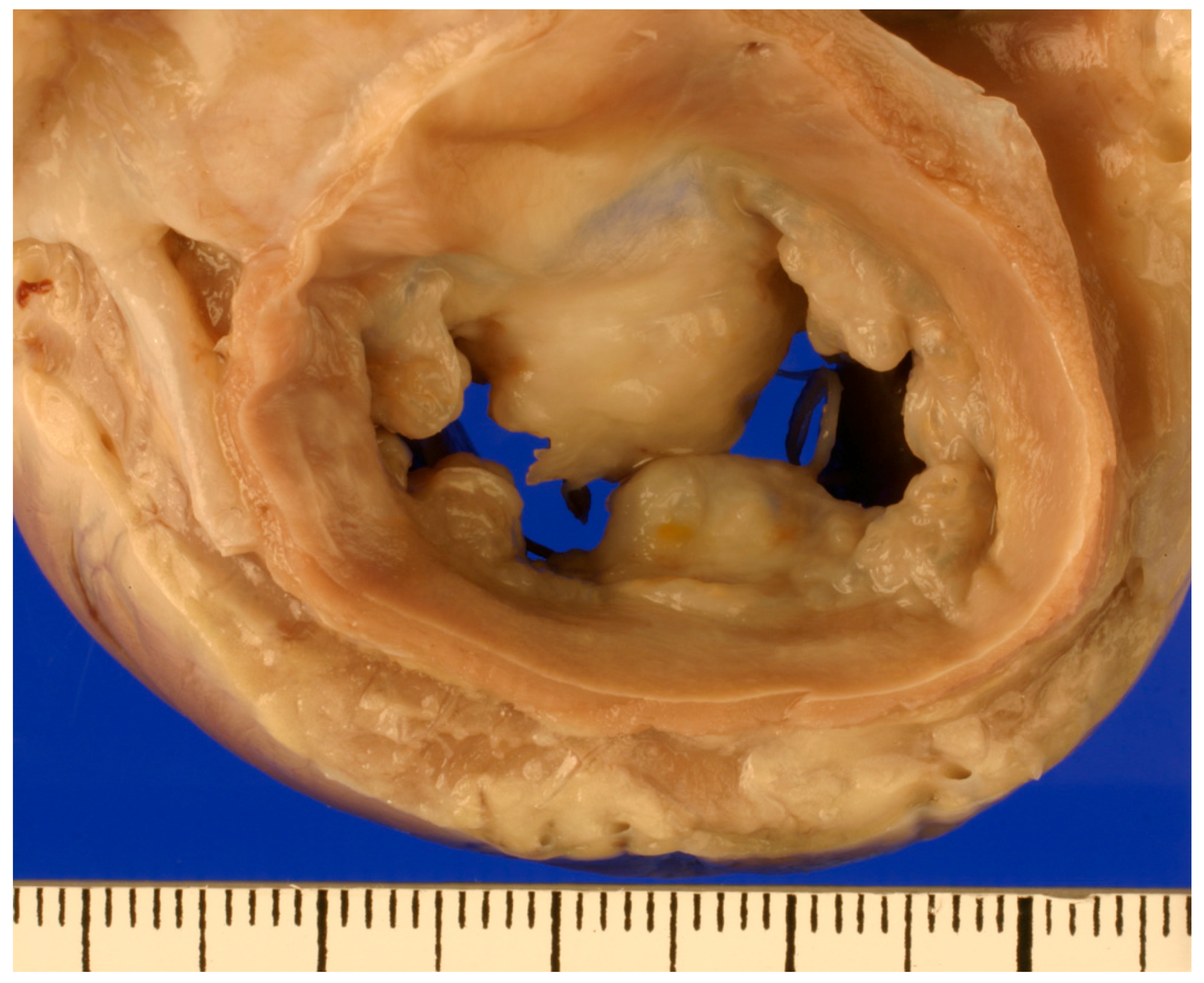 Figure 2. Two-dimensional echocardiographic image of a dog with mitral prolapse. In this right parasternal long axis four-chamber view, the mitral leaflets, thickened and nodular in appearance, can be noticed bulging into the LA. RA: right atrium; RV: right ventricle; LV: left ventricle; LA: left atrium; and MV: mitral valve.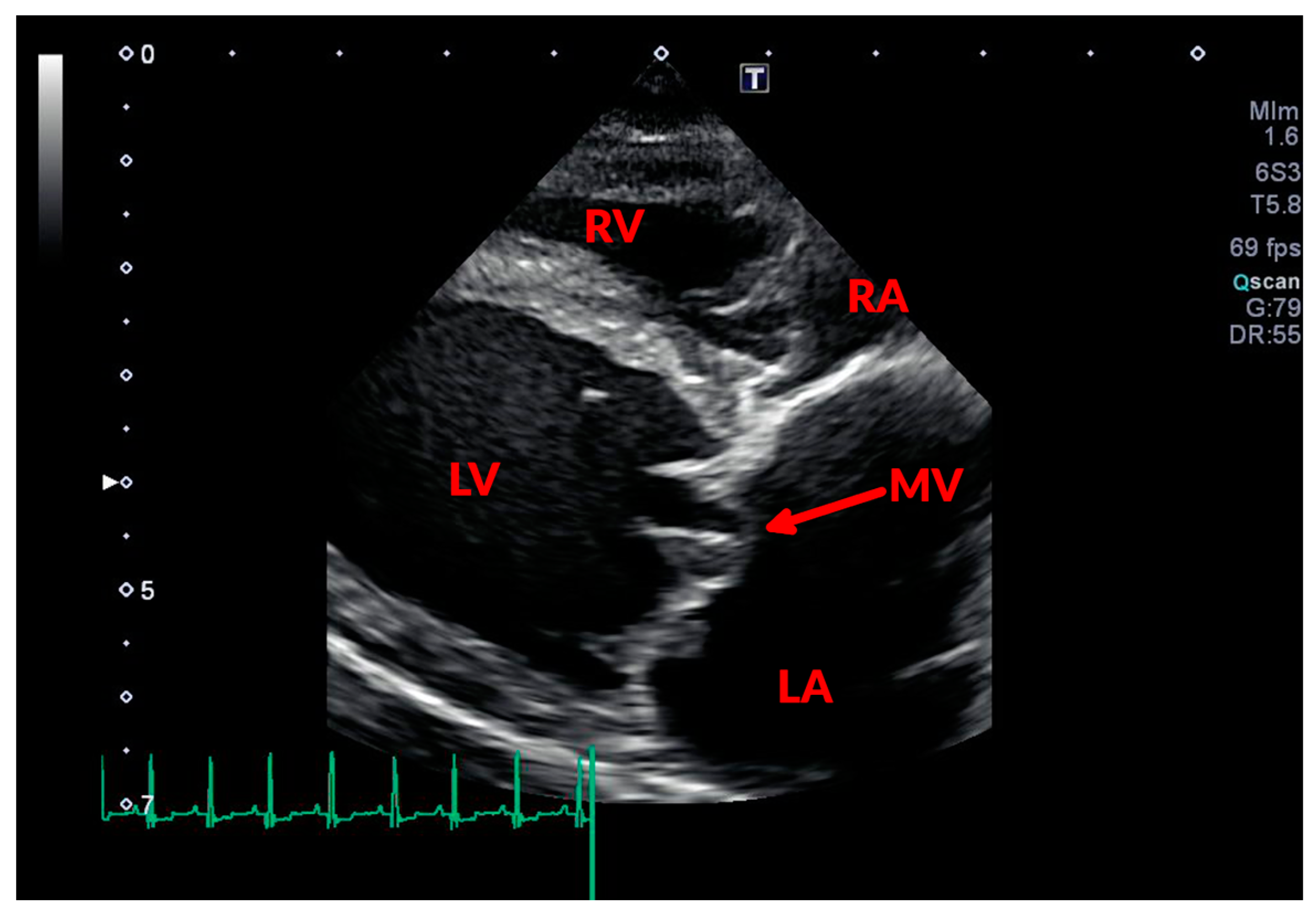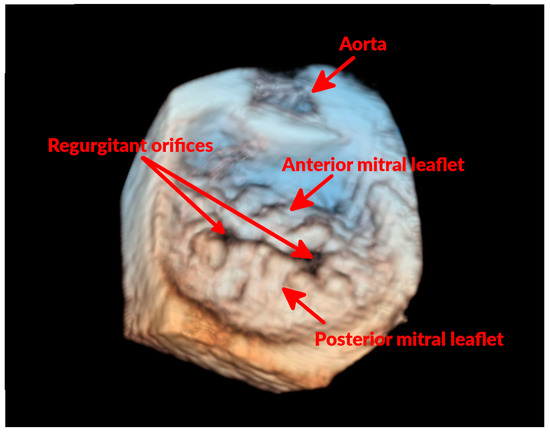 Figure 3. Three-dimensional echocardiographic "surgical" view of the MV of a dog with mitral prolapse. In this three-dimensional echocardiographic image, the MV is visualized as seen from the LA. It can be noticed how several areas of both anterior and posterior MV leaflets are bulging. It can also be noticed that the two leaflets fail to coapt in two areas (regurgitant orifices), which is where the MR occurs.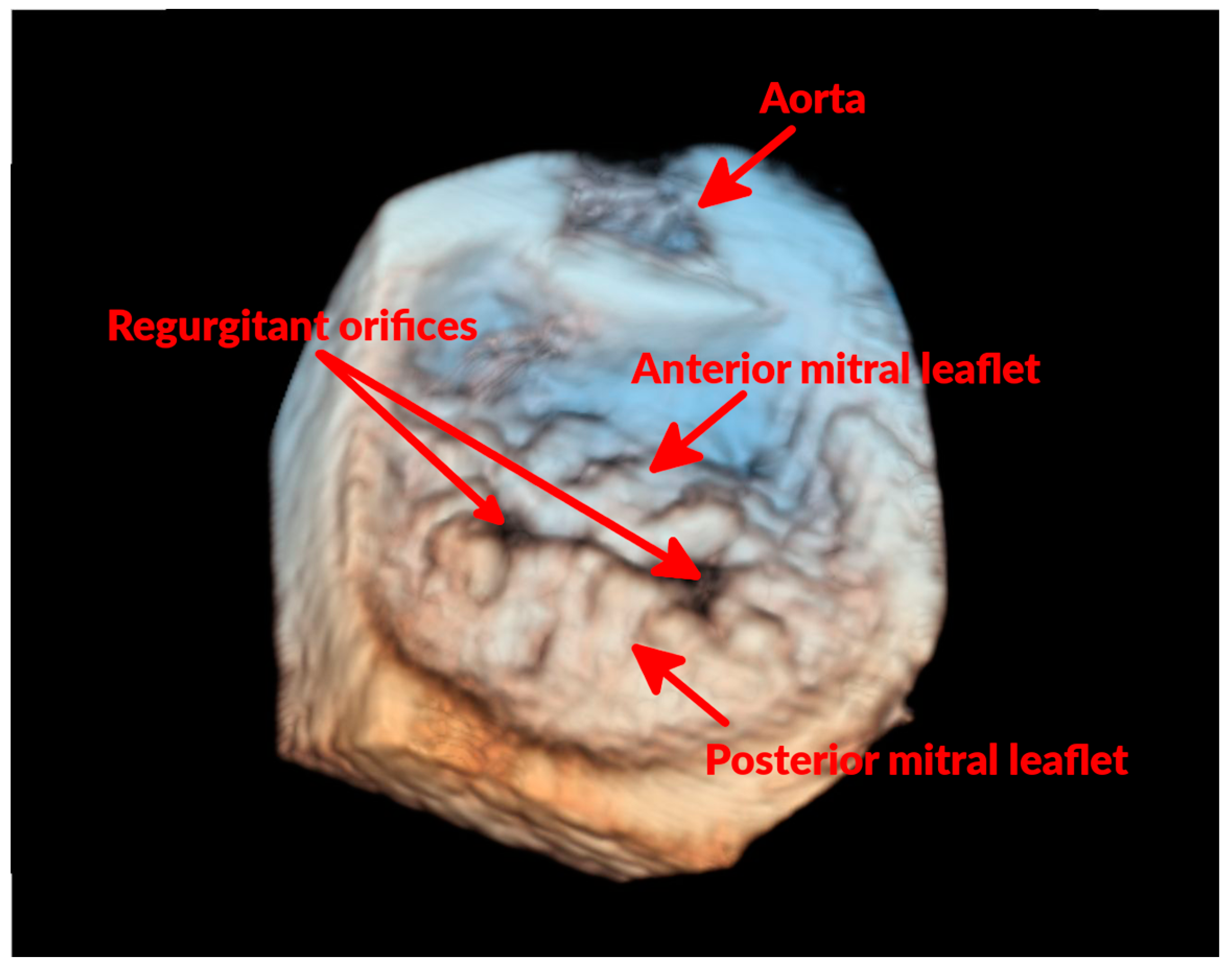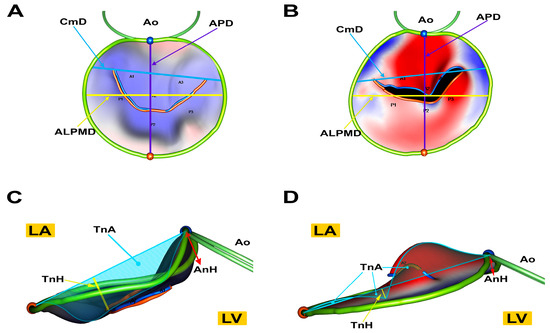 Figure 4.
Atrial (
A
,
B
) and lateral (
C
,
D
) view of MV models of a healthy dog (
A
,
C
) and a dog affected by MMVD (
B
,
D
). Healthy dogs have a more elliptical annulus (
A
) while dogs with MMVD have a more circular one (
B
). Furthermore, in healthy dogs the saddle shape is more evident (
C
) than in dogs with MMVD (
D
) that have a smaller annulus height. Tenting height and tenting area are reduced in dogs with MMVD (
D
) compared to healthy dogs (
C
). Ao, aortic annulus; APD, antero-posterior annulus diameter; ALPMD, anterolateral- posteromedial annulus diameter; CmD, commissural diameter; LA, left atrial side of the valve; TnA, tenting area (dashed); AnH, annulus height; LV, left ventricular side of the valve; TnH, tenting height. Reproduced with permission from Menciotti et al., J. Vet. Cardiol.; published by Elsevier, 2017 [
77
].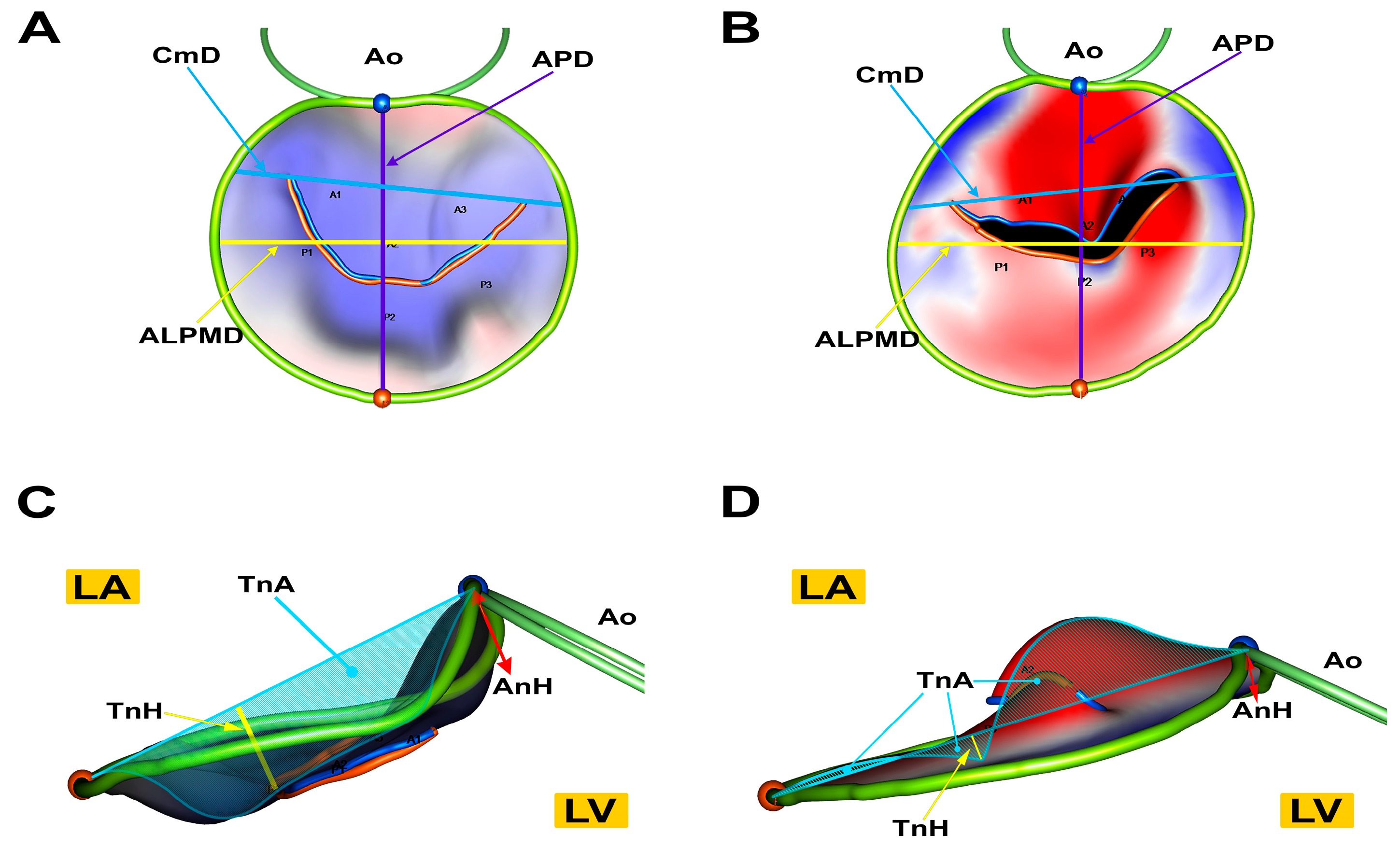 © 2017 by the authors. Licensee MDPI, Basel, Switzerland. This article is an open access article distributed under the terms and conditions of the Creative Commons Attribution (CC BY) license (http://creativecommons.org/licenses/by/4.0/).