Isotopic Discrimination of Aquifer Recharge Sources, Subsystem Connectivity and Flow Patterns in the South Fork Palouse River Basin, Idaho and Washington, USA
1
Department of Geological Sciences, University of Idaho, Moscow, ID 83844, USA
2
Department of Soil and Water Systems, University of Idaho, Moscow, ID 83844, USA
4
Department of Ecology and Genetics, Uarctic, University of Oulu, 90014 Oulu, Finland
*
Author to whom correspondence should be addressed.
Received: 16 December 2018 / Revised: 19 January 2019 / Accepted: 30 January 2019 / Published: 3 February 2019
Abstract
Groundwater studies in the South Fork Palouse River Basin have been unable to determine recharge sources, subsystem connectivity and flow patterns due to the discontinuity of pathways in the heterogeneous and anisotropic aquifers located in Columbia River flood basalts and interbedded sediments. Major ion, δ
18
O, δ
2
H, δ
13
C, δ
34
S and temperature for groundwater collected from 28 wells of varying depths indicate a primary recharge source dominated by snowmelt along the eastern basin margin. This recharge can be separated into two distinct sources—a deeper and relatively less altered snowmelt signal (−17.3‰ to −16.8‰ δ
18
O, −131‰ to −127‰ δ
2
H, −12.9‰ to −10‰ δ
13
C, 18–23 °C) and a more altered signal likely derived from a shallower mixture of snowmelt, precipitation and surface water (−16.1‰ to −15.5‰ δ
18
O, −121‰ to −117‰ δ
2
H, −15.9‰ to −12.9‰ δ
13
C, 12–19 °C). A mixing of the shallow and deep source waters is observed within the upper aquifer of the Grande Ronde Formation near Moscow, Idaho, which results in a homogenization of isotope ratios and geochemistry for groundwater at nearly any depth to the west of this mixing zone. This homogenized signal is prevalent in a likely primary productive zone of an intermediate depth in the overall aquifer system.
View Full-Text
►

▼

Figures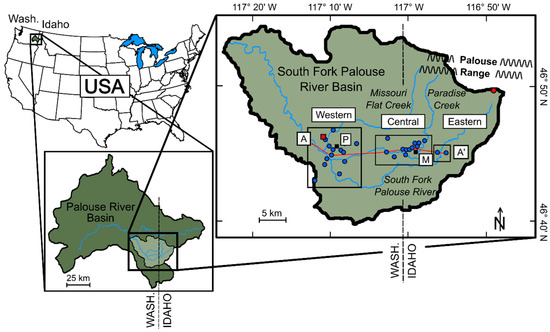 Figure 1
This is an open access article distributed under the
Creative Commons Attribution License
which permits unrestricted use, distribution, and reproduction in any medium, provided the original work is properly cited (CC BY 4.0).

Share & Cite This Article
MDPI and ACS Style
Duckett, K.A.; Langman, J.B.; Bush, J.H.; Brooks, E.S.; Dunlap, P.; Welker, J.M. Isotopic Discrimination of Aquifer Recharge Sources, Subsystem Connectivity and Flow Patterns in the South Fork Palouse River Basin, Idaho and Washington, USA. Hydrology 2019, 6, 15.
Note that from the first issue of 2016, MDPI journals use article numbers instead of page numbers. See further details here.
Related Articles
Comments
[Return to top]