Assessment of Spatio-Temporal Changes of Land Use and Land Cover over South-Western African Basins and Their Relations with Variations of Discharges
1
LAPAMF-African Centre of Excellence on Climate Change, Biodiversity and Sustainable Development, Université Félix Houphouët Boigny, 22 B.P. 582 Abidjan 22, Abidjan, Ivory Coast
2
IRD, CNRS, Grenoble INP, IGE, University Grenoble Alpes, F-38000 Grenoble, France
3
Department of Energy and Environmental Engineering, University of Energy and Natural Resources, P.O. Box 214 Sunyani, Ghana
4
Department of Civil and Environmental Engineering, University of Massachusetts Amherst, Amherst, MA 01003, USA
5
WASCAL Climate Change and Water Resource Doctoral Programme-School of Environment Planning and Management, University of Abomey-Calavi, P.O. Box 526 Cotonou, Benin
6
Département de Géographie et Aménagement de Territoire (DGAT/FLASH), Université de Parakou, BP 123 Parakou, Parakou, Benin
7
Centre de Recherches Ecologiques, Université Nangui Abrogoua, 02 BP 801 Abidjan, Abidjan, Ivory Coast
8
UFR-Environnement, Université Jean Lorougnon GUEDE, 12 BP V 25 DALOA 12, Daloa, Ivory Coast
9
CURAT (Centre Universitaire de Recherche et d'Application en Télédétection), Université Félix Houphouët Boigny, 22 BP 801 Abidjan 22, Abidjan, Ivory Coast
*
Author to whom correspondence should be addressed.
Received: 1 August 2018 / Revised: 17 September 2018 / Accepted: 8 October 2018 / Published: 10 October 2018
Abstract
West African basins play a vital role in the socio-economic development of the region. They are mostly trans-boundary and sources of different land use practices. This work attempts to assess the spatio-temporal land use and land cover changes over three South Western African basins (Volta, Mono and Sassandra basins) and their influence on discharge. The land use and land cover maps of each basin were developed for 1988, 2002 and 2016. The results show that all the studied basins present an increase in water bodies, built-up, agricultural land and a decline in vegetative areas. These increases in water bodies and land use are as a result of an increase in small reservoirs, of dugouts and of dam constructions. However, the decline in some vegetative clusters could be attributed to the demographic and socio-economic growth as expressed by the expansion of agriculture and urbanization. The basic statistical analysis of precipitation and discharge data reveals that the mean annual discharge varies much more than the total annual precipitation at the three basins. For instance, in the entire Volta basin, the annual precipitation coefficient of variation (CV) is 10% while the annual discharge CV of Nawuni, Saboba and Bui are 43.6%, 36.51% and 47.43%, respectively. In Mono basin, the annual precipitation CV is 11.5% while the Nangbeto and Athieme annual discharge CV are 37.15% and 46.60%, respectively. The annual precipitation CV in Sassandra basin is 7.64% while the annual discharge CV of Soubre and Dakpadou are 29.41% and 37%, respectively. The discharge varies at least three times much more than the precipitation in the studied basins. The same conclusion was found for all months except the driest months (December and January). We showed that this great variation in discharge is mainly due to land use and land cover changes. Beside the hydrological modification of the land use and land cover changes, the climate of the region as well as the water quality and availability and the hydropower generation may be impacted by these changes in land surfaces conditions. Therefore, these impacts should be further assessed to implement appropriate climate services and measures for a sustainable land use and water management.
View Full-Text
►

▼

Figures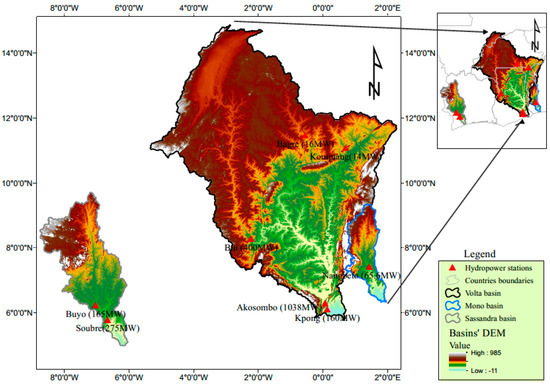 Figure 1
This is an open access article distributed under the
Creative Commons Attribution License
which permits unrestricted use, distribution, and reproduction in any medium, provided the original work is properly cited (CC BY 4.0).

Share & Cite This Article
MDPI and ACS Style
Obahoundje, S.; Diedhiou, A.; Ofosu, E.A.; Anquetin, S.; François, B.; Adounkpe, J.; Amoussou, E.; Kouame, Y.M.; Kouassi, K.L.; Nguessan Bi, V.H.; Youan Ta, M. Assessment of Spatio-Temporal Changes of Land Use and Land Cover over South-Western African Basins and Their Relations with Variations of Discharges. Hydrology 2018, 5, 56.
Note that from the first issue of 2016, MDPI journals use article numbers instead of page numbers. See further details here.
Related Articles
Comments
[Return to top]