Application of Multi-Isotopes and Geochemical Modeling for Delineating Recharge and Salinization Sources in Dahab Basin Aquifers (South Sinai, Egypt)
Hydrogeochemistry Department, Water Resources and Desert Soil Division, Desert Research Center, Cairo 11753, Egypt
Received: 2 June 2018 / Revised: 26 June 2018 / Accepted: 30 June 2018 / Published: 4 August 2018
Abstract
The Dahab watershed comprises three aquifers; the alluvial Quaternary, the Early Cambrian sandstone, and the fractured Pre-Cambrian basement aquifers. The Dahab watershed is located in the southeastern part of the arid Sinai Peninsula, where low precipitation and groundwater over-exploitation deteriorate the groundwater quality in the alluvial coastal plain aquifer located downstream. Multi-isotopes including δ
18
O and δ
2
H,
87
Sr/
86
Sr, δ
81
Br and δ
11
B coupled with groundwater geochemistry were utilized to assess the recharge source(s), water-rock interaction, and seawater mixing to aid sustainable groundwater management strategies. Br and Cl concentrations, used to measure groundwater salinity, were low in the upstream groundwater, while higher concentrations were observed in the deep drilled wells located downstream, in the main well field. The δ
18
O and δ
2
H isotopes were depleted in the upstream aquifers, but enriched in the shallow coastal aquifer, indicating slight evaporation and seawater intrusion. Higher mean values of
87
Sr/
86
Sr and δ
81
Br were observed in the fresh groundwater from high in the watershed (
87
Sr/
86
Sr = 0.707716 and δ
81
Br = +2.05‰), while lower mean values were observed in the saline groundwater located downstream in the main well field (
87
Sr/
86
Sr = 0.706631 and δ
81
Br = +0.11‰). The cumulative mass balance mixing curves and the geochemical NETPATH model confirm the change of groundwater quality from the upper to lower watershed caused by the leaching and evaporation processes, as well as mixing with seawater. The corrected
14
C age dating and stable isotopes show that the Quaternary and Pre-Cambrian basement aquifers contain modern groundwater, while the Early Cambrian aquifer holds paleo-groundwater, which has received considerable recharge from recent precipitation. The mixing ratiosin the Quaternary coastal aquifer range between 5% and 13% seawater to 95% and 87% fresh groundwater, respectively. These results indicate that future groundwater withdrawal must be well managed in order to limit further salinization. Groundwater withdrawal from the Quaternary coastal aquifer must be below the natural average recharge in order to be sustainable.
View Full-Text
►

▼

Figures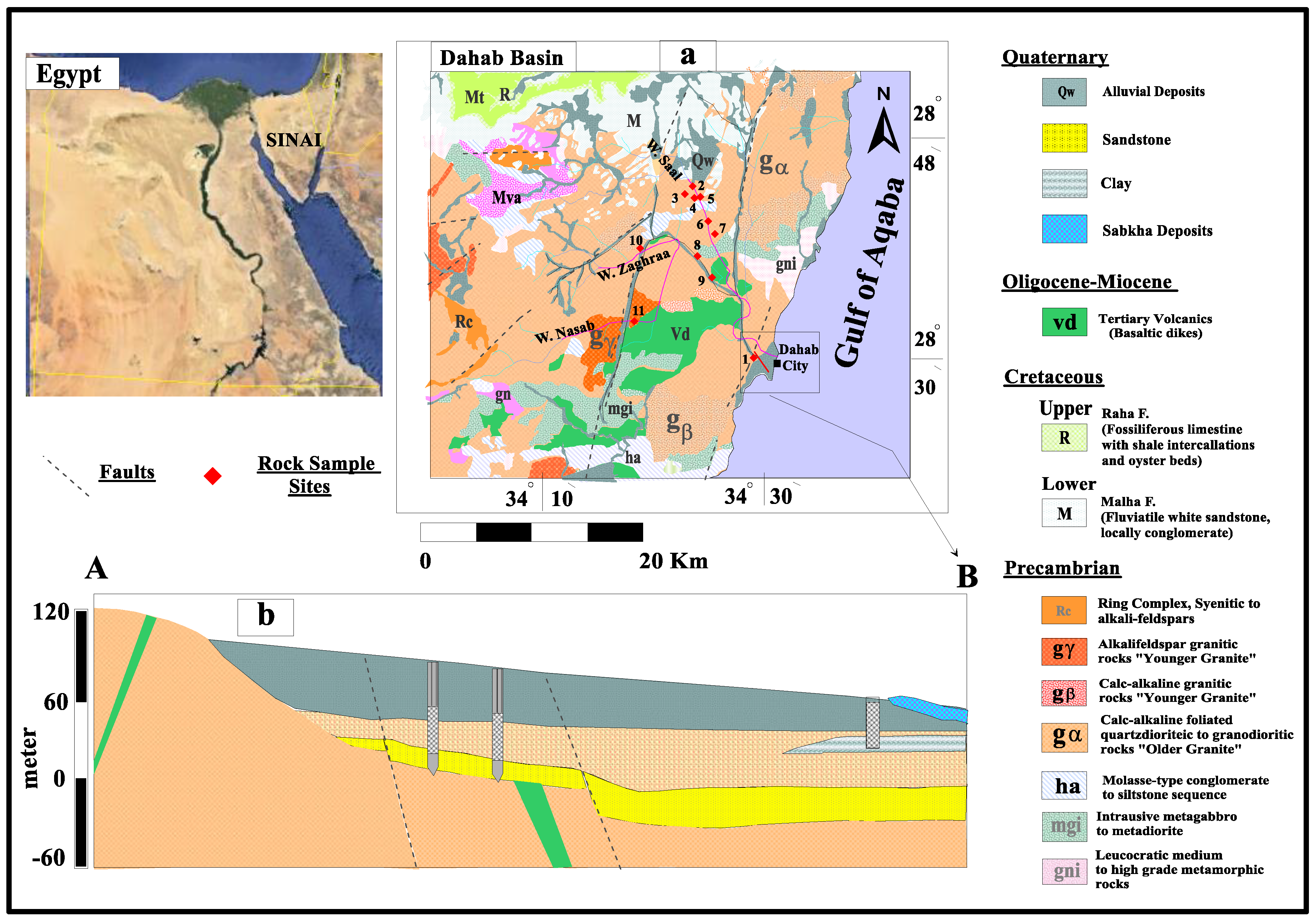 Figure 1
This is an open access article distributed under the
Creative Commons Attribution License
which permits unrestricted use, distribution, and reproduction in any medium, provided the original work is properly cited (CC BY 4.0).

Share & Cite This Article
MDPI and ACS Style
Eissa, M.A. Application of Multi-Isotopes and Geochemical Modeling for Delineating Recharge and Salinization Sources in Dahab Basin Aquifers (South Sinai, Egypt). Hydrology 2018, 5, 41.
Note that from the first issue of 2016, MDPI journals use article numbers instead of page numbers. See further details here.
Related Articles
Comments
[Return to top]