Changes in Extremes of Temperature, Precipitation, and Runoff in California's Central Valley During 1949–2010
1
California Department of Water Resources, 1416 9th Street, Sacramento, CA 95814, USA
2
California-Nevada River Forecast Center, National Weather Service, 3310 El Camino Avenue, Sacramento, CA 95821, USA
*
Author to whom correspondence should be addressed.
Received: 20 November 2017 / Revised: 18 December 2017 / Accepted: 20 December 2017 / Published: 21 December 2017
Abstract
This study presents a comprehensive trend analysis of precipitation, temperature, and runoff extremes in the Central Valley of California from an operational perspective. California is prone to those extremes of which any changes could have long-lasting adverse impacts on the society, economy, and environment of the State. Available long-term operational datasets of 176 forecasting basins in six forecasting groups and inflow to 12 major water supply reservoirs are employed. A suite of nine precipitation indices and nine temperature indices derived from historical (water year 1949–2010) six-hourly precipitation and temperature data for these basins are investigated, along with nine indices based on daily unimpaired inflow to those 12 reservoirs in a slightly shorter period. Those indices include daily maximum precipitation, temperature, runoff, snowmelt, and others that are critical in informing decision making in water resources management. The non-parametric Mann-Kendall trend test is applied with a trend-free pre-whitening procedure in identifying trends in these indices. Changes in empirical probability distributions of individual study indices in two equal sub-periods are also investigated. The results show decreasing number of cold nights, increasing number of warm nights, increasing maximum temperature, and increasing annual mean minimum temperature at about 60% of the study area. Changes in cold extremes are generally more pronounced than their counterparts in warm extremes, contributing to decreasing diurnal temperature ranges. In general, the driest and coldest Tulare forecasting group observes the most consistent changes among all six groups. Analysis of probability distributions of temperature indices in two sub-periods yields similar results. In contrast, changes in precipitation extremes are less consistent spatially and less significant in terms of change rate. Only four indices exhibit statistically significant changes in less than 10% of the study area. On the regional scale, only the American forecasting group shows significant decreasing trends in two indices including maximum six-hourly precipitation and simple daily intensity index. On the other hand, runoff exhibits strong resilience to the changes noticed in temperature and precipitation extremes. Only the most southern reservoir (Lake Isabella) shows significant earlier peak timing of snowmelt. Additional analysis on runoff indices using different trend analysis methods and different analysis periods also indicates limited changes in these runoff indices. Overall, these findings are meaningful in guiding reservoir operations and water resources planning and management practices.
View Full-Text
►

▼

Figures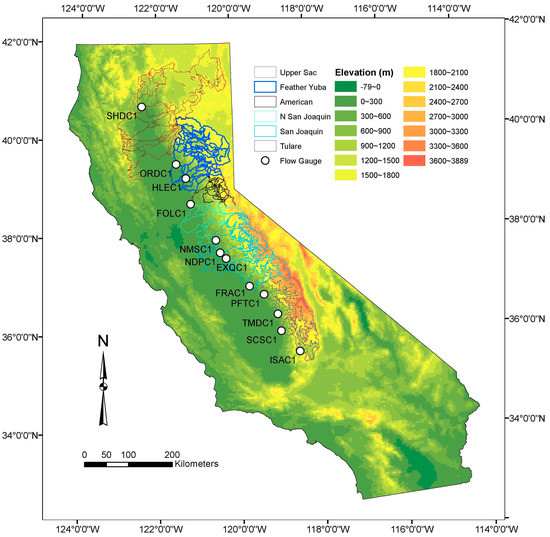 Figure 1
This is an open access article distributed under the
Creative Commons Attribution License
which permits unrestricted use, distribution, and reproduction in any medium, provided the original work is properly cited (CC BY 4.0).

Share & Cite This Article
MDPI and ACS Style
He, M.; Russo, M.; Anderson, M.; Fickenscher, P.; Whitin, B.; Schwarz, A.; Lynn, E. Changes in Extremes of Temperature, Precipitation, and Runoff in California's Central Valley During 1949–2010. Hydrology 2018, 5, 1.
Note that from the first issue of 2016, MDPI journals use article numbers instead of page numbers. See further details here.
Related Articles
Comments
[Return to top]