Influence of Crust Formation on Soil Porosity under Tillage Systems and Simulated Rainfall
1
Universidade Federal do Piauí, Campus Professora Cinobelina Elvas (UFPI/CPCE), CEP: 64900-000 Bom Jesus, PI, Brazil
2
Departamento de Ciência do solo, Escola Superior de Agricultura ''Luiz de Queiroz'', Universidade de São Paulo (ESALQ/USP), CEP: 13400-000 Piracicaba, SP, Brazil
3
INRA, UR0272, UR Science du sol, F-45075 Orléans, France
4
Universidade Estadual de Santa Cruz, Campus Soane Nazaré de Andrade, Rodovia Jorge Amado, Km 16, Bairro Salobrinho, CEP: 45662-900 Ilhéus, Bahia, Brazil
*
Author to whom correspondence should be addressed.
†
Presently at: Inra, Laboratoire Sols et Environnement, UMR 1120, F-54518 Vandoeuvre-lès-Nancy, France.
Academic Editors: Thomas Iserloh, Artemi Cerdà, Wolfgang Fister and Saskia Keesstra
Received: 28 June 2016 / Revised: 15 December 2016 / Accepted: 21 December 2016 / Published: 5 January 2017
Abstract
Surface crusts, formed by raindrop impact, degrade the soil surface structure causing changes in porosity. An experiment was conducted with the objective of evaluating the influence of the formation of a crusting layer on the porosity (percentage of area, shape and size) of a Haplic Acrisol under three tillage systems, and simulated rainfall. The tillage systems were: conventional tillage (CT), reduced tillage (RT) and no-tillage (NT). Each tillage system was submitted to different levels of simulated rainfall (0, 27, 54 and 80 mm) at an intensity of 80 mm·h
−1
. Undisturbed soil samples were collected and resin impregnated for image analysis in two layers: layer 1 (0–1 cm) and layer 2 (1–2 cm). Image analysis was used to obtain the pore area percentage, pore shape and size. The degradation of the soil surface and change in porosity, caused by rainfall, occurred differently in the tillage systems. In the CT and RT systems, the most pronounced pore changes caused by rainfall occurred in layer 1, but in the NT system, this change occurred in layer 2. The rainfall caused change of pore area percentage in the CT and RT systems, with reduction of complex and an increase of rounded pores. The NT system showed greater occurrence of the rounded pores (vesicles), originated by processes of wetting below the residue cover, and by alternating periods of wetting and drying. In this study, the changes in porosity were attributed to two main factors: (1) to the effect of the raindrop directly on the soil surface (for CT and RT tillage systems) and (2) water transfer processes in the soil surface (for NT systems).
View Full-Text
►

▼

Figures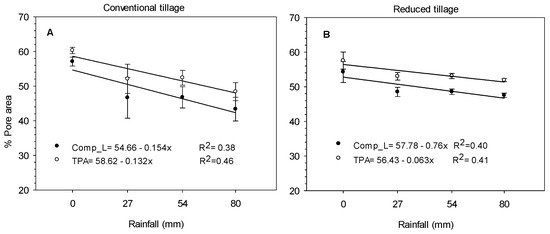 Figure 1
This is an open access article distributed under the
Creative Commons Attribution License
which permits unrestricted use, distribution, and reproduction in any medium, provided the original work is properly cited (CC BY 4.0).

Share & Cite This Article
MDPI and ACS Style
Dalla Rosa, J.; Cooper, M.; Darboux, F.; Medeiros, J.C.; Campanaro, C.; Martins Pinto, L.R. Influence of Crust Formation on Soil Porosity under Tillage Systems and Simulated Rainfall. Hydrology 2017, 4, 3.
Note that from the first issue of 2016, MDPI journals use article numbers instead of page numbers. See further details here.
Related Articles
Comments
[Return to top]