Open Access This article is
freely available
re-usable
Review
Phytochemical Modulation of MiRNAs in Colorectal Cancer
Department of Clinical Health Sciences, Doisy College of Health Sciences, Saint Louis University, St. Louis, MO 63104, USA
*
Author to whom correspondence should be addressed.
Received: 31 January 2019 / Accepted: 3 April 2019 / Published: 5 April 2019
Abstract
:
Colorectal cancer (CRC) is one of the leading causes of death in the United States. Chemotherapy and radiotherapy are some of the most commonly used treatments, but are often associated with severe side effects, and are not entirely curative. It is therefore important to consider other preventative treatment options. Phytochemicals are naturally occurring bioactive compounds which have been shown to play a role in cancer prevention and treatment, especially in regards to a person's lifestyle and diet. Recent evidence has shown that phytochemicals may exert their chemopreventative effects by targeting micro RNAs (miRNAs), which regulate the downstream expression of tumor suppressors and oncogenes. MiRNAs are small, endogenous, noncoding RNAs that regulate several biological processes through post-translational regulation. The dysregulation of miRNA expression has been shown to be associated with colorectal cancer. In this review, we will summarize and discuss several phytochemicals, which have been shown to exert chemopreventative effects in colorectal cancer by the modulation of miRNA expression.
Keywords:
colorectal cancer; phytochemicals; micro RNAs
1. Colorectal Cancer and Its Preventability
Cancers afflicting the colon and/or the rectum are collectively referred to as colorectal cancers (CRCs). CRC is the third most commonly diagnosed cancer in the United States and the third leading cause of cancer-related deaths in the USA [
1
]. Mehta et al. suggested that the high prevalence of colon cancer in the US may be linked to the Western diet: A diet rich in red and processed meat, refined starches, sugar, and trans fats, but poor in fruits, vegetables, fibers, and omega 3 fatty acids [
2
]. Increased red and processed meat consumption has been associated with a significantly increased risk of CRC incidence [
3
]. It stands to reason then, that a modification of the Western diet could potentially lead to chemopreventative or protective effects: A potential change being the increased consumption of plant-based foods such as fruits and vegetables [
4
]. An early hypothesis supporting plant-based diets was that the high insoluble fiber content offered protection against colorectal cancers. This postulation was first proposed by Burkitt, and supported by statistics indicating that certain African populations eating high fiber diets were found to have lower incidences of CRC as compared to populations in the United States [
5
]. However, studies attempting to link fiber consumption to colon cancer are weakly supportive at best—many fail to show any association at all [
6
,
7
]. Another source of interest regarding this area was the low incidence rate of CRC in India; the rates for both males and females are amongst the lowest in the world [
8
]. Epidemiologists attributed this difference to environmental factors such as diet; the Indian diet is far lower in processed foods and far higher in fruits and vegetables [
9
]. The Indian diet is also rich in spices, which contain many phytochemicals—including some that have been linked to the suppression of tumor initiation and promotion [
10
]. Epidemiological studies have linked the Indian spice-rich diet to reduced rates of multiple cancers, such as cancers of the colon and prostate [
10
]. Interestingly, data collected from cancer registries have shown that CRC incidence is lowest in Indians living in India, and higher for Indians who have migrated to areas such as the United Kingdom [
11
,
12
].
Interest regarding phytochemicals has accelerated recently due to the need for a safer and more effective chemoprevention agent [
13
]. Currently, chemotherapeutic drugs such as oxaliplatin or irinotecan are used against colon cancer, but these drugs have major side effects due to non-selectivity [
14
]. Thus, phytochemicals are gaining acceptance as potential chemotherapeutics, and their anti-cancer effects are being further examined. Furthermore, since phytochemicals may be a part of daily dietary habits, they may not only be utilized as part of a chemotherapeutic drug cocktail, but perhaps as a preventative nutrient when incorporated into the diet.
Alternative methods of treatment are important especially because of emerging chemoresistance to existing therapeutics. Novel treatments can inhibit tumorigenesis by different mechanisms, which may overcome current chemoresistance. Therefore, it is pertinent to investigate different molecular mechanisms of anti-tumorigenic therapeutics. A relatively recent area of interest focuses on epigenetics. Epigenetics focuses on alterations in the regulation of gene expression that does not involve a change in the specific DNA sequence of the cell [
15
]. Epigenetic changes include any changes in the expression of genes occurring as a result of modified DNA. One of the major methods of epigenetic modification is by DNA methylation; methylation of CpG islands near a promoter can silence the gene and dysregulate expression levels. Another method of epigenetic modification is by post-translational histone modifications such as acetylation, methylation, phosphorylation, ubiquitylation, or sumoylation. Furthermore, a large amount of focus has been recently dedicated to epigenetic modification by non-coding RNAs such as micro RNAs (miRNAs). Expression levels of miRNAs are associated with the regulation of genes involved in various cancer formations. Novel therapeutics, which may regulate the aberrant expression of these miRNAs are of interest since it offers an alternative method of treatment. Various phytochemicals have been shown to modulate epigenetic mechanisms leading to decreased tumorigenesis and aberrant cancer cell proliferation by regulating pathways linked to angiogenesis, invasion, and cell survival.
2. Phytochemicals and MiRNAs
3. Conclusions
Phytochemicals could potentially be used in combination therapies with current chemotherapeutic treatments. For example, if an aberrant dysregulation of the Wnt pathway were identified in a certain colorectal tumor, curcumin in combination might be an appropriate treatment, as it was found to downregulate the Wnt pathway in SW480 cells. Likewise, combination therapeutics can take advantage of microarray technology to identify aberrant pathways and identify appropriate phytochemicals to be used in treatment. Cancer is often a result of multiple mutations within a cell. Therefore, it is possible that the mutations make cancer resistant to one type of drug or another, which is why combination therapies have become popular. Targeting cancer cells by multiple anti-tumorigenic therapeutics allows a multi-faceted approach to inhibiting growth and proliferation of cancer. Use of phytochemicals alone or in combination for treatment can help to regulate aberrant molecular pathways in cancer cells, such as the NF-κβ and the Akt/mTOR pathway.
Several mechanisms of tumor inhibition by miRNA modulation have been reviewed here. The phytochemicals in combination can mediate anti-cancer effects synergistically by modulating miRNAs. This knowledge will allow innovative treatments for CRC to be identified, which can offer preventative effects, complement traditional chemotherapy, or become treatments of their own.
Author Contributions
A.G. and U.E. wrote the manuscript.
Funding
This research was funded by the DeNardo Education and Research Foundation.
Acknowledgments
We thank Rita Heuertz and Amy Harkins for critically reading the manuscript.
Conflicts of Interest
The authors declare no conflict of interest.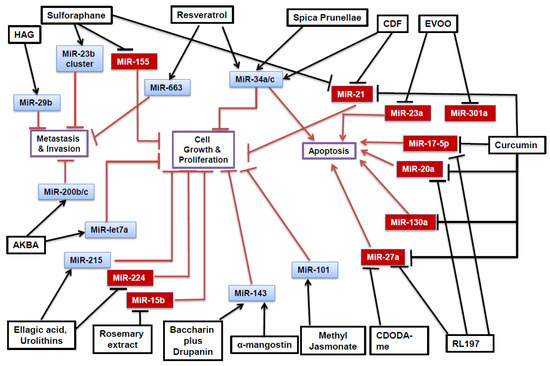 Figure 1. In vitro effect of phytochemicals against colorectal cancer by modulation of micro-RNA. Black arrows indicate upregulation while blunted black bars indicate downregulation of selected miRNA by phytochemicals. Overall phytochemical modulation of miRNAs exerts anti-tumorigenic effects either by inhibition of metastasis and invasion, inhibition of cell growth and proliferation, or induction of apoptosis. OncomiRs are shown in red boxes and are downregulated by phytochemicals, while tsmiRs are shown in blue boxes and are upregulated by phytochemicals.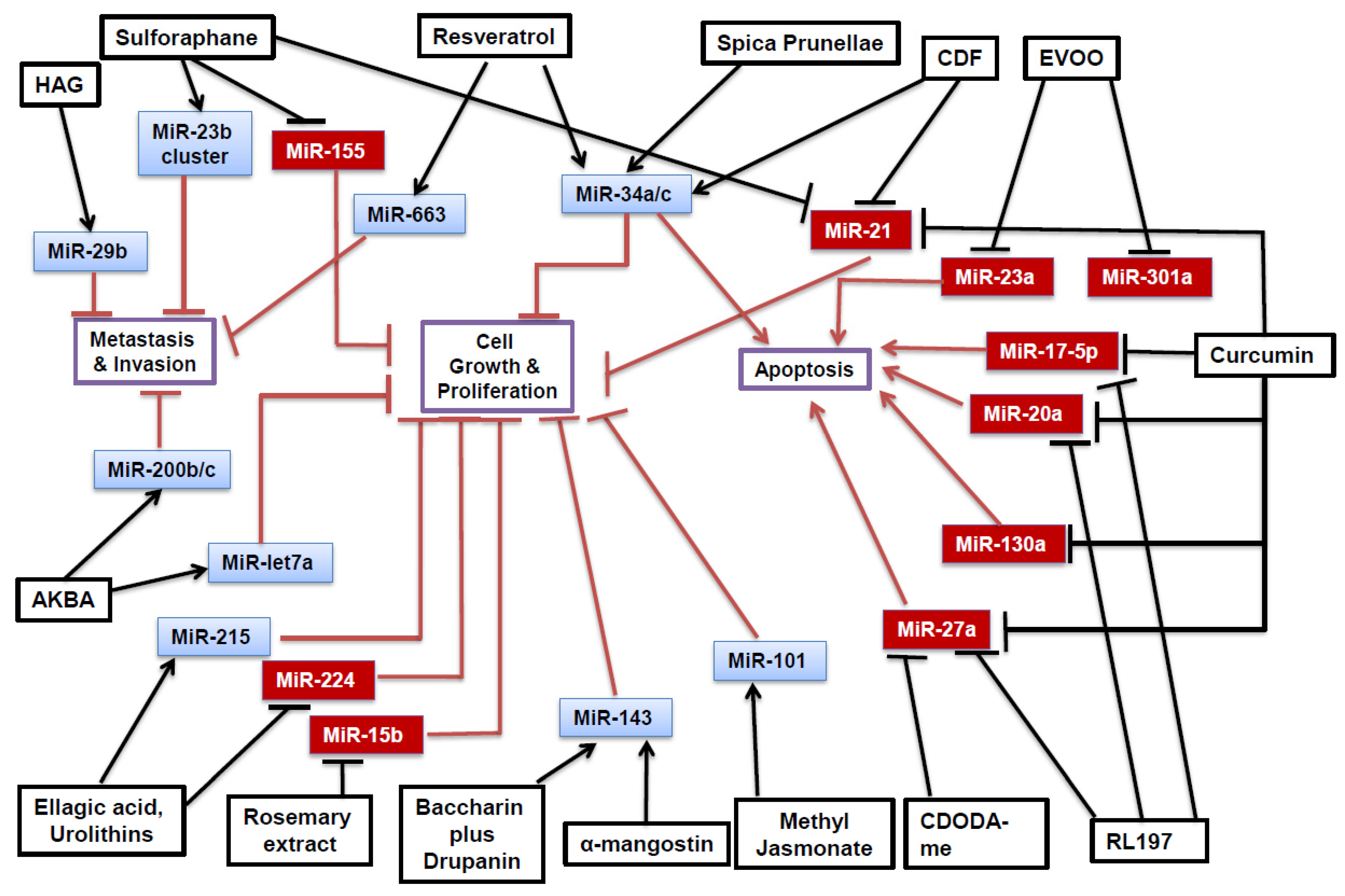 Phytochemical
Cell Line
MiRNA Affected
Target(s) and Effect
Reference
Curcumin
RKO, SW480
miR-17-5p↓
miR-20a↓
miR-27a↓
ZBTB10↑, ZBTB4↑
Sp1↓, Sp3↓, Sp4↓
[25]
RKO, HCT116
miR-21↓
PDCD4↑
[26]
SW480
miR-130a↓
Wnt↓,
B-catenin↓,
Nkd2↑
[28]
CDF
HCT-116, SW620, HT-29
miR-21↓
PTEN↑
[33]
HCT-116, SW620
miR-34a↑
miR-34c↑
Notch-1↓
[31]
RL197
RKO, SW480
miR-17-5p↓
miR-20a↓
miR-27a↓
ZBTB10↑, ZBTB4↑
Sp1↓, Sp3↓, Sp4↓
[25]
Resveratrol
DLD-1, SW480
miR-34a↑
E2F3↓, Sirt1↓
[45]
SW480
miR-663↑
TGFβ1↓
[43]
Baccharin + Drupanin
DLD-1
miR-143↑
MAPK/Erk5↓
C-myc↓
[55]
CDODA-Me
RKO, SW480
miR-27a↓
ZBTB10↑, Myt1↑
Sp1↓, Sp3↓, Sp4↓
[57]
Sulforaphane
RKO
miR-21↓
hTERT↓, HDAC1↓
[59]
NCM460, NCM356
miR-23b↑
miR-27b↑
FZD7↓
MAP3K1↓
[60]
[63]
NCM460, NCM356
miR-155↓
SOCS1↑, AKT↓
[60,66]
EVOO
Caco-2
miR-23a↓
miR-301a↓
CB1↑
[71]
A-mangostin
DLD-1
miR-143↑
MAPK/Erk5 ↓
[73]
AKBA
SW620, HT29, HCT116
miR-200b↑
miR-200c↑
miR-let7a↑
Vimentin↓
CDK6↓
E-cadherin↑
[76]
Spica Prunellae
HCT-8
miR-34a↑
Notch-1↓
Notch-2↓
Bcl-2↓
[82]
Ellagic Acid and Urolithins
HT-29, Caco-2
miR-215↑
miR-224↓
CDKN1A↑
[87]
Rosemary Extract
SW480
miR-15b↓
GCNT3↑
[90]
Methyl Jasmonate
SW620
miR-101↑
EZH2↓
[92]
HAG
HCT116, DLD-1, LOVO
miR-29b↑
MMP-2↓
[96]
Increase in expression levels of miRNAs and proteins are shown by an up arrow (↑) and decrease in expression levels of miRNA and protein are shown by a down arrow (↓).
Phytochemical
Cell Line Tested
miRNA Affected
Target(s) and Effect
Reference
Resveratrol
APCCKO/Krasmut mice
miR-96↑
Kras↓
[40]
ApcMin/+ mice
miR-101b↑
miR-455↑
IL-6↓, TNF-α↓
[41]
Grape Seed Extract
Azoxymethane (AOM)-induced colon tumors in A/J Mice
miR-19a↑
miR-20a↑
miR-103↓
miR-135b↓
miR-148a↓
miR-196a↓
miR-205↓
miR-let7a↑
NF-κB↓
β-catenin↓
pERK1/2↓
HIF-1α↓
Kras↓
VEGF↓
C-myc↓
[48]
Walnuts
HT-29 injected into mice
miR-297a↑
miR-467c↓
miR-1903↓
miR-3068↓
Cyclooxygenase enzymes↓
FAT4↑
FGFR2↑
NCOA3↑
LMO4↑
PIGR↑
SNARP↑
RBM25↑
[69]
Plum Polyphenols
AOM-induced colon tumors in Sprague-Dawley rats
miR-143↑
Akt↓, mTOR↓
[81]
Increase in expression levels of miRNAs and proteins are shown by an up arrow (↑) and decrease in expression levels of miRNA and protein are shown by a down arrow (↓).

© 2019 by the authors. Licensee MDPI, Basel, Switzerland. This article is an open access article distributed under the terms and conditions of the Creative Commons Attribution (CC BY) license (http://creativecommons.org/licenses/by/4.0/).