The Membrane-Active Phytopeptide Cycloviolacin O2 Simultaneously Targets HIV-1-infected Cells and Infectious Viral Particles to Potentiate the Efficacy of Antiretroviral Drugs
1
Department of Biology, Division of Science, Technology, Engineering and Mathematics, Dillard University, New Orleans, LA 70122, USA
2
Department of Pharmacology, Tulane University Medical Center, New Orleans, LA 70112, USA
3
Department of Health and Biomedical Sciences, University of Texas Rio Grande Valley, Brownsville, TX 78520, USA
4
Department of Medicinal Chemistry, Uppsala University, 751 23 Uppsala, Sweden
5
Department of Biochemistry and Molecular Biology, Tulane University Medical Center, New Orleans, LA 70112, USA
6
Tulane National Primate Research Center, Covington, LA 70112, USA
*
Author to whom correspondence should be addressed.
Received: 21 January 2019 / Revised: 22 February 2019 / Accepted: 24 February 2019 / Published: 28 February 2019
Abstract
Background:
Novel strategies to increase the efficacy of antiretroviral (ARV) drugs will be of crucial importance. We hypothesize that membranes of HIV-1-infected cells and enveloped HIV-1 particles may be preferentially targeted by the phytopeptide, cycloviolacin O2 (CyO2) to significantly enhance ARV efficacy.
Methods:
Physiologically safe concentrations of CyO2 were determined via red blood cell (RBC) hemolysis. SYTOX-green dye-uptake and radiolabeled saquinavir (
3
H-SQV) uptake assays were used to measure pore-formation and drug uptake, respectively. ELISA, reporter assays and ultracentrifugation were conducted to analyze the antiviral efficacy of HIV-1 protease and fusion inhibitors alone and co-exposed to CyO2.
Results:
CyO2 concentrations below 0.5 μM did not show substantial hemolytic activity, yet these concentrations enabled rapid pore-formation in HIV-infected T-cells and monocytes and increased drug uptake. ELISA for HIV-1 p24 indicated that CyO2 enhances the antiviral efficacy of both SQV and nelfinavir. CyO2 (< 0.5 μM) alone decreases HIV-1 p24 production, but it did not affect the transcription regulatory function of the HIV-1 long terminal repeat (LTR). Ultracentrifugation studies clearly showed that CyO2 exposure disrupted viral integrity and decreased the p24 content of viral particles. Furthermore, direct HIV-1 inactivation by CyO2 enhanced the efficacy of enfuvirtide.
Conclusions:
The membrane-active properties of CyO2 may help suppress viral load and augment antiretroviral drug efficacy.
View Full-Text
►

▼

Figures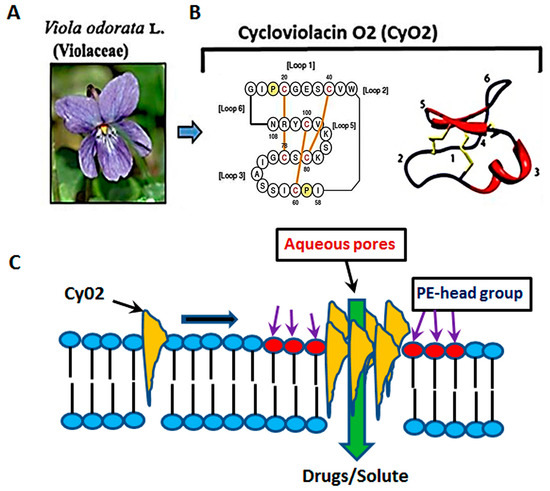 Figure 1
This is an open access article distributed under the
Creative Commons Attribution License
which permits unrestricted use, distribution, and reproduction in any medium, provided the original work is properly cited (CC BY 4.0).

Share & Cite This Article
MDPI and ACS Style
Gerlach, S.L.; Chandra, P.K.; Roy, U.; Gunasekera, S.; Göransson, U.; Wimley, W.C.; Braun, S.E.; Mondal, D. The Membrane-Active Phytopeptide Cycloviolacin O2 Simultaneously Targets HIV-1-infected Cells and Infectious Viral Particles to Potentiate the Efficacy of Antiretroviral Drugs. Medicines 2019, 6, 33.
Note that from the first issue of 2016, MDPI journals use article numbers instead of page numbers. See further details here.
Related Articles
Comments
[Return to top]