Open Access This article is
freely available
re-usable
Review
Drug-Loaded Biocompatible Nanocarriers Embedded in Poloxamer 407 Hydrogels as Therapeutic Formulations
1
Department of Health Sciences, University "Magna Græcia" of Catanzaro, Campus Universitario "S. Venuta", Viale S. Venuta, I-88100 Catanzaro, Italy
2
Department of Experimental and Clinical Medicine, University "Magna Græcia" of Catanzaro, Campus Universitario "S. Venuta", Viale S. Venuta, I-88100 Catanzaro, Italy
*
Author to whom correspondence should be addressed.
Received: 3 December 2018 / Accepted: 28 December 2018 / Published: 29 December 2018
Abstract
:
Hydrogels are three-dimensional networks of hydrophilic polymers able to absorb and retain a considerable amount of water or biological fluid while maintaining their structure. Among these, thermo-sensitive hydrogels, characterized by a temperature-dependent sol–gel transition, have been massively used as drug delivery systems for the controlled release of various bioactives. Poloxamer 407 (P407) is an ABA-type triblock copolymer with a center block of hydrophobic polypropylene oxide (PPO) between two hydrophilic polyethyleneoxide (PEO) lateral chains. Due to its unique thermo-reversible gelation properties, P407 has been widely investigated as a temperature-responsive material. The gelation phenomenon of P407 aqueous solutions is reversible and characterized by a sol–gel transition temperature. The nanoencapsulation of drugs within biocompatible delivery systems dispersed in P407 hydrogels is a strategy used to increase the local residence time of various bioactives at the injection site. In this mini-review, the state of the art of the most important mixed systems made up of colloidal carriers localized within a P407 hydrogel will be provided in order to illustrate the possibility of obtaining a controlled release of the entrapped drugs and an increase in their therapeutic efficacy as a function of the biomaterial used.
Keywords:
poloxamer 407; colloids; liposomes; niosomes; ethosomes; nanoparticles; controlled drug release
Funding
This paper was financially supported by MIUR (FFABR 2017, Fondo per il Finanziamento delle Attività di Base di Ricerca, DC).
Acknowledgments
This paper was financially supported by funds from the Department of Health Sciences. The authors are grateful to Lynn Whitted for her language revision of this article.
Conflicts of Interest
The authors declare no conflicts of interest in this work.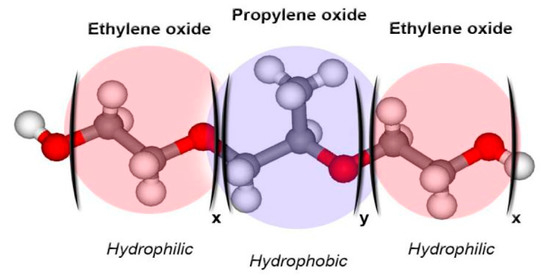 Figure 1.
Schematic representation of the structure of poloxamer derivatives [
22
].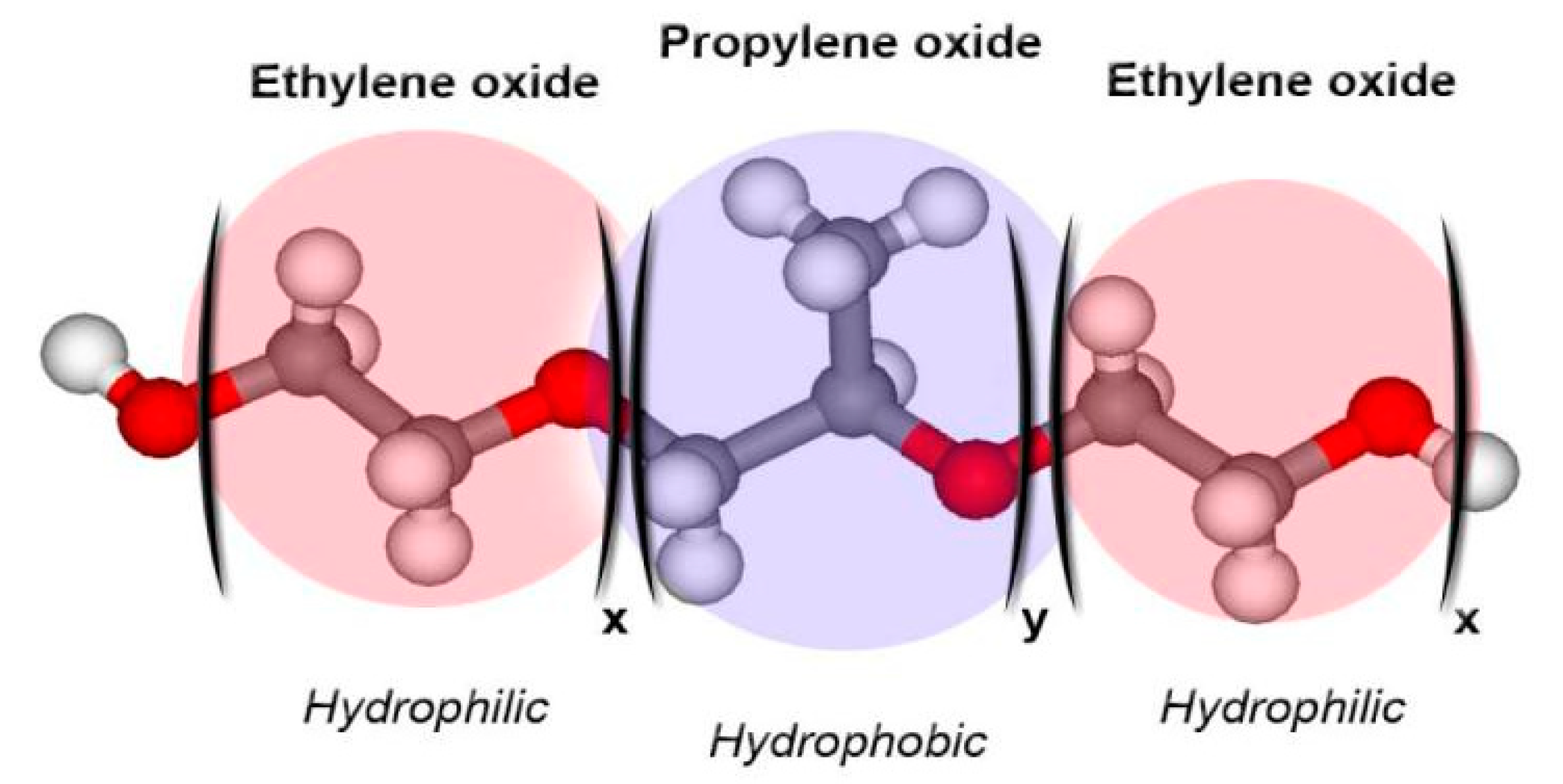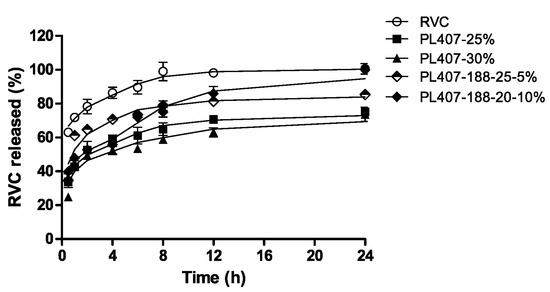 Figure 2.
Release profiles of ropivacaine from poloxamer 407 (P407) and P407/poloxamer 188 (P188) hydrogels [
42
].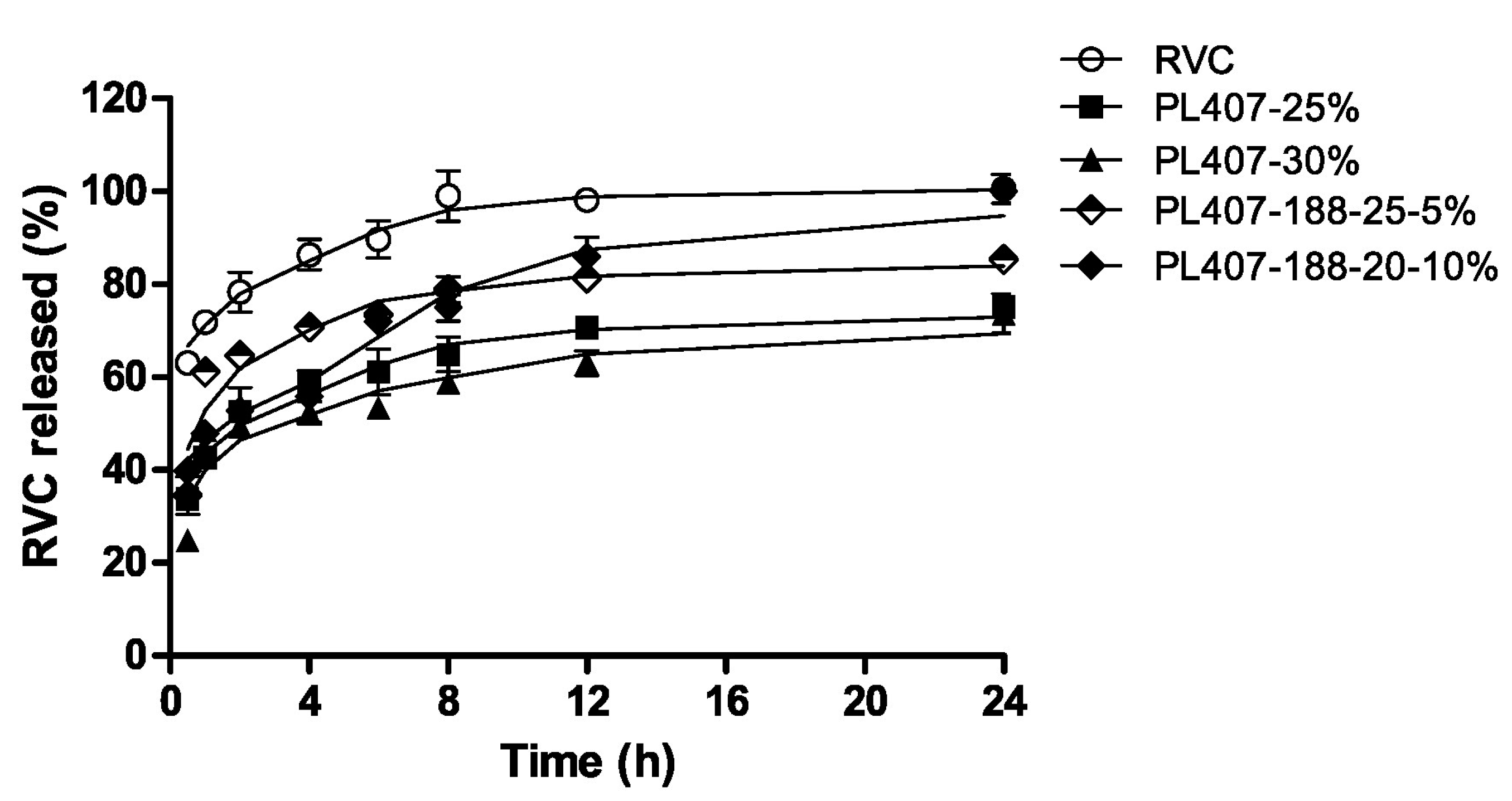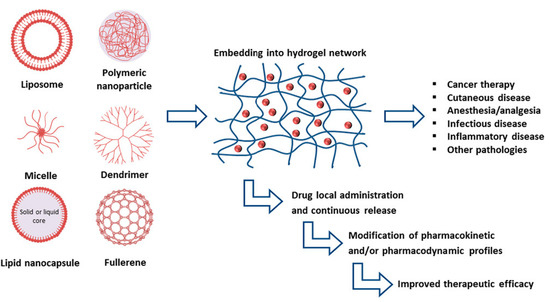 Figure 3.
Advancements realized by the inclusion of various nanocarriers within hydrogels [
4
].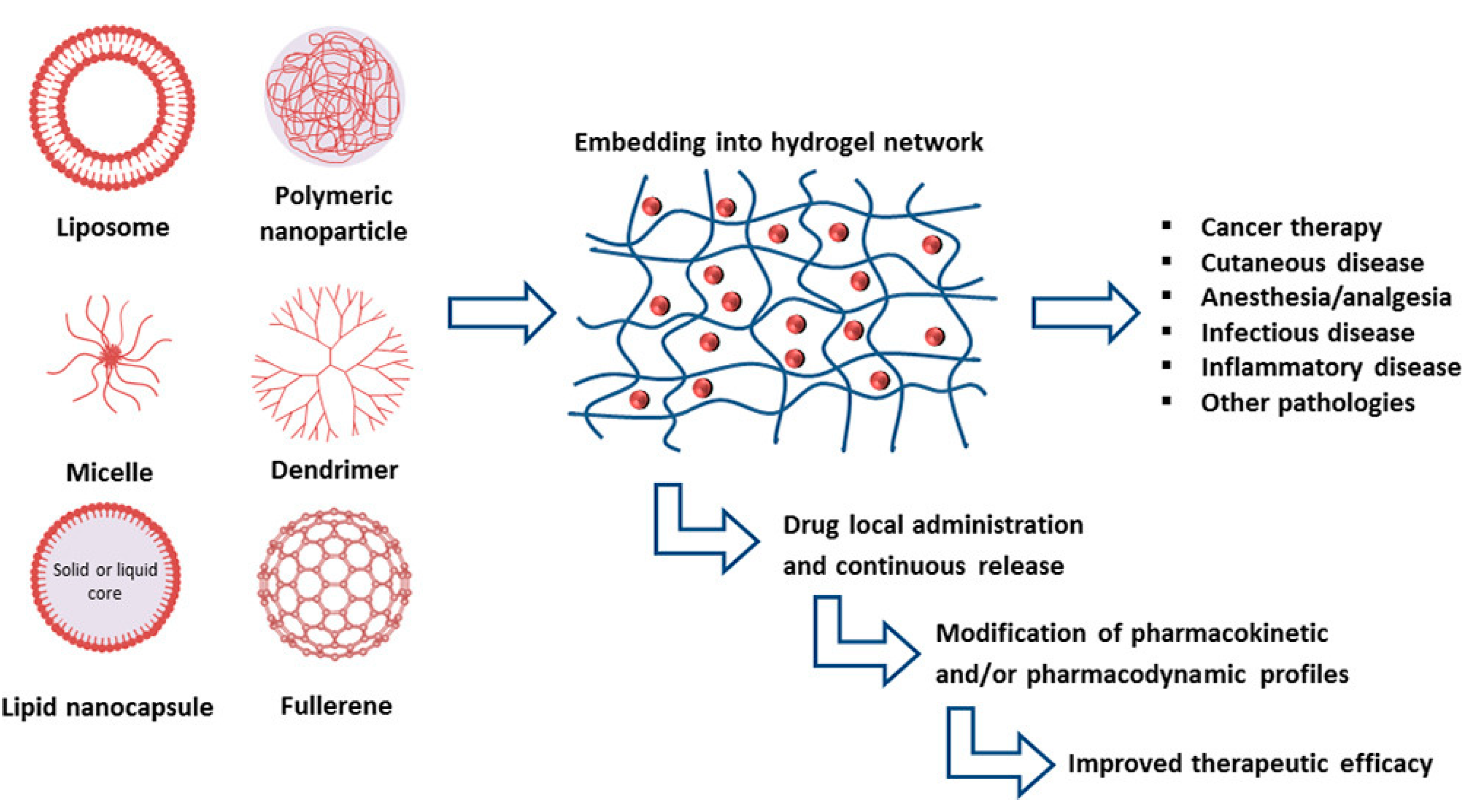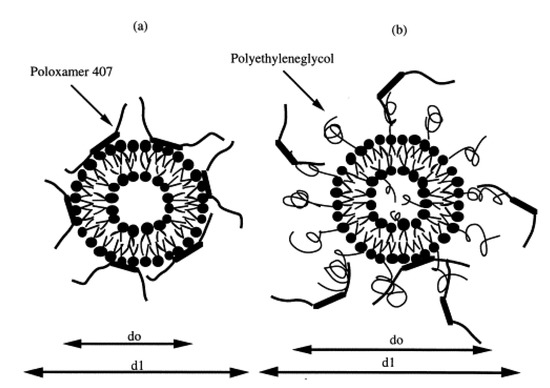 Figure 4.
Mechanism of interaction between P407 and conventional (
a
) or sterically stabilized (
b
) liposomes. (d
0
= diameter of liposomes); (d
1
= diameter of liposomes embedded in P407) [
92
].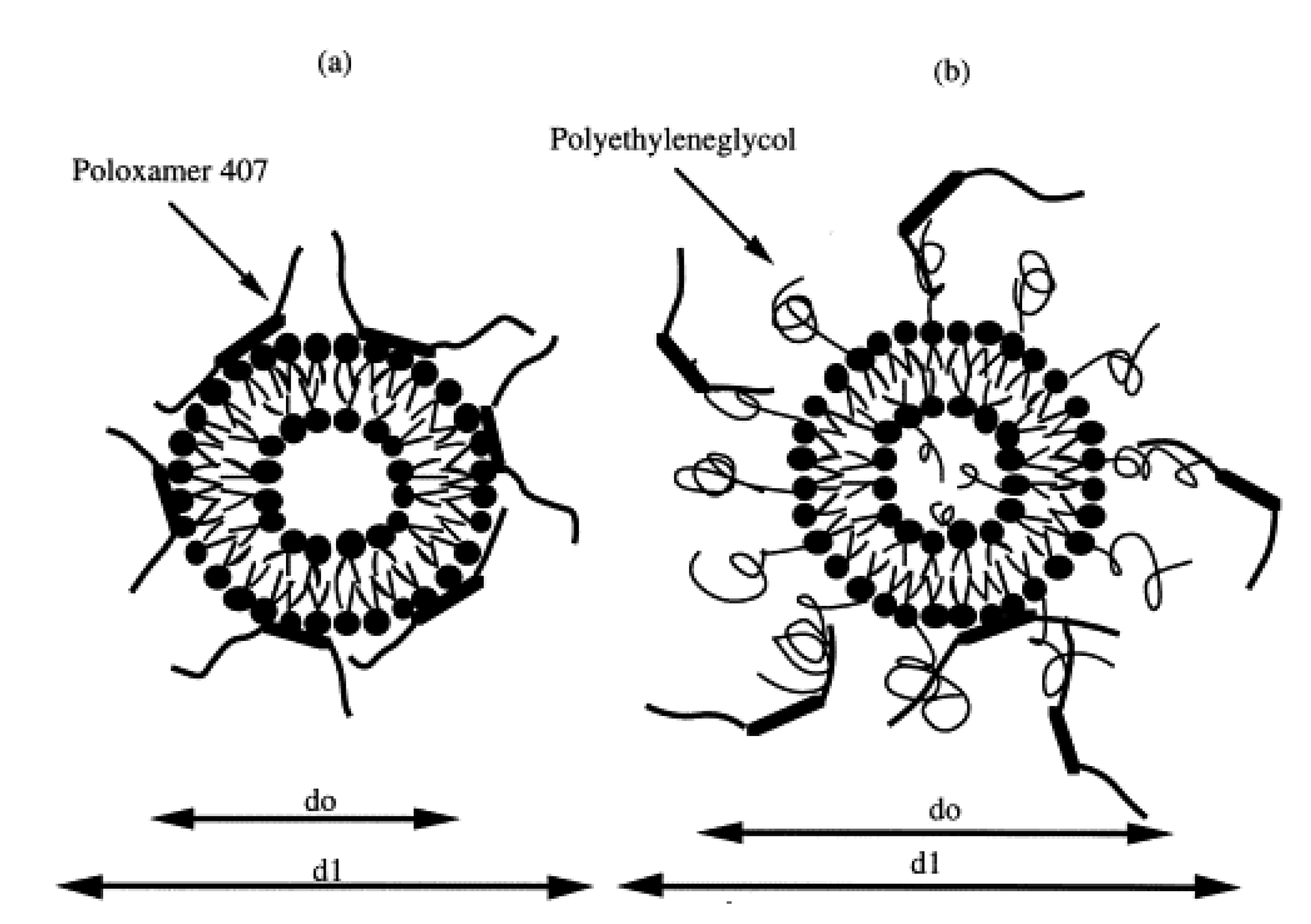 Type of Nanocarrier
Formulation
Composition of Nanocarrier
Gel Composition
Reference
Vesicular Systems
Liposomes
pdT16-loaded liposomes dispersed in a P407-based hydrogel as innovative ocular controlled release formulation.
SPC 1, CHOL 2, PEG-DSPE 3
P407 4
[70]
Liposomal mucoadhesive thermo-sensitive gel for the nasal delivery of opiorphin (OPI).
EPC 5, CHOL, SA 6, PEG-DSPE
P407, Carbopol 934P
[71]
Bleomycin A6 (BLM A6)-loaded liposomes dispersed within thermo-sensitive in-situ gel for a sustained drug release.
PC S100 7, DPPG 8, CHOL
P407, P188 9
[72]
Paclitaxel (PTX)-loaded liposomes embedded in P407 gel for a controlled drug release and an improved antitumor efficiency.
SPC
P407
[73]
Thermo-sensitive hydrogel system containing PTX-liposomes for the local treatment of tumors.
SPC, CHOL
P407, P188
[74]
Niosomes
Tween 60-based vesicles embedded in P407 hydrogel as a transdermal drug delivery system.
Tween 60 10
P407
[75]
Ethosomes
P407-based thermo-sensitive hydrogel containing zolmitriptan (ZMT)-loaded ethosomes for an efficacious brain targeting and a sustained drug release.
Soya lecithin, ethanol
P407, Carbopol 934, HPMC 11 K100
[76]
Solid lipid nanoparticles (SLNs)
SLNs dispersed in a P407-based gel as delivery system for itraconazole.
Stearic acid, Compritol 888, Compritol E ATO
P407, Carbopol 934
[77]
SLNs-loaded dual-reverse thermo-sensitive hydrogel for rectal administration of flurbiprofen.
Tricaprin, triethanolamine
P407, P188
[78]
Polymeric nanoparticles (NPs)
Thermo-sensitive gel containing paclitaxel-loaded NPs as delivery system for pancreatic tumor therapy.
mPEG-PLGA-PLL-cRGD 12
P407, P188, HPMC, MC 13, Sodium Alginate
[79]
Tenofovir–loaded NPs embedded in vaginal gels for the prevention of HIV infections.
Chitosan, TPP 14
P407
[80]
Intranasal in-situ gel with nanoparticulated polymeric carriers for brain delivery of tramadol.
Chitosan, TPP
P407, HPMC K15M
[81]
Rabies pDNA nanoparticulate vaccine in P407 hydrogel.
PLGA 15
P407
[82]
1 soybean phosphatidylcholine; 2 cholesterol; 3 1,2-distearoyl-sn-glycero-3 phosphatidylethanolamine-N(poly(ethyleneglycol)-2000); 4 poloxamer 407; 5 egg phosphatidylcholine; 6 stearylamine; 7 phosphatidylcholine, 8 dipalmitoylphosphatidylglycerol; 9 poloxamer 188; 10 polyoxyethylene sorbitan monostearate; 11 hydroxy propyl methyl cellulose; 12 monomethoxy (polyethylene glycol)-poly(D,L-lactide-co-glycolide)-poly(L-lysine)-cyclicpeptide (arginine-glycine-asparticglutamic-valineacid); 13 methyl cellulose; 14 tripolyphosphate; 15 poly (D, L-lactide-co-glycolide).

© 2018 by the authors. Licensee MDPI, Basel, Switzerland. This article is an open access article distributed under the terms and conditions of the Creative Commons Attribution (CC BY) license (http://creativecommons.org/licenses/by/4.0/).