Drug-Loaded Biocompatible Nanocarriers Embedded in Poloxamer 407 Hydrogels as Therapeutic Formulations
1
Department of Health Sciences, University "Magna Græcia" of Catanzaro, Campus Universitario "S. Venuta", Viale S. Venuta, I-88100 Catanzaro, Italy
2
Department of Experimental and Clinical Medicine, University "Magna Græcia" of Catanzaro, Campus Universitario "S. Venuta", Viale S. Venuta, I-88100 Catanzaro, Italy
*
Author to whom correspondence should be addressed.
Received: 3 December 2018 / Revised: 19 December 2018 / Accepted: 28 December 2018 / Published: 29 December 2018
Abstract
Hydrogels are three-dimensional networks of hydrophilic polymers able to absorb and retain a considerable amount of water or biological fluid while maintaining their structure. Among these, thermo-sensitive hydrogels, characterized by a temperature-dependent sol–gel transition, have been massively used as drug delivery systems for the controlled release of various bioactives. Poloxamer 407 (P407) is an ABA-type triblock copolymer with a center block of hydrophobic polypropylene oxide (PPO) between two hydrophilic polyethyleneoxide (PEO) lateral chains. Due to its unique thermo-reversible gelation properties, P407 has been widely investigated as a temperature-responsive material. The gelation phenomenon of P407 aqueous solutions is reversible and characterized by a sol–gel transition temperature. The nanoencapsulation of drugs within biocompatible delivery systems dispersed in P407 hydrogels is a strategy used to increase the local residence time of various bioactives at the injection site. In this mini-review, the state of the art of the most important mixed systems made up of colloidal carriers localized within a P407 hydrogel will be provided in order to illustrate the possibility of obtaining a controlled release of the entrapped drugs and an increase in their therapeutic efficacy as a function of the biomaterial used.
View Full-Text
►

▼

Figures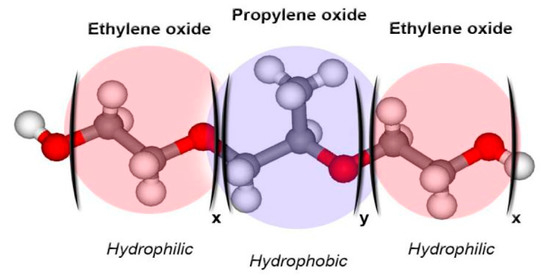 Figure 1
This is an open access article distributed under the
Creative Commons Attribution License
which permits unrestricted use, distribution, and reproduction in any medium, provided the original work is properly cited (CC BY 4.0).

Share & Cite This Article
MDPI and ACS Style
Giuliano, E.; Paolino, D.; Fresta, M.; Cosco, D. Drug-Loaded Biocompatible Nanocarriers Embedded in Poloxamer 407 Hydrogels as Therapeutic Formulations. Medicines 2019, 6, 7.
Note that from the first issue of 2016, MDPI journals use article numbers instead of page numbers. See further details here.
Related Articles
Comments
[Return to top]