Chicken Protein Hydrolysates Have Anti-Inflammatory Effects on High-Fat Diet Induced Obesity in Mice
1
Department of Clinical Science, University of Bergen, N-5020 Bergen, Norway
2
SINTEF Ocean, N-7465 Trondheim, Norway
3
Department of Heart Disease, Haukeland University Hospital, N-5021 Bergen, Norway
*
Author to whom correspondence should be addressed.
Received: 6 December 2018 / Revised: 20 December 2018 / Accepted: 21 December 2018 / Published: 28 December 2018
Abstract
Background
: Studies have shown that dietary source of protein and peptides can affect energy metabolism and influence obesity-associated diseases. This study aimed to investigate the impact of different chicken protein hydrolysates (CPHs) generated from chicken rest raw materials in a mouse obesity model.
Methods
: Male C57BL/6 mice were fed a high-fat, high-sucrose diet with casein or CPHs generated using Papain + Bromelain, Alcalase, Corolase PP, or Protamex for 12 weeks (
n
= 12). Body weight, feed intake, and intraperitoneal glucose tolerance was determined, and plasma and liver and adipose tissues were collected at sacrifice.
Results
: The average feed intake and body weight did not differ between the groups and white adipose tissue depots were unchanged, except for a reduction in the subcutaneous depot in mice fed the Protamex CPH diet. Moreover, the CPH diets did not prevent increased fasting glucose and insulin levels. Interestingly, the hepatic mitochondrial fatty acid β-oxidation was increased in mice fed Alcalase and Corolase PP CPHs. All CPH diets reduced plasma interleukine (IL)-1β, interferon-γ, tumor necrosis factor α, and monocyte chemotactic protein 1 compared to control, indicating anti-inflammatory effects. In addition, Corolase PP and Protamex CPHs significantly reduced plasma levels of IL-1α, IL-2, IL-6, IL-10, and granulocyte macrophage colony-stimulating factor.
Conclusions
: CPH diets were not able to counteract obesity and glucose intolerance in a mouse obesity model, but strongly reduced inflammatory parameters associated with obesity. Alcalase and Corolase PP CPHs also stimulated mitochondrial fatty acid β-oxidation. The possibility that hydrolysates from chicken rest raw materials could alleviate obesity-associated metabolic disease should be investigated further.
View Full-Text
►

▼

Figures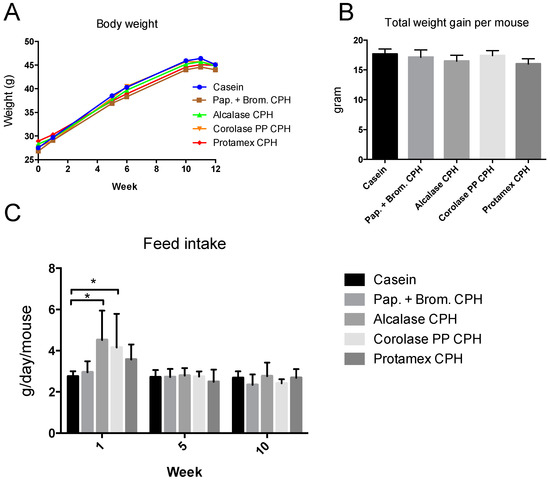 Figure 1
This is an open access article distributed under the
Creative Commons Attribution License
which permits unrestricted use, distribution, and reproduction in any medium, provided the original work is properly cited (CC BY 4.0).

Share & Cite This Article
MDPI and ACS Style
Aloysius, T.A.; Carvajal, A.K.; Slizyte, R.; Skorve, J.; Berge, R.K.; Bjørndal, B. Chicken Protein Hydrolysates Have Anti-Inflammatory Effects on High-Fat Diet Induced Obesity in Mice. Medicines 2019, 6, 5.
Note that from the first issue of 2016, MDPI journals use article numbers instead of page numbers. See further details here.
Related Articles
Comments
[Return to top]