An Investigation of Potential Sources of Nutraceuticals from the Niger Delta Areas, Nigeria for Attenuating Oxidative Stress
1
Department of Experimental Pharmacology and Toxicology, Faculty of Pharmaceutical Sciences, University of Port Harcourt, Port Harcourt PMB 5323, Rivers State, Nigeria
2
School of Medicine, University of Nottingham, Royal Derby Hospital Centre, Derby DE22 3DT, UK
3
Department of Animal Science, Niger Delta University, Wilberforce Island, Yenegoa PMB 071, Bayelsa State, Nigeria
4
Department of Forensic Medicine and Clinical Toxicology, Faculty of Medicine, Mansoura University, Mansoura 35516, Egypt
*
Author to whom correspondence should be addressed.
Received: 18 December 2018 / Revised: 14 January 2019 / Accepted: 15 January 2019 / Published: 20 January 2019
Abstract
Background:
Diets rich in fruits, vegetables, and medicinal plants possess antioxidants potentially capable of mitigating cellular oxidative stress. This study investigated the antioxidant, anti-acetylcholinesterase (AChE), and total phenolic and flavonoids contents (TPC/TFC) of dietary sources traditionally used for memory enhancing in Niger Delta, Nigeria.
Methods:
Dacroydes edulis
methanolic seed extract (DEMSE),
Cola lepidota
methanolic seed extract (CLMSE),
Terminalia catappa
methanolic seed extract (TeCMSE),
Tricosanthes cucumerina
methanolic seed extract (TrCMSE),
Tetrapleura tetraptera
methanolic seed extract (TTMSE), and defatted
Moringa oleifera
methanolic seed extract (DMOMSE);
Dennettia tripetala
methanolic fruit extract (DTMFE),
Artocarpus communis
methanolic fruit extract (ACMFE),
Gnetum africana
methanolic leaf extract (GAMLE),
Musa paradisiaca
methanolic stembark extract (MPMSE), and
Mangifera indica
methanolic stembark extract (MIMSE) were evaluated for free radical scavenging antioxidant ability using 2,2-Diphenyl-1-picrylhydrazyl (DPPH), reducing power capacity (reduction of ferric iron to ferrous iron), AChE inhibitory potential by Ellman assay, and then TPC/TFC contents determined by estimating milli-equivalents of Gallic acid and Quercetin per gram, respectively.
Results:
The radical scavenging percentages were as follows: MIMSE (58%), MPMSE (50%), TrCMSE (42%), GAMLE (40%), CLMSE (40%), DMOMSE (38%), and DEMFE (37%) relative to β-tocopherol (98%). The highest iron reducing (antioxidant) capacity was by TrCMSE (52%), MIMSE (40%) and GAMLE (38%). Extracts of MIMSE, TrCMSE, DTMFE, TTMSE, and CLMSE exhibited concentration-dependent AChE inhibitory activity (
p
< 0.05–0.001). At a concentration of 200 µg/mL, the AChE inhibitory activity and IC
50
(µg/mL) exhibited by the most potent extracts were: MIMSE (≈50%/111.9), TrCMSE (≈47%/201.2), DTMFE (≈32%/529.9), TTMSE (≈26%/495.4), and CLMSE (≈25%/438.4). The highest TPC were from MIMSE (156.2), TrCMSE (132.65), GAMLE (123.26), and CLMSE (119.63) in mg gallic acid equivalents/g, and for TFC were: MISME (87.35), GAMLE (73.26), ACMFE (69.54), CLMSE (68.35), and TCMSE2 (64.34) mg quercetin equivalents/gram.
Conclusions
: The results suggest that certain inedible and edible foodstuffs, most notably MIMSE, MPMSE, TrCMSE, GAMLE, and CLMSE may be beneficial to ameliorate the potentially damaging effects of redox stress.
View Full-Text
►

▼

Figures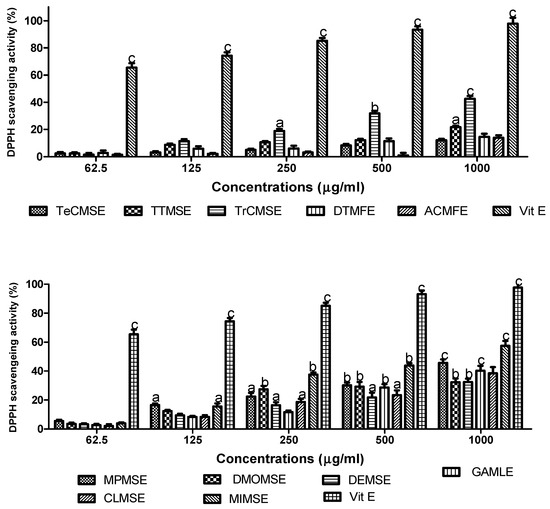 Figure 1
This is an open access article distributed under the
Creative Commons Attribution License
which permits unrestricted use, distribution, and reproduction in any medium, provided the original work is properly cited (CC BY 4.0).

Share & Cite This Article
MDPI and ACS Style
Nwidu, L.L.; Alikwe, P.C.N.; Elmorsy, E.; Carter, W.G. An Investigation of Potential Sources of Nutraceuticals from the Niger Delta Areas, Nigeria for Attenuating Oxidative Stress. Medicines 2019, 6, 15.
Note that from the first issue of 2016, MDPI journals use article numbers instead of page numbers. See further details here.
Related Articles
Comments
[Return to top]