Anti-
Plasmodium falciparum

Activity of Extracts from 10 Cameroonian Medicinal Plants

1

Antimicrobial & Biocontrol Agents Unit (AmBcAU), Laboratory for Phytobiochemistry and Medicinal Plants Studies, Department of Biochemistry, Faculty of Science, University of Yaoundé I, Yaoundé P.O. Box 812, Cameroon

2

Malaria Research Laboratory, International Centre for Genetic Engineering and Biotechnology, New Delhi 110067, India

*

Authors to whom correspondence should be addressed.

Received: 3 September 2018 / Revised: 18 September 2018 / Accepted: 19 September 2018 / Published: 29 October 2018
Abstract
Background:
In the midst of transient victories by way of insecticides against mosquitoes or drugs against malaria, the most serious form of malaria, caused by
Plasmodium falciparum
, continues to be a major public health problem. The emergence of drug-resistant malaria parasites facilitated by fake medications or the use of single drugs has worsened the situation, thereby emphasizing the need for a continued search for potent, safe, and affordable new antimalarial treatments. In line with this need, we have investigated the antiplasmodial activity of 66 different extracts prepared from 10 different medicinal plants that are native to Cameroon.
Methods:
Extracts were evaluated for their capacity to inhibit the growth of the chloroquine-sensitive (
Pf
3D7) and resistant (
Pf
INDO) strains of
P. falciparum
using the SYBR green fluorescence method. The cytotoxicity of promising extracts against human embryonic kidney cells (HEK293T) mammalian cells was assessed by MTT assay.
Results:
The antiplasmodial activity (50% inhibitory concentration, IC
50
) of plant extracts ranged from 1.90 to >100 μg/mL against the two strains. Six extracts exhibited good activity against both
Pf
3D7 and
Pf
INDO strains, including cold water, water decoction, and ethyl acetate extracts of leaves of
Drypetes principum
(Müll.Arg.) Hutch. (IC
50
3D7/INDO = 4.91/6.64 μg/mL, 5.49/5.98 μg/mL, and 6.49/7.10 μg/mL respectively), water decoction extract of leaves of
Terminalia catappa
L. (IC
50
3D7/INDO = 6.41/8.10 μg/mL), and water decoction extracts of leaves and bark of
Terminalia mantaly
H.Perrier (IC
50
3D7/INDO = 2.49/1.90 μg/mL and 3.70/2.80 μg/mL respectively). These promising extracts showed no cytotoxicity against HEK293T up to 200 μg/mL, giving selectivity indices (SIs) in the range of >31.20–80.32.
Conclusions:
While providing credence to the use of
D. principum
,
T. catappa
, and
T. mantaly
in the traditional treatment of malaria, the results achieved set the stage for isolation and identification of active principles and ancillary molecules that may provide us with new drugs or drug combinations to fight against drug-resistant malaria.
View Full-Text
►

▼

Figures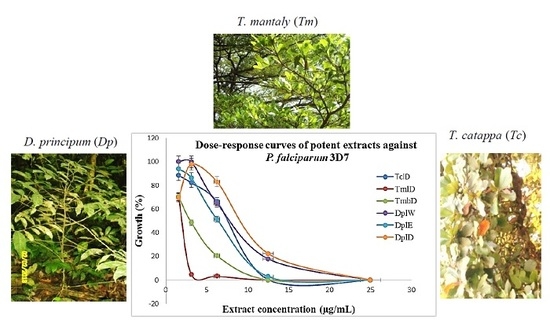 Graphical abstract
This is an open access article distributed under the
Creative Commons Attribution License
which permits unrestricted use, distribution, and reproduction in any medium, provided the original work is properly cited (CC BY 4.0).

Share & Cite This Article
MDPI and ACS Style
Rufin Marie, T.K.; Mbetyoumoun Mfouapon, H.; Madiesse Kemgne, E.A.; Jiatsa Mbouna, C.D.; Tsouh Fokou, P.V.; Sahal, D.; Fekam Boyom, F. Anti-Plasmodium falciparum Activity of Extracts from 10 Cameroonian Medicinal Plants. Medicines 2018, 5, 115.
Note that from the first issue of 2016, MDPI journals use article numbers instead of page numbers. See further details here.
Related Articles
Comments
[Return to top]