Open Access This article is
freely available
re-usable
Case Report
Use of Acupuncture in an Infant with Restlessness and Agitation
1
Division of Neonatology, Department of Paediatrics and Adolescent Medicine, Medical University of Graz, Graz 8036, Austria
2
Research Group for Paediatric Traditional Chinese Medicine, TCM Research Centre Graz, Medical University of Graz, Graz 8036, Austria
*
Author to whom correspondence should be addressed.
Received: 5 May 2018 / Accepted: 11 June 2018 / Published: 13 June 2018
Abstract
:
Abstract: Background: We are reporting here about a 3-month-old boy with a history of failure to thrive, hypertrophic obstructive cardiomyopathy and neurological misbehaviour including hypotension in body muscles, who was found to have screaming attacks, agitation and restlessness. Methods/Results: Body and ear acupuncture was used both as supporting and integrative therapy to reduce the phases of restlessness and screaming and, simultaneously, the use of hypnotic drugs, as well as to improve the baby's thriving. Conclusions: Our case has proved that standardised ear and body acupuncture applied by trained acupuncturist paediatricians is a helpful non-pharmacological treatment tool. While acupuncture is typically used in the outpatient setting, it can equally be used in the inpatient setting, as exemplified by the positive outcome of the presented case.
Keywords:
acupuncture therapy; baby; restlessness; agitation
1. Introduction
In recent years, the interest in complementary and integrative therapies for children has increased significantly [
1
,
2
]. Traditional Chinese Medicine (TCM) has been reported as one of the most popular complementary treatments in children and neonates [
3
,
4
]. TCM includes (i) massage therapy (Tuina); (ii) moxibustion; and (iii) different kinds of acupressure and acupuncture [
5
,
6
]. The most common complementary applications for acupuncture include pain [
7
,
8
] and chemotherapy-induced nausea/vomiting [
9
]. To this day, only a few studies have investigated the effect of needle acupuncture in infants [
10
,
11
,
12
,
13
]. Even this limited available data suggests that acupuncture may be applied as a safe, non-pharmacological treatment option for the reduction of pain and agitation in term and preterm infants [
14
,
15
,
16
].
This case report illustrates the feasibility, safety, and efficacy of needle acupuncture in an infant with various medical dilemmas who was admitted to the intensive care unit.
2. Case Report
We are reporting here about a 3-month-old infant who revealed a history of swallowing problems, gastroesophageal reflux, failure to thrive, hypertrophic obstructive cardiomyopathy, neurological abnormalities, and screaming attacks ever since his birth. He was the second child of healthy, non-consanguineous parents, born in an uncomplicated vaginal delivery at 40 + 1 pregnancy weeks with an APGAR score of 9 at 1 min and a score of 10 at five and 10 min. Postnatal adaption was unremarkable, however, with an obvious macrosomia without the evidence of maternal gestational diabetes. During the first few weeks of his life, the baby boy showed poor thriving, and agitation, and at the age of three months, hospital admittance was recommended. Echocardiography showed hypertrophic obstructive cardiomyopathy. To rule out Sandifer, Costello syndrome, and Mb—pompe, genetic and metabolic investigations were performed but revealed no evidence of any congenital syndromes (until today). One day after admission, the patient showed signs of respiratory distress, phases of restlessness and agitation. The skin was pale; he was sweating and demonstrated ophistotonus. The heart rate increased intermittently up to 180/min while oxygen saturation decreased to 75% in ambient air conditions. The screaming attacks lasted for one hour, and calming the infant was almost impossible. The patient was subsequently transferred to the paediatric intensive care unit (ICU) where he received hypnotic drugs. Parenterally, Phenobarbital (5 mg/kg/day), Clonidine (10 µg/kg/day), Midazolam (0.5 mg/kg/day) and homeopathic suppositories were administered for 5–7 days, however, they had little impact. Additionally, submitter nutrition by gavage turned out to be necessary due to feeding problems and drinking weakness of the infant.
Acupuncture Therapy
Acupuncture was used as adjunctive therapy with the aim to reduce the phases of restlessness and screaming, and it was hoped to reduce the need for hypnotic drugs. Body and ear acupuncture were performed by two trained specialists. Sterile and thin disposable acupuncture needles (0.20 × 15 mm) were applied at acupuncture points LR 3, LI 4 and ST 36 on both sides of the body. The needle was inserted 2–4 mm deep into the baby's skin and manipulated slightly until a certain sensation of resistance was felt and then left in place for approximately 10 to 20 s before withdrawal. When doing the Yin Tang point, the needle was left in place for approximately 10 to 15 min. Furthermore, ear acupuncture was performed at Shen Men with an indwelling needle (0.20 × 1.2 mm) lasting 24 h. A total of six sessions were applied, performed every other day. The skin response at the needle's insertion points was noticeable. During the acupuncture sessions the patient was quiet, relaxed and would even fall asleep, especially after tapping the Yin Tang point. (
Figure 1
) Strikingly, both the frequency and duration of the infant's screaming attacks and restlessness decreased after only one acupuncture treatment. The patient was found to be calmer, his handling was now easier and his body tension was found to be significantly reduced. All this was reported back to us by the nursing staff. As a result, the sedative medication dose was able to be reduced on a daily basis. After one week of acupuncture treatment, Clonidine and Midazolam were discontinued, and the patient was now able to drink infant formula via bottle feeding.
3. Methods
Written informed consent was obtained from the baby's mother.
4. Discussion
While causal links could not be concluded from the findings in our case report, it does seem more than likely that the acupuncture treatments contributed to the resolution of the symptoms; we therefore wish to discuss the acupuncture points used with respect to the existing scientific literature:
In our case, the physicians carrying out the acupuncture were specialists in paediatric and adolescent medicine as well as in neonatology and intensive care medicine; both had a diploma in acupuncture, in NADA, in auricular acupuncture, and in Shonishin, certified by the Austrian Medical Association.
5. Conclusions
In conclusion, it can be said that our case has shown that acupuncture performed by trained acupuncturist paediatricians is a helpful non-pharmacological treatment tool for reducing pain and agitation. While acupuncture is typically used in the outpatient setting, it can also be used in the inpatient setting, as exemplified by the positive outcome in the above case.
This case report thus adds to the literature on the usefulness of acupuncture in paediatric samples in the hospital setting.
Author Contributions
K.M. wrote the first draft of the manuscript. W.R. and B.U. have critically revised the manuscript. B.U. made substantial contributions to the conceptualization of the study and performed data acquisition and interpretation of data; K.M. and W.R. collected data, carried out the initial analyses, and reviewed and revised the manuscript. W.R. was responsible for conducting the acupuncture. All authors approved the final manuscript as submitted and agreed to be accountable for all aspects of the work.
Funding
This research was undertaken without any external funding.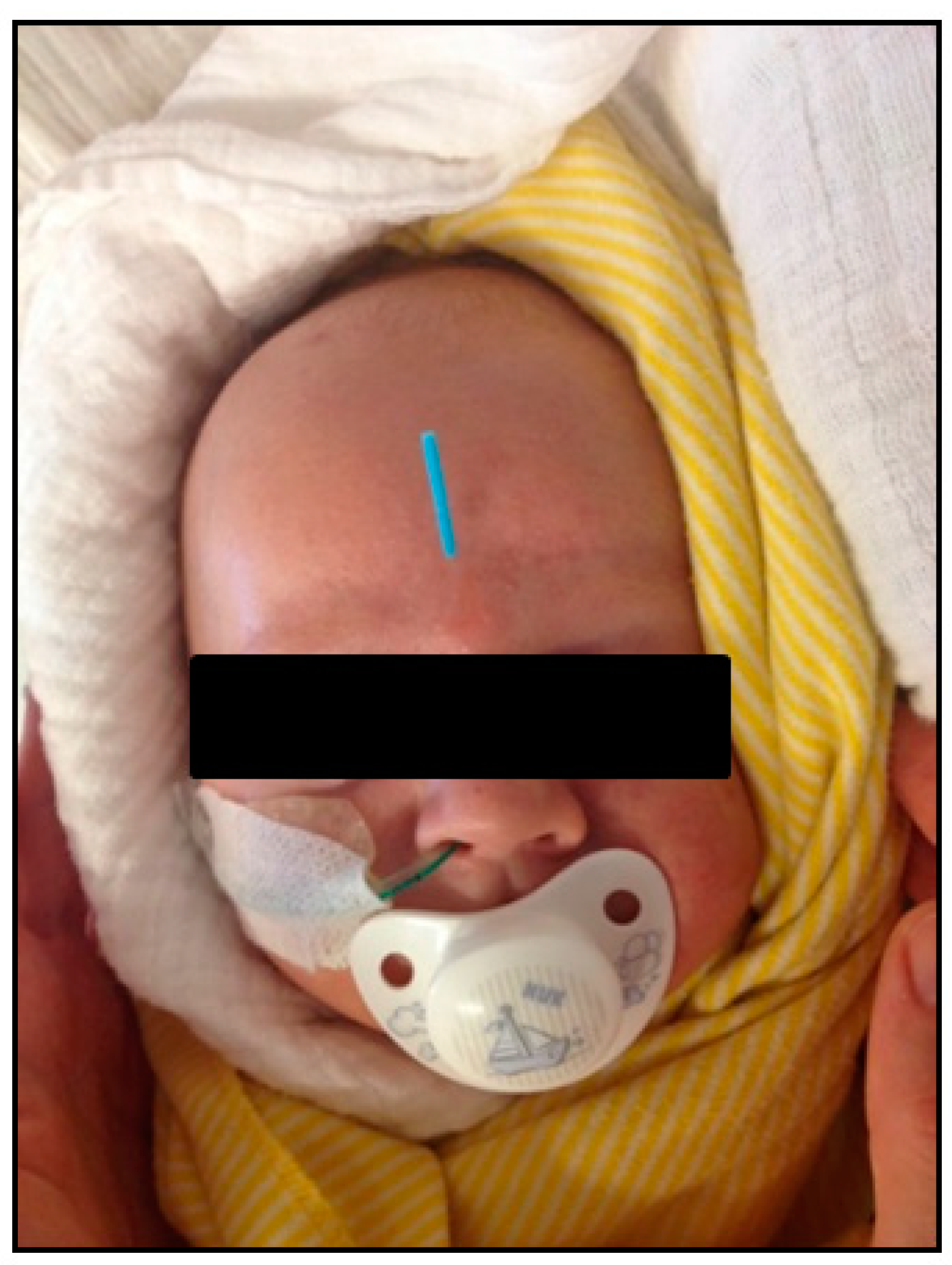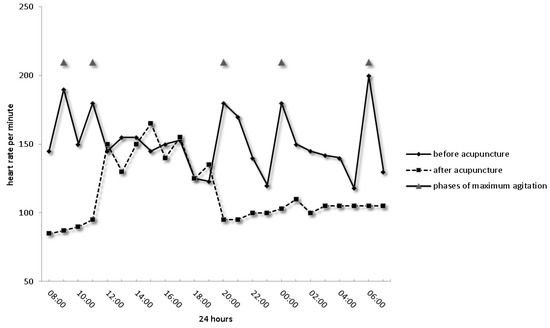 Figure 2. Many phases of pain with elevated heart rate and periods of agitation (grey triangles). After six acupuncture sessions, nearly normal infant behaviour patterns and vital parameters had been established.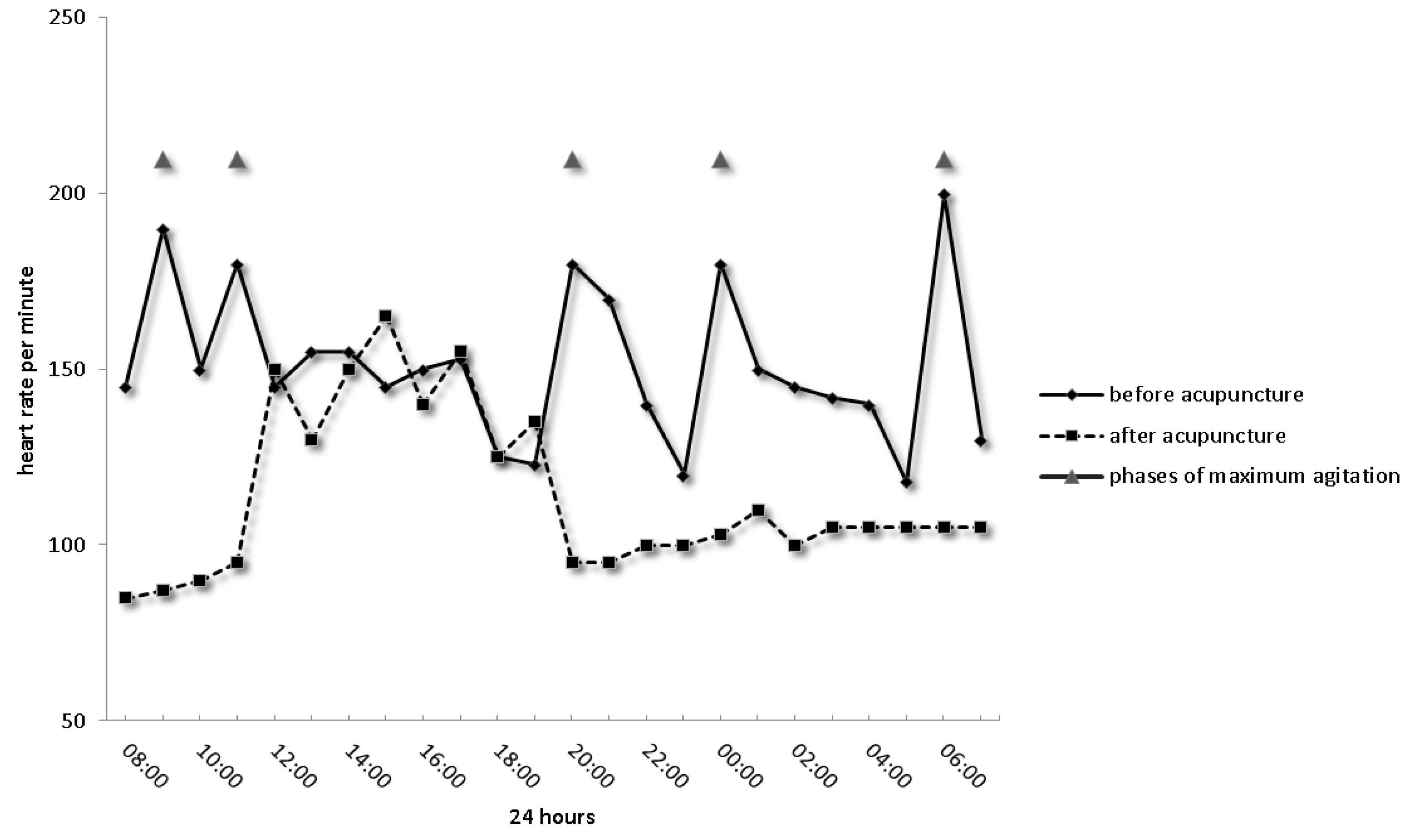 © 2018 by the authors. Licensee MDPI, Basel, Switzerland. This article is an open access article distributed under the terms and conditions of the Creative Commons Attribution (CC BY) license (http://creativecommons.org/licenses/by/4.0/).