Emerging Marine Biotoxins in Seafood from European Coasts: Incidence and Analytical Challenges
1
Department of Analytical and Food Chemistry, University of Vigo, Campus Universitario de Vigo, 36310 Vigo, Spain
2
EU Reference Laboratory for marine biotoxins, Campus Universitario de Vigo, 36310 Vigo, Spain
*
Author to whom correspondence should be addressed.
Received: 1 April 2019 / Revised: 16 April 2019 / Accepted: 25 April 2019 / Published: 1 May 2019
Abstract
The presence of emerging contaminants in food and the sources of the contamination are relevant issues in food safety. The impact of climate change on these contaminations is a topic widely debated; however, the consequences of climate change for the food system is not as deeply studied as other human and animal health and welfare issues. Projections of climate change in Europe have been evaluated through the EU Commission, and the impact on the marine environment is considered a priority issue. Marine biotoxins are produced by toxic microalgae and are natural contaminants of the marine environment. They are considered to be an important contaminant that needs to be evaluated. Their source is affected by oceanographic and environmental conditions; water temperature, sunlight, salinity, competing microorganisms, nutrients, and wind and current directions affect the growth and proliferation of microalgae. Although climate change should not be the only reason for this increase and other factors such as eutrophication, tourism, fishery activities, etc. could be considered, the influence of climate change has been observed through increased growth of dinoflagellates in areas where they have not been previously detected. An example of this is the recent emergence of ciguatera fish poisoning toxins, typically found in tropical or subtropical areas from the Pacific and Caribbean and in certain areas of the Atlantic Sea such as the Canary Islands (Spain) and Madeira (Portugal). In addition, the recent findings of the presence of tetrodotoxins, typically found in certain areas of the Pacific, are emerging in the EU and contaminating not only the fish species where these toxins had been found before but also bivalve mollusks. The emergence of these marine biotoxins in the EU is a reason for concern in the EU, and for this reason, the risk evaluation and characterization of these toxins are considered a priority for the European Food Safety Authorities (EFSA), which also emphasize the search for occurrence data using reliable and efficient analytical methods.
View Full-Text
►

▼

Figures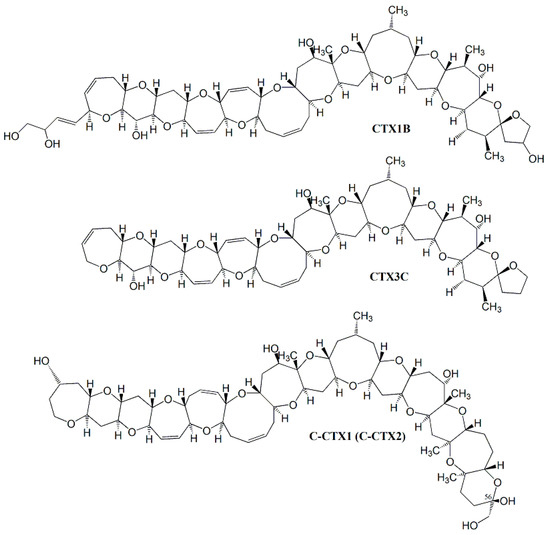 Figure 1
This is an open access article distributed under the
Creative Commons Attribution License
which permits unrestricted use, distribution, and reproduction in any medium, provided the original work is properly cited (CC BY 4.0).

Share & Cite This Article
MDPI and ACS Style
Estevez, P.; Castro, D.; Pequeño-Valtierra, A.; Giraldez, J.; Gago-Martinez, A. Emerging Marine Biotoxins in Seafood from European Coasts: Incidence and Analytical Challenges. Foods 2019, 8, 149.
Note that from the first issue of 2016, MDPI journals use article numbers instead of page numbers. See further details here.
Related Articles
Comments
[Return to top]