Aroma Patterns Characterization of Braised Pork Obtained from a Novel Ingredient by Sensory-Guided Analysis and Gas-Chromatography-Olfactometry
School of perfume and aroma technology, Shanghai Institute of Technology, No.100 Hai Quan Road, Shanghai 201418, China
*
Author to whom correspondence should be addressed.
Received: 29 January 2019 / Revised: 24 February 2019 / Accepted: 26 February 2019 / Published: 2 March 2019
Abstract
Two types of braised pork were prepared from self-made braised sauce added to Maillard reaction intermediate (MRI) and white granulated sugar, respectively. Descriptive sensory analysis and gas chromatography-mass spectrometry (GC-MS) were conducted to investigate their differences in sensory and aroma compounds. The results showed that the effect of self-made braised sauce in braised pork was comparable to white granulated sugar. One-hundred-and-nine volatile flavor compounds were identified by GC-MS using headspace-solid phase microextraction (HS-SPME) and simultaneous distillation and extraction (SDE). Thirty-six odor active compounds with retention indexes ranging from 935–2465 were identified by aroma extract dilution analysis (AEDA). Additionally, their odor activity values (OAV) were calculated. It was found that 17 aroma compounds showed an OAV greater than 1. Among them, pentanal (almond, pungent), nonanal (fat, green), (E, E)-2,4-decadienal (fat, roast), phenylacetaldehyde (hawthorn, honey, sweet), dodecanal (lily, fat, citrus) and linalool (floral, lavender) reached the highest OAV values (>200), indicating a significant contribution to the aroma of two types of braised pork. These results indicated that the self-made braised sauce added with MRI could be used for cooking braised pork with good sensory characteristics.
View Full-Text
►

▼

Figures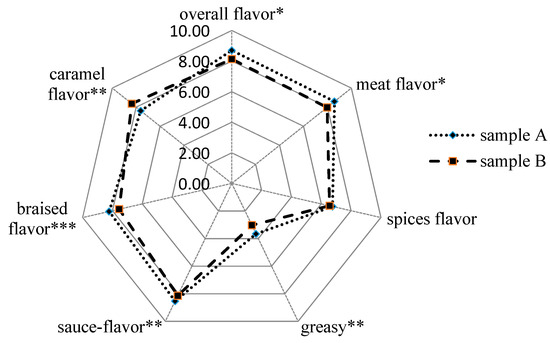 Figure 1
This is an open access article distributed under the
Creative Commons Attribution License
which permits unrestricted use, distribution, and reproduction in any medium, provided the original work is properly cited (CC BY 4.0).

Share & Cite This Article
MDPI and ACS Style
Song, S.; Fan, L.; Xu, X.; Xu, R.; Jia, Q.; Feng, T. Aroma Patterns Characterization of Braised Pork Obtained from a Novel Ingredient by Sensory-Guided Analysis and Gas-Chromatography-Olfactometry. Foods 2019, 8, 87.
Note that from the first issue of 2016, MDPI journals use article numbers instead of page numbers. See further details here.
Related Articles
Comments
[Return to top]