Fermentability of Novel Type-4 Resistant Starches in In Vitro System
1
Food Science and Nutrition Department, University of Minnesota, 1334 Eckles Ave, St. Paul, MN 55108, USA
2
Ingredion Incorporated, 10 Finderne Ave, Bridgewater, NJ 08807, USA
*
Author to whom correspondence should be addressed.
Received: 14 December 2017 / Revised: 23 January 2018 / Accepted: 26 January 2018 / Published: 1 February 2018
Abstract
Resistant starches are non-digestible starches that are fermented in the colon by microbiota. These carbohydrates are prebiotic and can be beneficial to consumer health. Many types of resistant starch exist with varying physical properties that may result in differences in fermentability. The objective of this research project was to compare potential prebiotic effects and fermentability of four novel resistant starches using an in vitro fermentation system and measuring changes in total gas production, pH, and formation of SCFAs (short chain fatty acids). Fecal donations were collected from seven healthy volunteers. Four novel resistant starches, modified potato starch (MPS), modified tapioca starch (MTS), and modified maize starches (MMS-1 and MMS-2), were analyzed and compared to polydextrose and short chain fructooligosaccharides (FOS) as controls. After twenty-four hours of fermentation, MPS and MTS responded similarly in gas production (74 mL; 70.6 mL respectively), pH (5.93; 5.93 respectively), and SCFA production (Acetate: 115; 124, Propionate: 21; 26, Butyrate: 29; 31 μmol/mL respectively). While MMS-1 had similar gas production and individual SCFA production, the pH was significantly higher (6.06). The fermentation of MMS-2 produced the least amount of gas (22 mL), with a higher pH (6.34), and lower acetate production (78.4 μmol/mL). All analyzed compounds were fermentable and promoted the formation of beneficial SCFAs.
View Full-Text
►

▼

Figures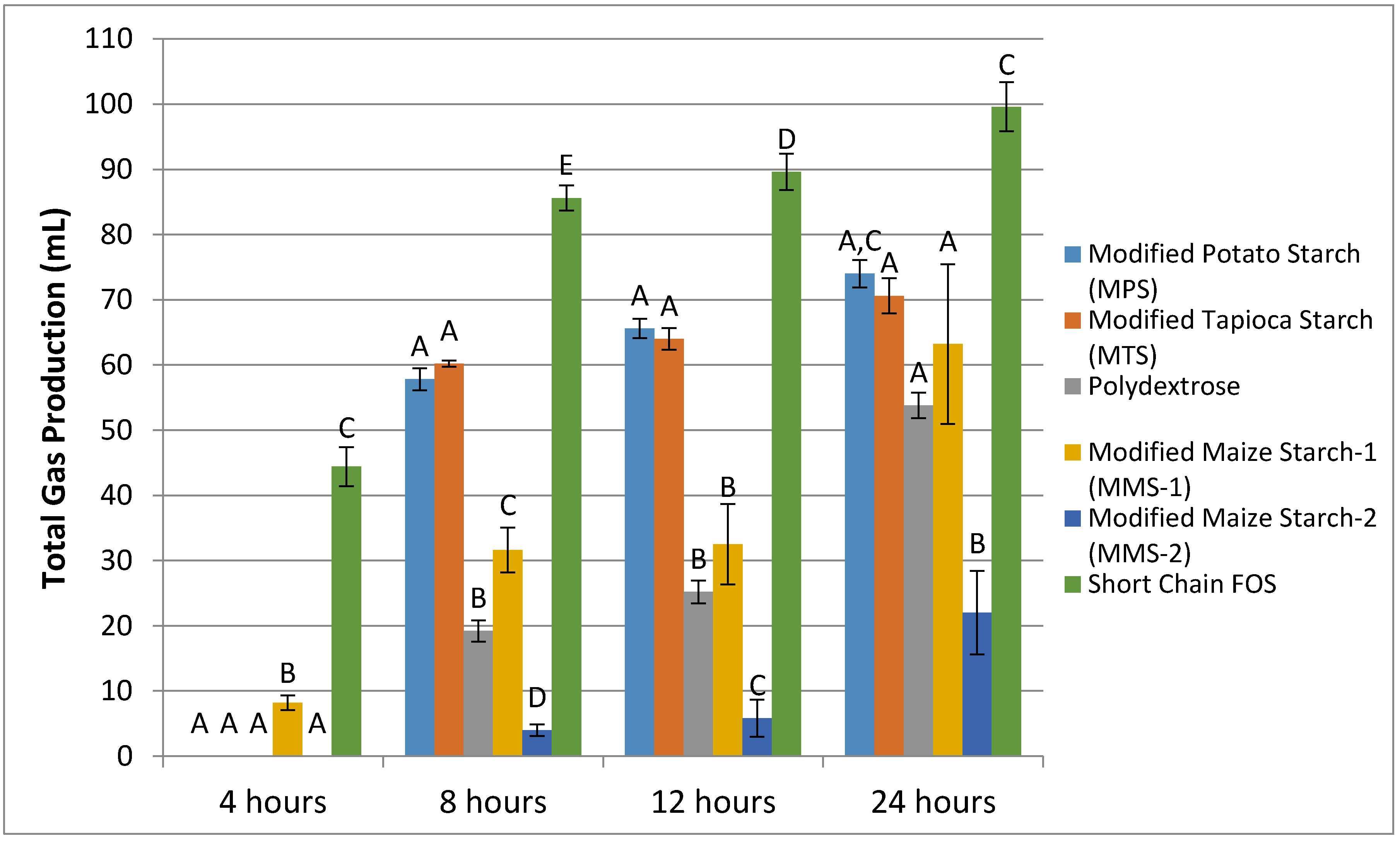 Figure 1
This is an open access article distributed under the
Creative Commons Attribution License
which permits unrestricted use, distribution, and reproduction in any medium, provided the original work is properly cited (CC BY 4.0).

Share & Cite This Article
MDPI and ACS Style
Erickson, J.M.; Carlson, J.L.; Stewart, M.L.; Slavin, J.L. Fermentability of Novel Type-4 Resistant Starches in In Vitro System. Foods 2018, 7, 18.
Note that from the first issue of 2016, MDPI journals use article numbers instead of page numbers. See further details here.
Related Articles
Comments
[Return to top]