Accuracy of Computer-Assisted Template-Based Implant Placement Using Two Different Surgical Templates Designed with or without Metallic Sleeves: A Randomized Controlled Trial
1
Department of Implantology and Prosthetic Aspects, Master of Science in Dentistry Program, Aldent University, 1001 Tirana, Albania
2
Private practice, 00143 Rome, Italy
3
Private practice, 45014 Porto Viro, Italy
4
Ilsan Apsun Dental Clinic, Ilsan 10381, Korea
5
Private practice, 41121 Modena, Italy
6
Surgical, School of Dentistry, University of Sassari, 07100 Sassari, Italy
7
Department of Restorative Dentistry, University of Medicine Tirana, 1001 Tirana, Albania
8
Private practice, 1001 Tirana, Albania
*
Author to whom correspondence should be addressed.
Received: 7 February 2019 / Revised: 12 March 2019 / Accepted: 19 March 2019 / Published: 2 April 2019
Abstract
Purpose:
To compare virtual planning accuracy of novel computer-assisted, template-based implant placement techniques, which make use of CAD/CAM stereolithographic surgical templates with or without metallic sleeves. Furthermore, to compare open versus closed sleeves for templates without metallic sleeves.
Materials and methods
: Any partially edentulous patients requiring at least one implant to be placed according to a computer-assisted template-based protocol were enrolled. Patients were randomized according to a parallel group design into two arms: Surgical template with or without metallic sleeves. Three deviation parameters (angular, horizontal, vertical) were defined to evaluate the discrepancy between the planned and placed implant positions.
Results
: No implants failed, and no complications were experienced. Forty-one implants were placed using surgical templates with metallic sleeves while 49 implants were placed with a surgical template without metallic sleeves. Of these, 16 implants were placed through open sleeves and 33 through closed sleeves. There was a statistically significant difference in angle (
p
= 0.0212) and in the vertical plan (
p
= 0.0073) with lower values for implants placed with a surgical template without metallic sleeves. In the test group, close sleeves were more accurate compared with open sleeves in angle (
p
= 0.0268) and in horizontal plan (
p
= 0.0477). Conclusion: With the limitations of the present study, surgical templates without metallic sleeves were more accurate in the vertical plan and angle compared to the conventional template with metallic sleeves. Open sleeves should be used with caution in the molar region only in case of reduced interarch space. Further research is needed to confirm these preliminary results.
View Full-Text
►

▼

Figures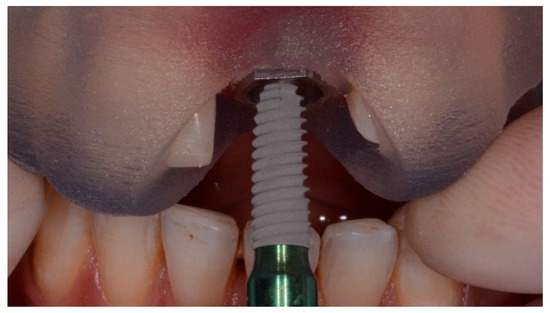 Figure 1
This is an open access article distributed under the
Creative Commons Attribution License
which permits unrestricted use, distribution, and reproduction in any medium, provided the original work is properly cited (CC BY 4.0).

Share & Cite This Article
MDPI and ACS Style
Tallarico, M.; Martinolli, M.; Kim, Y.-J.; Cocchi, F.; Meloni, S.M.; Alushi, A.; Xhanari, E. Accuracy of Computer-Assisted Template-Based Implant Placement Using Two Different Surgical Templates Designed with or without Metallic Sleeves: A Randomized Controlled Trial. Dent. J. 2019, 7, 41.
Note that from the first issue of 2016, MDPI journals use article numbers instead of page numbers. See further details here.
Related Articles
Comments
[Return to top]