An In-Vitro Analysis of Microleakage of Self-Adhesive Fissure Sealant vs. Conventional and GIC Fissure Sealants
1
Department of Pediatric and Preventive Dentistry, School of Dental Medicine, University of Zagreb, Gunduliceva 5, 10 000 Zagreb, Croatia
2
Department of Clinical Sciences and Translational Medicine, University of Rome Tor Vergata, 00183 Rome, Italy
3
Finchley Orthodontics, North Finchley, London N12 9EN, UK
4
Private Practice, 42000 Varazdin, Croatia
*
Author to whom correspondence should be addressed.
Received: 28 January 2019 / Revised: 10 March 2019 / Accepted: 15 March 2019 / Published: 28 March 2019
Abstract
Background: The microleakage of a self-adhesive composite, a glass ionomer fissure sealant and a conventional resin-based fissure sealant were compared. Materials and methods: Fifty intact human molars with well-delineated pits and fissures were used and divided into 5 groups (
n
= 10). Group 1 specimens were etched (37% phosphoric acid) and sealed with conventional resin-based sealant (Helioseal F, Ivoclar Vivadent). Both Group 2 and 3 specimens were sealed with self-adhesive composite (Constic, DMG), but in Group 3, specimens were also etched (37% phosphoric acid). In Groups 4 and 5, specimens were sealed with a GIC sealant (Equia Fill, GC Company), but Group 5 was also exposed to thermo-light curing (TLC) with a LED polymerization unit (60 s). Subsequently, specimens were thermocycled (1800 cycles, dwelling time of 10 s), immersed in 50% silver nitrate solution (45 min), placed in a photo-developing solution (Kodak) under a lamp (120 W, 6 h), and cut into 3–4 slices. Marginal leakage (dye penetration depth) was evaluated under a light microscope and the worst score of each specimen was recorded (0–3). Results: Constic showed the lowest microleakage (Constic: 80% scored 0 or 1), followed by Helioseal (30% scored 0 or 1) (
p
= 0.037). Microleakage in groups sealed with Constic (with and without etching) were not different (
p
= 0.473). The quality of seal deteriorated after etching when Constic was used. However, TLC improved the seal when GIC sealant was used (
p
= 0.016) and also in comparison to Helioseal (
p
= 0.004). The TLC GIC sealant (Equia Fill, 90% scored 0 or 1) performed well, similar to self-adhesive composite (Constic, 80% scored 0 or 1) (
p
= 0.206). Conclusion: The present findings suggest that the self-adhesive sealant and the GIC sealant that were exposed to TLC had comparable sealing ability and superior sealing characteristics compared to the conventional resin-based sealant. A long-term clinical trial is needed to assess the intra-oral performance.
View Full-Text
►

▼

Figures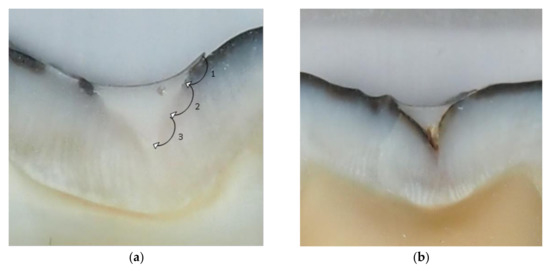 Figure 1
This is an open access article distributed under the
Creative Commons Attribution License
which permits unrestricted use, distribution, and reproduction in any medium, provided the original work is properly cited (CC BY 4.0).

Share & Cite This Article
MDPI and ACS Style
Gorseta, K.; Borzabadi-Farahani, A.; Vrazic, T.; Glavina, D. An In-Vitro Analysis of Microleakage of Self-Adhesive Fissure Sealant vs. Conventional and GIC Fissure Sealants. Dent. J. 2019, 7, 32.
Note that from the first issue of 2016, MDPI journals use article numbers instead of page numbers. See further details here.
Related Articles
Comments
[Return to top]