Anion Ordering in Bichalcogenides
Physics of Correlated Matter, Max Planck Institute for Chemical Physics of Solids, Nöthnitzer Str. 40, 01187 Dresden, Germany
Academic Editors: Richard Dronskowski and Duncan H. Gregory
Received: 15 April 2016 / Revised: 7 July 2016 / Accepted: 19 July 2016 / Published: 22 July 2016
Abstract
This review contains recent developments and new insights in the research on inorganic, crystalline compounds with two different chalcogenide ions (bichalcogenides). Anion ordering is used as a parameter to form structural dimensionalities as well as local- and global-electric polarities. The reason for the electric polarity is that, in the heterogeneous bichalcogenide lattice, the individual bond-lengths between cations and anions are different from those in a homogeneous anion lattice. It is also shown that heteroleptic tetrahedral and octahedral coordinations offer a multitude of new crystal fields and coordinations for involved cations. This coordination diversity in bichalcogenides seems to be one way to surpass electro-chemical redox potentials: three oxidation states of a single transition metal can be stabilized, e.g., Ba
15
V
12
S
34
O
3
. A new type of disproportionation, related to coordination, is presented and results from chemical pressure on the bichalcogenide lattices of (La,Ce)CrS
2
O, transforming doubly [CrS
3/3
S
2/2
O
1/1
]
3−
(5+1) into singly [CrS
4/2
S
2/3
]
7/3−
(6+0) and [CrS
4/3
O
2/1
]
11/3−
(4+2) coordinations. Also, magnetic anisotropy is imposed by the anion ordering in BaCoSO, where magnetic interactions via S or O occur along two different crystallographic directions. Further, the potential of the anion lattice is discussed as a parameter for future materials design.
View Full-Text
►

▼

Figures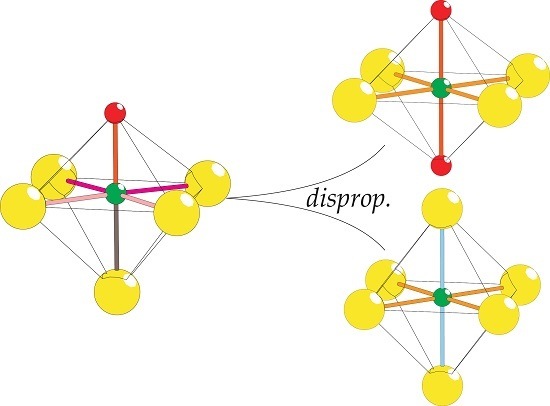 Graphical abstract
This is an open access article distributed under the
Creative Commons Attribution License
which permits unrestricted use, distribution, and reproduction in any medium, provided the original work is properly cited (CC BY 4.0).

Share & Cite This Article
MDPI and ACS Style
Valldor, M. Anion Ordering in Bichalcogenides. Inorganics 2016, 4, 23.
Note that from the first issue of 2016, MDPI journals use article numbers instead of page numbers. See further details here.
Related Articles
Comments
[Return to top]