Multiple-stage Precursor Ion Separation and High Resolution Mass Spectrometry toward Structural Characterization of 2,3-Diacyltrehalose Family from
Mycobacterium tuberculosis
1
Department of Medicine, Washington University School of Medicine, St. Louis, MO 63110, USA
2
Department of Microbiology and Molecular Genetics, Michigan State University, East Lansing, MI 48824, USA
3
Department of Molecular Microbiology and Immunology, Oregon Health & Science University, Portland, OR 97239, USA
4
Univ Rennes, Ecole Nationale Supérieure de Chimie de Rennes, CNRS, ISCR–UMR 6226, F-35000 Rennes, France
*
Author to whom correspondence should be addressed.
†
These authors contributed equally as co-first author.
Received: 1 December 2018 / Revised: 2 January 2019 / Accepted: 7 January 2019 / Published: 15 January 2019
Abstract
Mass spectrometry (MS)-based precursor ion isolation, collision-induced dissociation (CID) fragmentation, and detection using linear ion-trap multiple-stage mass spectrometry (LIT MS
n
) in combination with high resolution mass spectrometry (HRMS) provides a unique tool for structural characterization of complex mixture without chromatographic separation. This approach permits not only separation of various lipid families and their subfamilies, but also stereoisomers, thereby, revealing the structural details. In this report, we describe the LIT MS
n
approach to unveil the structures of a 2,3-diacyl trehalose (DAT) family isolated from the cell envelope of
Mycobacterium tuberculosis
, in which more than 30 molecular species, and each species consisting of up to six isomeric structures were found. LIT MS
n
performed on both [M + Na]
+
and [M + HCO
2
]
−
ions of DAT yield complimentary structural information for near complete characterization of the molecules, including the location of the fatty acyl substituents on the trehalose backbone. This latter information is based on the findings of the differential losses of the two fatty acyl chains in the MS
2
and MS
3
spectra; while the product ion spectra from higher stage LIT MS
n
permit confirmation of the structural assignment.
View Full-Text
►

▼

Figures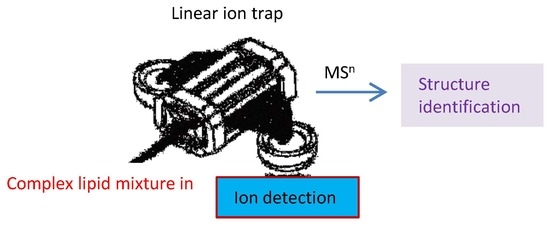 Graphical abstract
This is an open access article distributed under the
Creative Commons Attribution License
which permits unrestricted use, distribution, and reproduction in any medium, provided the original work is properly cited (CC BY 4.0).

Share & Cite This Article
MDPI and ACS Style
Frankfater, C.; Abramovitch, R.B.; Purdy, G.E.; Turk, J.; Legentil, L.; Lemiègre, L.; Hsu, F.-F. Multiple-stage Precursor Ion Separation and High Resolution Mass Spectrometry toward Structural Characterization of 2,3-Diacyltrehalose Family from Mycobacterium tuberculosis. Separations 2019, 6, 4.
Note that from the first issue of 2016, MDPI journals use article numbers instead of page numbers. See further details here.
Comments
[Return to top]