Open Access This article is
freely available
re-usable
Article
Improving Convergence of Binomial Schemes and the Edgeworth Expansion
1
Department of Mathematics, University of Kaiserslautern, 67663 Kaiserslautern, Germany
2
Financial Mathematics, Fraunhofer ITWM, Fraunhofer Platz 1, 67663 Kaiserslautern, Germany
*
Author to whom correspondence should be addressed.
Academic Editor: Alexander Szimayer
Received: 12 April 2016 / Accepted: 13 May 2016 / Published: 23 May 2016
Abstract
:
Binomial trees are very popular in both theory and applications of option pricing. As they often suffer from an irregular convergence behavior, improving this is an important task. We build upon a new version of the Edgeworth expansion for lattice models to construct new and quickly converging binomial schemes with a particular application to barrier options.
Keywords:
binomial model; Black–Scholes model; option pricing; accelerated convergence; weak convergence
Author Contributions
Both authors contributed to all aspects of this work.
Conflicts of Interest
The authors declare no conflict of interest.
Appendix A. The Edgeworth Expansion
We consider a triangular array of lattice random vectors defined on the probability spaces , with common minimal lattice s.t.:
where the sequence of positive-definite covariance matrices converges to a positive-definite limit matrix
V
.
For each , let be the normalized sum
Since , starting from some , then the cumulants of , , of order
ν
, , exist and can be obtained from the Taylor expansion of the logarithm of the characteristic function as:
There exists a one-to-one correspondence between the cumulants and the moments of a distribution. In the theory of Fourier transforms, cumulants are the preferred choice due to their additivity. For a further discussion, please refer to [
17
,
23
].
A detailed description of Edgeworth expansions for various types of distributions, including lattice distributions, is provided in [
23
]. The following theorem is an extension for lattice triangular arrays, applicable to binomial trees with n-dependent transition probabilities.
Theorem
A1.
Let
and
be a fundamental domain of
.
Under condition Equation (A1), if for all constants
,
s.t.
is non-empty, the characteristic functions of
, ,
satisfy the condition:
then the distribution function of
satisfies:
where
is the finite signed measure on
whose density is
defined in Lemma A1 and
,
with the periodic functions
obtained from the Fourier series:
for .
For details, please refer to [
23
,
24
]:
Lemma
A1.
is a polynomial multiple of
and can be written as:
where
is the summation over all m-tuples of positive integers
satisfying
and
is the summation over all m-tuples of nonnegative integral vectors
s.t.
, .
For details, see [
23
]. The following lemma gives a sufficient condition for Equation (A2), which holds for multidimensional and multinomial trees. Compare also [
25
].
Lemma
A2.
Let
,
be a triangular array of lattice random vectors with a common minimal lattice L and support
, .
If for each
,
there exists a constant
,
such that:
then for all constants
,
s.t.
is non-empty:
Here,
is the fundamental domain of
,
and
is defined as in Theorem A1.
Proof.
Since
S
has a finite number of elements, define . Then:
Set:
which is the characteristic function of an m-nomial random vector that has the same support
S
, but assigns an equal probability to each attainable value. Note that is independent of
n
, and for any constant , , for . Then, since , for all ,
Since , we have for all and . Therefore, we have shown Equation (A4). ☐
Appendix B. Proof of Proposition 1
In order to get an expansion of all of the required terms in Corollary 1, we need to consider the asymptotics of the standard normal distribution and density functions. For a fixed and sequences :
with bounded , by applying Taylor's theorem, we get the following expansions up to order 3/2:
Proposition
B1.
We use the notation of Corollary 1. Given Equation (12), we get the following dynamics:
with:
and:
Therefore, by the binomial series theorem (Taylor series at zero for , ):
and as a result, for as in Equation (9), we get:
Then, by Equations (B1) and (B2), we obtain:
Let , denote the
ν
-th moment of . Then, the cumulants can be represented in terms of moments (see, e.g., [
17
],
Section 3.2
) as:
Substituting the above expansions into Equation (8), we get:
where:
The goal now is to choose the coefficients , , so that , . As there are more variables than equations, there are various ways of doing that. Set , and choose such that is satisfied,
i.e.
,
The above equation is solved by:
and taking any of the following values:
The other terms in Equation (B5) become:
where we have used (see Equation (10)). Therefore, if we set:
and:
all chosen coefficients are bounded, and vanish and we get the statement of the proposition. ☐
Remark
B1.
can be chosen freely, as long as Equation (B8) is satisfied. We will usually choose
,
since in this case,
, ,
and therefore, the values assigned to
and
have a simpler form and require less computations.
Appendix C. Proof of Proposition 2
Proposition
C1.
Note:
where is defined as in Equation (7), and:
From Equation (15), we get:
and following the proof of Proposition 1, we get:
and:
where . Similarly, we deduce:
and:
Further, a Taylor expansion yields:
in Equation (18) satisfies:
with , as in Equation (B3). To get the asymptotics of , consider the binomial formula:
The last expression is convergent and, therefore, bounded, and we have the necessary result. If we now substitute Equation (C5) into Equation (C6), we get:
where:
Substituting Equations (C1)–(C4) and (C7) into Equation (22) and using , we get:
where:
and:
Therefore, if , then by setting:
we get the assertion of the proposition. ☐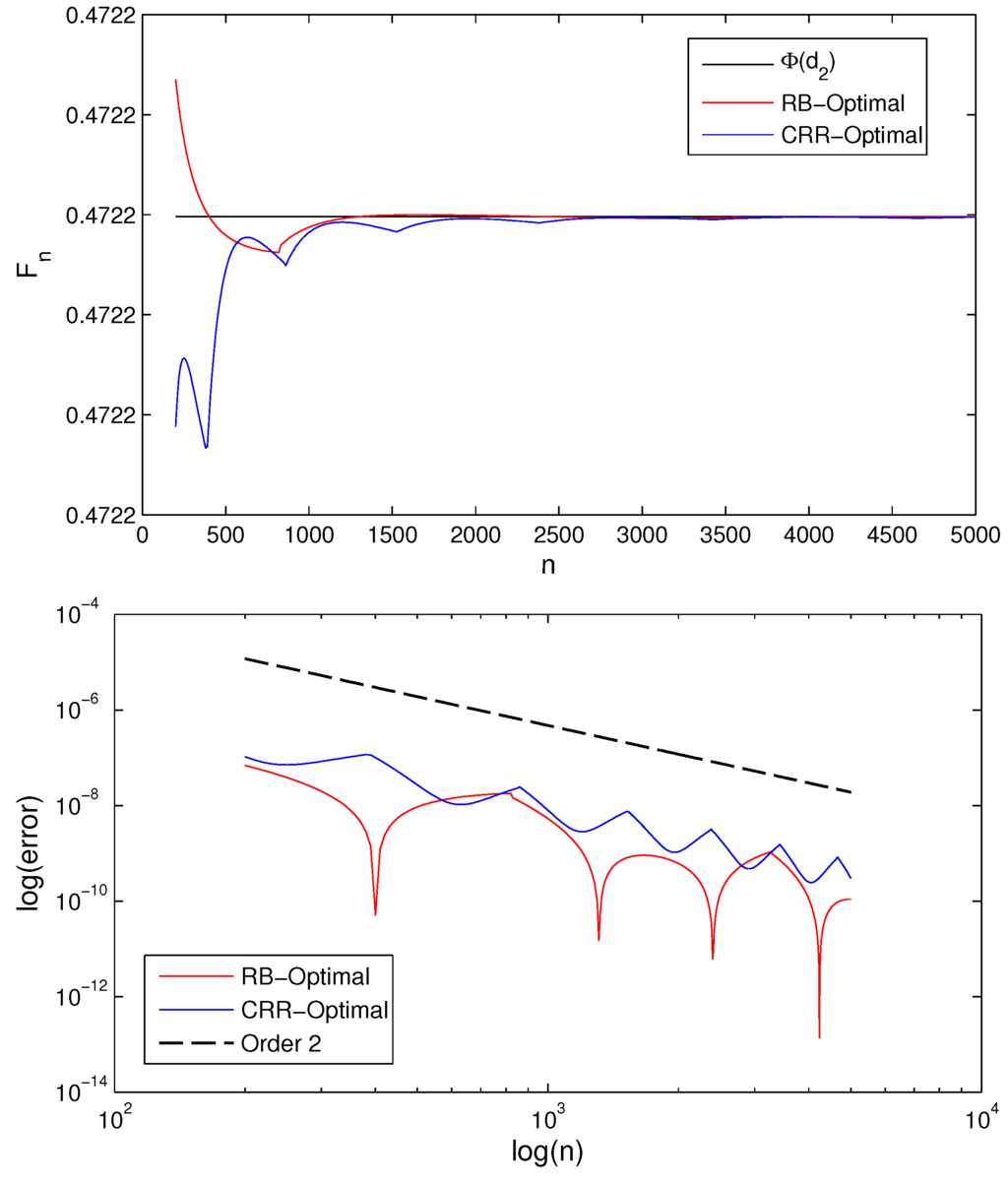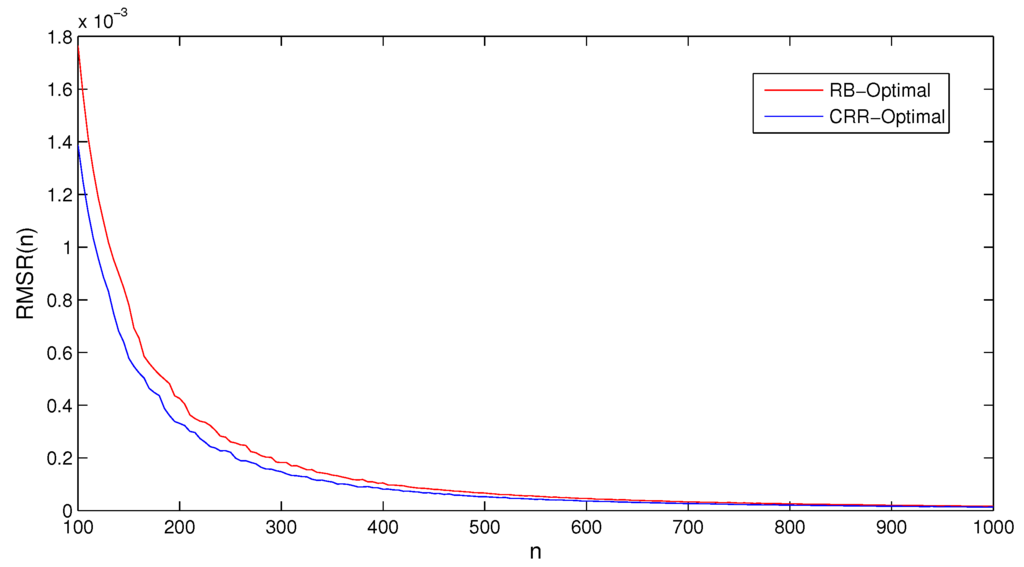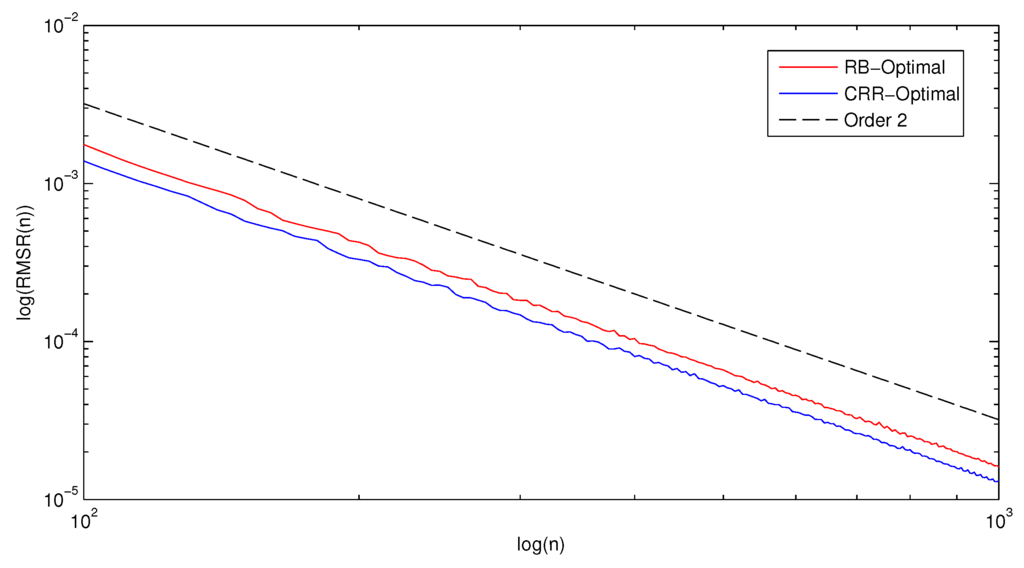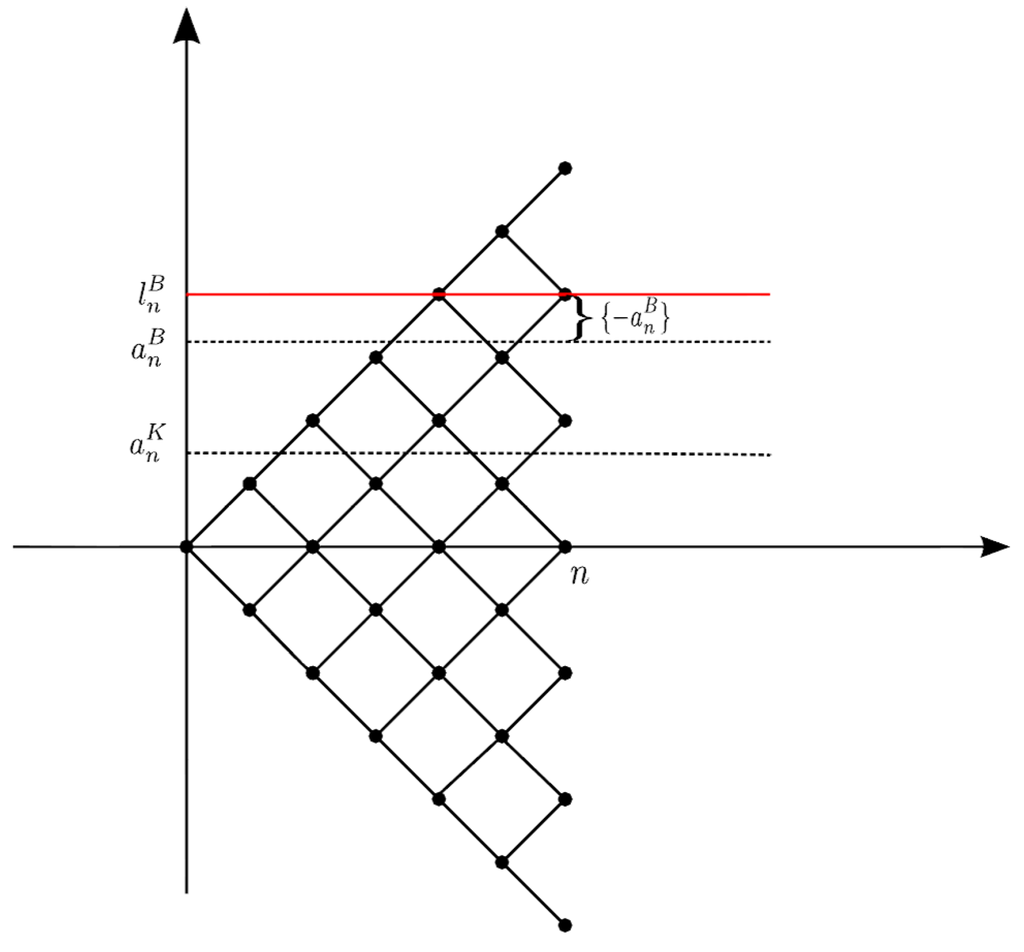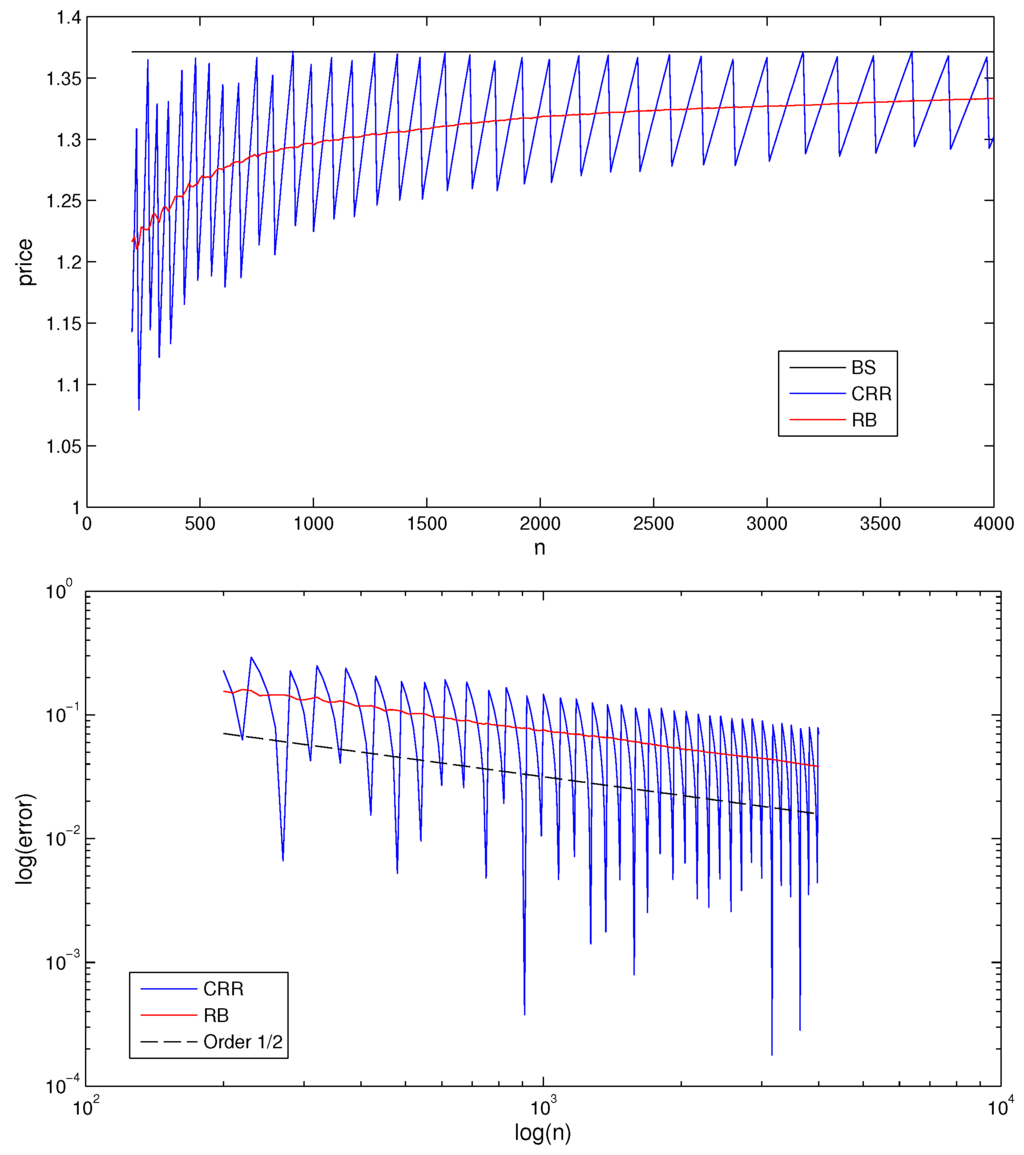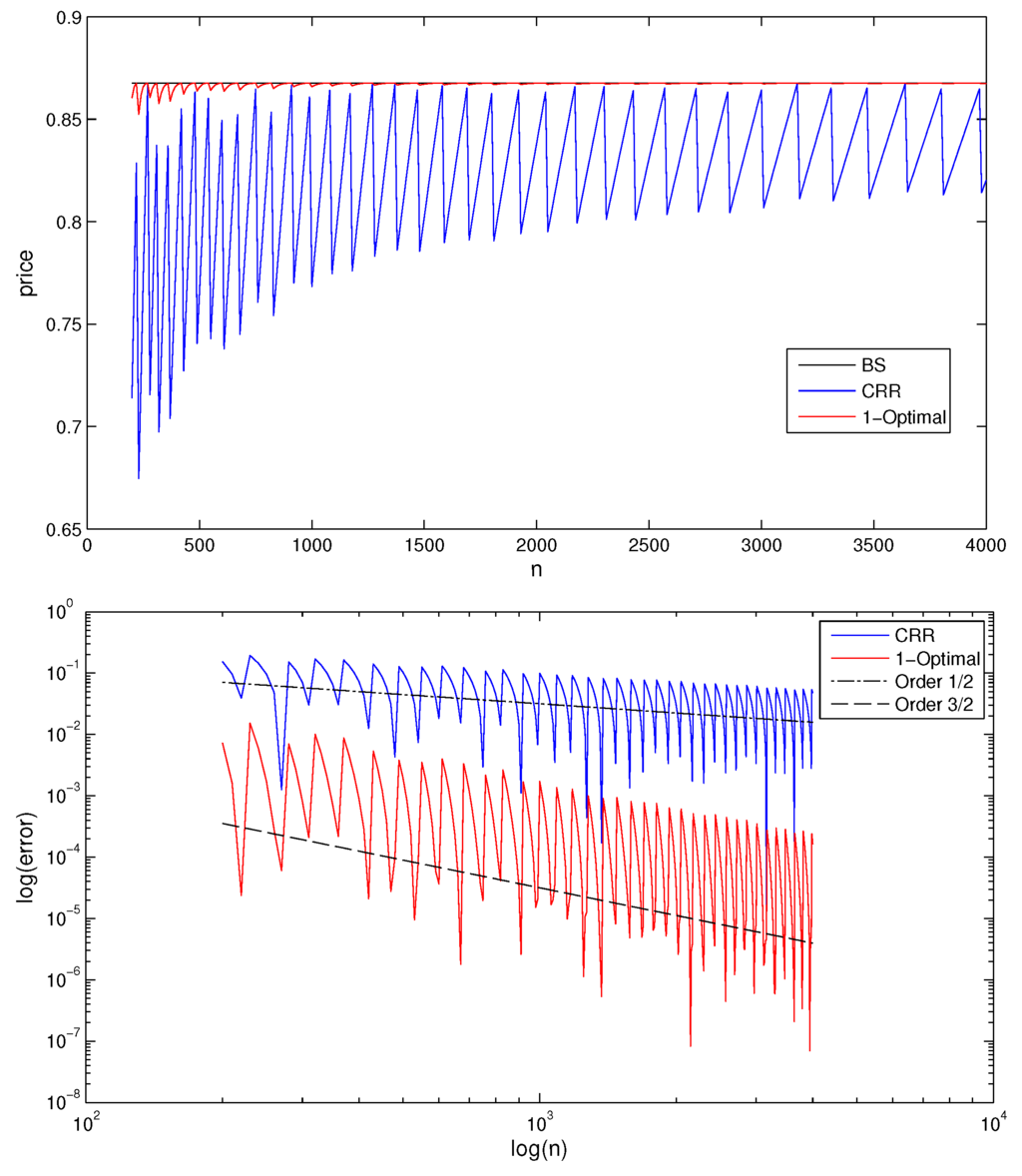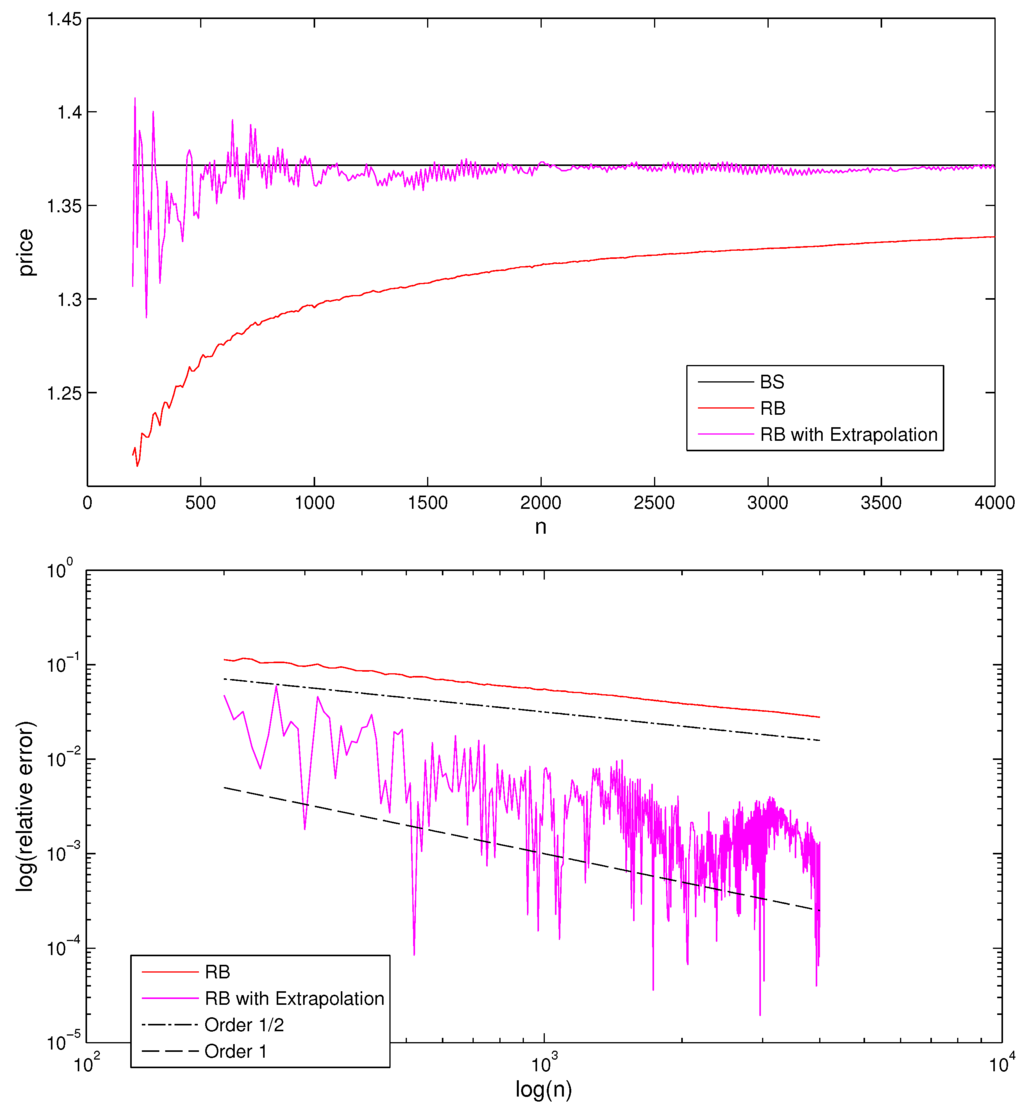 Table 1. Convergence behaviour of CRR, RB with extrapolation and the 1-optimal tree.

| Parameters | n | CRR Tree | RB Extrapolation | 1-Optimal | BS Value |
| --- | --- | --- | --- | --- | --- |
| | 100 | 1.0370950 | 1.2728844 | 1.3071811 | 1.3714613 |
| | 200 | 1.1428755 | 1.3064705 | 1.3528020 | |
| , | 500 | 1.2210427 | 1.3667218 | 1.3668495 | |
| | 1000 | 1.2248525 | 1.3608690 | 1.3671287 | |
| | 2000 | 1.3285299 | 1.3731534 | 1.3713814 | |
| | 4000 | 1.3018025 | 1.3696310 | 1.3710375 | |
© 2016 by the authors; licensee MDPI, Basel, Switzerland. This article is an open access article distributed under the terms and conditions of the Creative Commons Attribution (CC-BY) license (http://creativecommons.org/licenses/by/4.0/).