Neuromyelitis Optica Spectrum Disorder and Anti-MOG Syndromes
CIEM MS Research Center, Federal University of Minas Gerais Medical School, Belo Horizonte, MG 30130-090, Brazil
*
Author to whom correspondence should be addressed.
Received: 20 May 2019 / Revised: 1 June 2019 / Accepted: 2 June 2019 / Published: 12 June 2019
Abstract
Neuromyelitis optica spectrum disorder (NMOSD) and anti-myelin oligodendrocyte glycoprotein (anti-MOG) syndromes are immune-mediated inflammatory conditions of the central nervous system that frequently involve the optic nerves and the spinal cord. Because of their similar clinical manifestations and habitual relapsing course they are frequently confounded with multiple sclerosis (MS). Early and accurate diagnosis of these distinct conditions is relevant as they have different treatments. Some agents used for MS treatment may be deleterious to NMOSD. NMOSD is frequently associated with antibodies which target aquaporin-4 (AQP4), the most abundant water channel in the CNS, located in the astrocytic processes at the blood-brain barrier (BBB). On the other hand, anti-MOG syndromes result from damage to myelin oligodendrocyte glycoprotein (MOG), expressed on surfaces of oligodendrocytes and myelin sheaths. Acute transverse myelitis with longitudinally extensive lesion on spinal MRI is the most frequent inaugural manifestation of NMOSD, usually followed by optic neuritis. Other core clinical characteristics include area postrema syndrome, brainstem, diencephalic and cerebral symptoms that may be associated with typical MRI abnormalities. Acute disseminated encephalomyelitis and bilateral or recurrent optic neuritis are the most frequent anti-MOG syndromes in children and adults, respectively. Attacks are usually treated with steroids, and relapses prevention with immunosuppressive drugs. Promising emerging therapies for NMOSD include monoclonal antibodies and tolerization.
View Full-Text
►

▼

Figures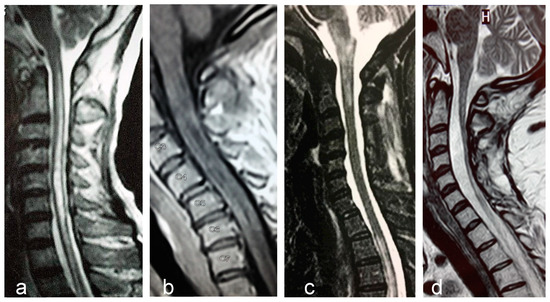 Figure 1
This is an open access article distributed under the
Creative Commons Attribution License
which permits unrestricted use, distribution, and reproduction in any medium, provided the original work is properly cited (CC BY 4.0).

Share & Cite This Article
MDPI and ACS Style
Lana-Peixoto, M.A.; Talim, N. Neuromyelitis Optica Spectrum Disorder and Anti-MOG Syndromes. Biomedicines 2019, 7, 42.
Note that from the first issue of 2016, MDPI journals use article numbers instead of page numbers. See further details here.
Related Articles
Comments
[Return to top]