Open Access This article is
freely available
re-usable
Review
The Potential of the Cyclotide Scaffold for Drug Development
1
Department of Pharmacology and Pharmaceutical Sciences, University of Southern California, CA 9033, USA
2
Norris Comprehensive Cancer Center, University of Southern California, Los Angeles, Los Angeles, CA 9033, USA
*
Author to whom correspondence should be addressed.
Received: 6 April 2019 / Accepted: 15 April 2019 / Published: 19 April 2019
Abstract
:
Cyclotides are a novel class of micro-proteins (≈30–40 residues long) with a unique topology containing a head-to-tail cyclized backbone structure further stabilized by three disulfide bonds that form a cystine knot. This unique molecular framework makes them exceptionally stable to physical, chemical, and biological degradation compared to linear peptides of similar size. The cyclotides are also highly tolerant to sequence variability, aside from the conserved residues forming the cystine knot, and are orally bioavailable and able to cross cellular membranes to modulate intracellular protein–protein interactions (PPIs), both in vitro and in vivo. These unique properties make them ideal scaffolds for many biotechnological applications, including drug discovery. This review provides an overview of the properties of cyclotides and their potential for the development of novel peptide-based therapeutics. The selective disruption of PPIs still remains a very challenging task, as the interacting surfaces are relatively large and flat. The use of the cell-permeable highly constrained polypeptide molecular frameworks, such as the cyclotide scaffold, has shown great promise, as it provides unique pharmacological properties. The use of molecular techniques, such as epitope grafting, and molecular evolution have shown to be highly effective for the selection of bioactive cyclotides. However, despite successes in employing cyclotides to target PPIs, some of the challenges to move them into the clinic still remain.
Keywords:
cyclotides; CCK; cystine-knot; drug design; backbone cyclized polypeptides; protein-protein interactions; cyclic peptides
3. Biosynthesis
Naturally-occurring cyclotides are produced by enzymatic processing from ribosomally produced precursor proteins [
37
]. Many cyclotides have dedicated genes encoding multiple copies of the same cyclotide or mixtures of different cyclotide sequences [
46
]. Not surprisingly, the first dedicated genes encoding cyclotide precursor proteins were found in the cyclotide producing plant
Oldelandia affinis
(
Rubiaceae
family), which is the source of the cyclotide kalata B1 [
47
,
48
]. Similar genes have also been found in other plants from the
Violaceae
and
Rubiaceae
[
49
], and more recently also in plants from the
Solanaceae
,
Fabaceae
, and
Cucurbitaceae
families [
20
,
41
,
49
,
50
,
51
]. Some of these new genes provide novel architectures for the corresponding cyclotide protein precursor, showing the high diversity used by nature to generate cyclotides.
Although the post-translational modifications required for the biosynthesis of cyclotides in nature have not been fully characterized yet [
49
,
52
], recent studies have determined that asparaginyl endopeptidase (AEP)-like ligases are involved in the C-terminal cleavage and backbone-cyclization of the linear cyclotide precursor [
53
,
54
]. For example, the co-expression of a cyclizing AEP-like ligase with a cyclotide precursor protein in non-cyclotide producing plants significantly improves the cyclization efficiency of the corresponding cyclotide linear precursor [
55
]. These AEP-like ligases have been shown to be able to backbone-cyclize different linear peptides in vitro, including linear cyclotide precursors and even peptides containing D-amino acids [
53
,
55
,
56
,
57
,
58
,
59
].
Despite the increasing understanding of how cyclotides are produced in plants, there is still not too much known about the N-terminal cleavage process and the corresponding associated protease. Complete understanding on how the cyclotide linear precursors are processed and identification of all the players involved should facilitate the engineering of genetically-modified organisms for the inexpensive bioproduction of cyclotides [
60
,
61
].
4. Chemical Synthesis
The relatively small size of cyclotides makes the synthesis of the corresponding linear precursors by chemical methods possible, using solid-phase peptide synthesis (SPPS) [
27
]. Backbone cyclization of the linear precursor can be easily accomplished in aqueous buffers at pH ≈7 using an intramolecular version of native chemical ligation (
Figure 2
A). The required peptide α-thioester can be readily generated using standard solid-phase peptide synthesis methods by either Boc- or Fmoc-based chemistry [
27
]. The corresponding linear precursor can be cyclized and oxidatively folded sequentially. A very convenient approach to generate chemically-produced cyclotides involves carrying out the cyclization and folding steps in a "single pot" reaction by using glutathione (GSH) as a thiol additive [
62
]. This approach has successfully been used to chemically generate many native and engineered cyclotides [
5
,
62
,
63
,
64
], as well as other disulfide-contained backbone-cyclized polypeptides [
65
,
66
].
Cyclotide linear precursors can be also chemoenzymatically cyclized using AEP-like ligases [
53
,
54
,
59
,
67
], which do not require the linear precursor to be natively folded for the cyclization to proceed efficiently [
53
]. Naturally occurring trypsin inhibitor cyclotides, such as MCoTI-I/II, can also be produced using the serine protease trypsin [
68
]. This is accomplished by producing a folded linear precursor bearing the P1 and P1 residues at the C- and N-termini, respectively. This approach provides a very efficient route for obtaining cyclotides with trypsin inhibitory properties with yields close to 92% for cyclotide MCoTI-II [
68
], however the introduction of mutations that affect the binding to the proteolytic enzyme may affect the cyclization yield [
27
]. Other proteases, such as the transpeptidase like sortase A (SrtA), have been also employed for the backbone cyclization of the corresponding synthetic linear precursor [
69
]. However, this approach, due to the sequence requirements for SrtA to work properly, leaves an extra heptapeptide motif at the cyclization site, which should be taken into consideration when producing bioactive cyclotides.
5. Recombinant Expression
The use of protein splicing units, also called inteins, in either
cis
or
trans
allows the recombinant production of backbone cyclized polypeptides (for more detailed reviews in this topic see [
27
,
70
]). Initial attempts for production of cyclotides using heterologous expression systems involved the use of modified inteins for generating α-thioester polypeptides that were then backbone-cyclized using an intramolecular version of native chemical ligation [
71
,
72
]. The use of intein-mediated protein
trans
-splicing (PTS) has been shown to be more effective for the production of naturally-occurring and engineered cyclotides in prokaryotic and eukaryotic expression systems (
Figure 2
B) [
73
,
74
,
75
]. In-cell production of folded cyclotides by PTS can reach intracellular concentrations in the range of 2040– μM. This corresponds to ≈ 10 mg of folded cyclotide per 100 g of wet cells in
Escherichia coli
expression systems producing cyclotide MCoTI-I [
75
]. These values are quite comparable to those obtained when using the cyclotide-producing plant
O. affinis
, which produces ≈ 15 mg of cyclotide kalata B1 per 100 g of wet weight when grown in vitro [
76
]. Given the fastest growth rate and the simplicity of working with microorganisms such as
E. coli
, PTS provides a very attractive alternative for a cost-effective route to produce bioactive cyclotides with therapeutic potential.
In-cell production of cyclotides also opens the exciting possibility for the generation of large genetically-encoded libraries of cyclotides, which can be rapidly screened for the selection of novel sequences able to modulate specific molecular targets [
74
]. In addition, having easy access to cyclotides using standard heterologous expression systems facilitates the production of cyclotides labeled with NMR active isotopes, such as
15
N and
13
C, in a relatively inexpensive fashion [
5
]. This approach was used to carry out structural studies using heteronuclear NMR on a cyclotide engineered to bind the p53 binding domain of the E3-ligases Hdm2 and HdmX, allowing elucidation of the structure of the bioactive cyclotide bound to its target (
Figure 3
) [
5
].
6. Biological Activities of Naturally-occurring Cyclotides
7. Cyclotides with Novel Biological Activities
8. Biodistribution Studies on Cyclotides
There are some published reports on the biodistribution and potential to cross the blood brain barrier of cyclotides from the trypsin inhibitor subfamily [
63
,
132
]. These two reports confirmed that naturally-occurring cyclotides MCoTI-I/II are distributed in mice predominantly into serum and kidneys, confirming high in vivo stability, and that they are eliminated mostly through renal clearance [
63
,
132
]. In addition, it was also confirmed that cyclotide MCoTI-II cannot cross the blood brain barrier [
132
]. It is important to notice, however, that the biodistribution profile of cyclotides will also depend strongly on their biological activity. For example, a study on the biodistribution of a CXCR4 binding cyclotide showed major accumulation in the lungs, liver, and spleen, even after 24 h of administration [
63
]. This cyclotide was also mostly secreted though renal clearance, showing a peak after 90 min of administration and slowly decaying after 24 h. Similar studies have also been carried out to study the pharmacokinetic profile of cyclotide kalata B1 in rats, obtaining very similar results to those found for MCoTI-cylcotide [
133
].
Unfortunately, there is not much data published on the pharmacokinetic or pharmacodynamic profiles of bioactive cyclotides, which is surprising given the good in vivo biological activity of some engineered cyclotides.
9. Summary
It is becoming clear that cyclotides are now a well-studied family of micro-proteins that are starting to gain acceptance as molecular scaffolds for the potential design of novel peptide-based therapeutics and diagnostic tools based on their unique properties. Cyclotides possess a unique highly constrained structure containing a cystine-knot and circular backbone topology, which confers them an extraordinary stability to thermal and chemical denaturation, and proteolytic degradation. Some cyclotides can be dosed orally and can cross cellular membranes, allowing them to target extracellular, and more importantly intracellular, PPIs in vivo [
5
,
30
,
31
,
127
]. This highlights the high stability of the circular cystine knot topology to degradation-reduction under complex biological conditions. Cyclotides are relatively small polypeptides that can be readily accessed using standard solid-phase peptide synthesis methods, allowing the introduction of chemical modifications, such as non-natural amino acids and PEGylation, to improve their pharmacological profiles [
64
,
116
]. More importantly, naturally occurring cyclotides are also able to tolerate substantial sequence variation and have been produced using several heterologous systems, making them ideal substrates for molecular evolution for the selection of novel sequences with optimal binding and inhibitory characteristics against specific molecular targets [
74
,
129
,
130
]. Large scale production of bioactive cyclotides can easily be accomplished by using heterologous expression systems. The full characterization of AEP-like ligases involved in the biosynthesis of cyclotides should allow the production of genetically-modified plants able to biosynthesize cyclotides. In addition, the use of PTS-mediated backbone cyclization employing microbial expression systems, such as the bacterium
E. coli
, provides expression yields of cyclotides that are comparable to those found in plants when grown in vitro. The simplicity of growing bacteria, as well as their significantly faster growth rates, makes them an attractive alternative to the low-cost production of bioactive cyclotides at large scale. All these unique properties make cyclotides one of the most promising scaffolds available now for the design of novel peptide-based therapeutics.
10. Concluding Remarks
The selective and effective disruption PPIs still remains a difficult task. This is mostly due to the nature of the interacting surfaces, which are usually large and relatively flat. The cyclotide scaffold provides a cell-permeable and highly-constrained molecular framework to efficiently target both extra- and intracellular PPIs. There are proven tools available to produce cyclotides with novel biological activities by employing molecular grafting of bioactive epitopes, or even through molecular evolution techniques. Using these tools, cyclotides that can target a multitude of protein targets (see
Table 1
) have been designed and tested mostly in vitro, although some in animal models also [
5
,
30
,
31
]. A few examples have also shown the potential of cyclotides to be dosed orally to target specific molecular targets or diseases [
30
,
31
], although this property would need to be tested in any new cyclotide, as changes in sequence could have a negative effect on this interesting property.
Despite this initial success in employing the cyclotide scaffold to target specific proteins to modulate their biological activity, no cyclotides have reached human clinical trials yet. Among the different challenges that affect bioactive cyclotides before they can move into the clinic are the potential immunogenicity and oral bioavailability.
Although cyclotides are highly constrained and extremely resistant to proteolytic cleavage, which is required for proper T-epitope presentation and activation of the cellular immune response, more detailed studies on the immunogenicity of bioactive cyclotides are required. In this regard, a recent study was able to rise polyclonal antibodies against cyclotide cycloviolacin O2, however due to the poor immunogenicity of the free cyclotide conjugation to an immunogenic protein, a carrier was required [
140
].
As indicated earlier, some cyclotides have been proven to be orally active, however no detailed information has been released yet on their pharmacological profiles when dosed orally. It is anticipated, however, that more studies on the biopharmaceutical properties of these exciting new micro-proteins may be available very soon.
Author Contributions
J.A.C. and M.J.C. wrote the manuscript.
Funding
J.A.C. is supported by National Institutes of Health Research Grant R01-GM113363, Department of Defense Congressionally Directed Medical Research Programs in Lung Cancer Grant LC150051, BROAD Medical Research Program-Crohn's and Colitis Foundation of America, Grant #483566, Lupus Research Institute, and Whittier Foundation.
Conflicts of Interest
The authors have no other relevant affiliations or financial involvement with any organization or entity with financial interest in or financial conflict with the subject matter or materials discussed in the manuscript.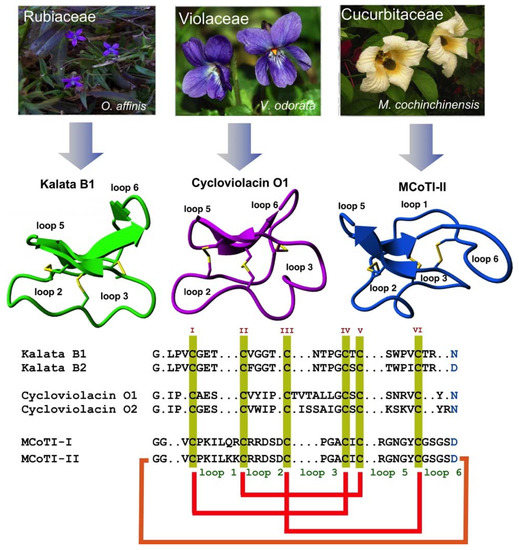 Figure 1.
Biological origin, structures, and sequence alignment of different cyclotides belonging to the Möbius (kalata B1, pdb: 1NB1) [
24
], bracelet (cycloviolacin O1, pdb: 1NBJ) [
24
], and trypsin inhibitor (MCoTI-II, pdb: 1IB9) [
25
] subfamilies. These three naturally-occurring cyclotides were isolated from
O. affinis
(
Rubiaceae
family),
Viola odorata
(
Violaceae
family), and
M. cochinchinensis
(
Cucurbitaceae
family). The six Cys residues are labeled with roman numerals, whereas loops connecting the different Cys residues are designated with Arabic numerals. Conserved Cys and Asp/Asn (required for backbone cyclization in nature) residues are marked in yellow and light blue, respectively. Disulfide connectivities and backbone-cyclization are shown in red and orange, respectively. Molecular graphics were created using Yasara (
www.yasara.org
). Figure adapted from references [
17
,
23
].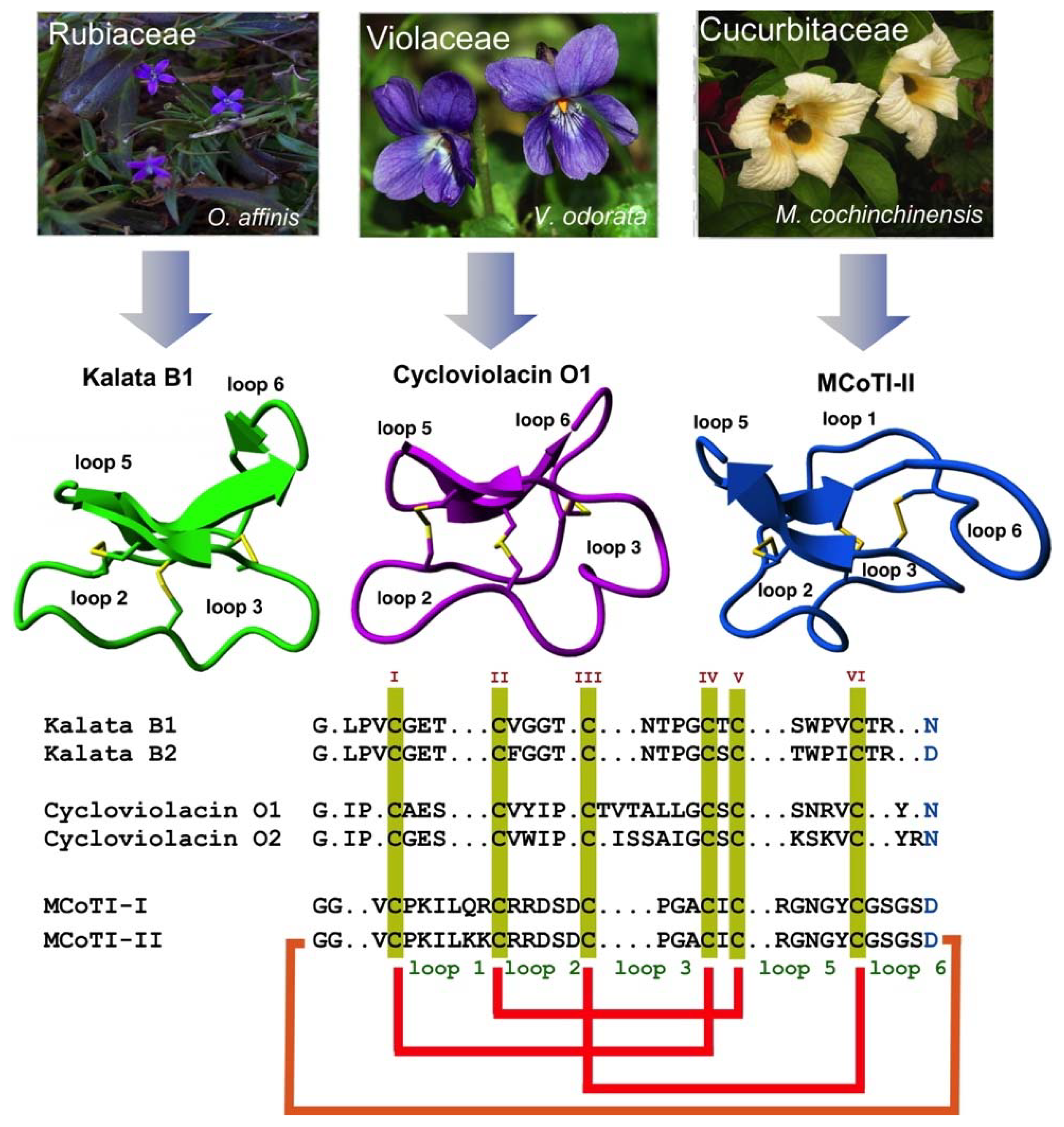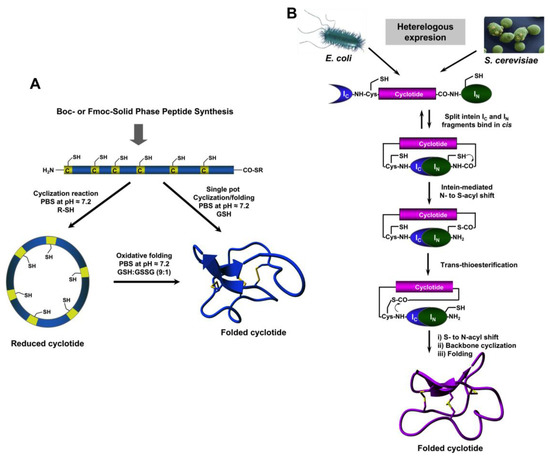 Figure 2.
Different available approaches for the production of cyclotides. (
A
) Chemical synthesis of cyclotides by making use of an intramolecular version of native chemical ligation. This approach requires the generation of a linear precursor polypeptide bearing an N-terminal Cys residue and an α-thioester moiety at the C-terminus. The linear precursor can be first cyclized under reductive conditions and then folded using a proper redox buffer, for example using reduced and oxidized glutathione (GSH) [
27
]. The cyclization and oxidative folding can be also efficiently accomplished in a "single pot" reaction when the cyclization is carried out in the presence of reduced GSH as the thiol cofactor [
27
]. (
B
) Recombinant expression of cyclotides by making use of the protein trans-splicing (PTS) [
73
,
74
,
75
]. This approach has been employed for the generation of several MCoTI-cyclotides, where the native Cys residue located at the beginning of loop 6 was used to facilitate backbone cyclization. This method can be used to produce bioactive cyclotides in either eukaryotic or prokaryotic expression systems [
73
,
74
,
75
]. Figure adapted from a previous study [
23
].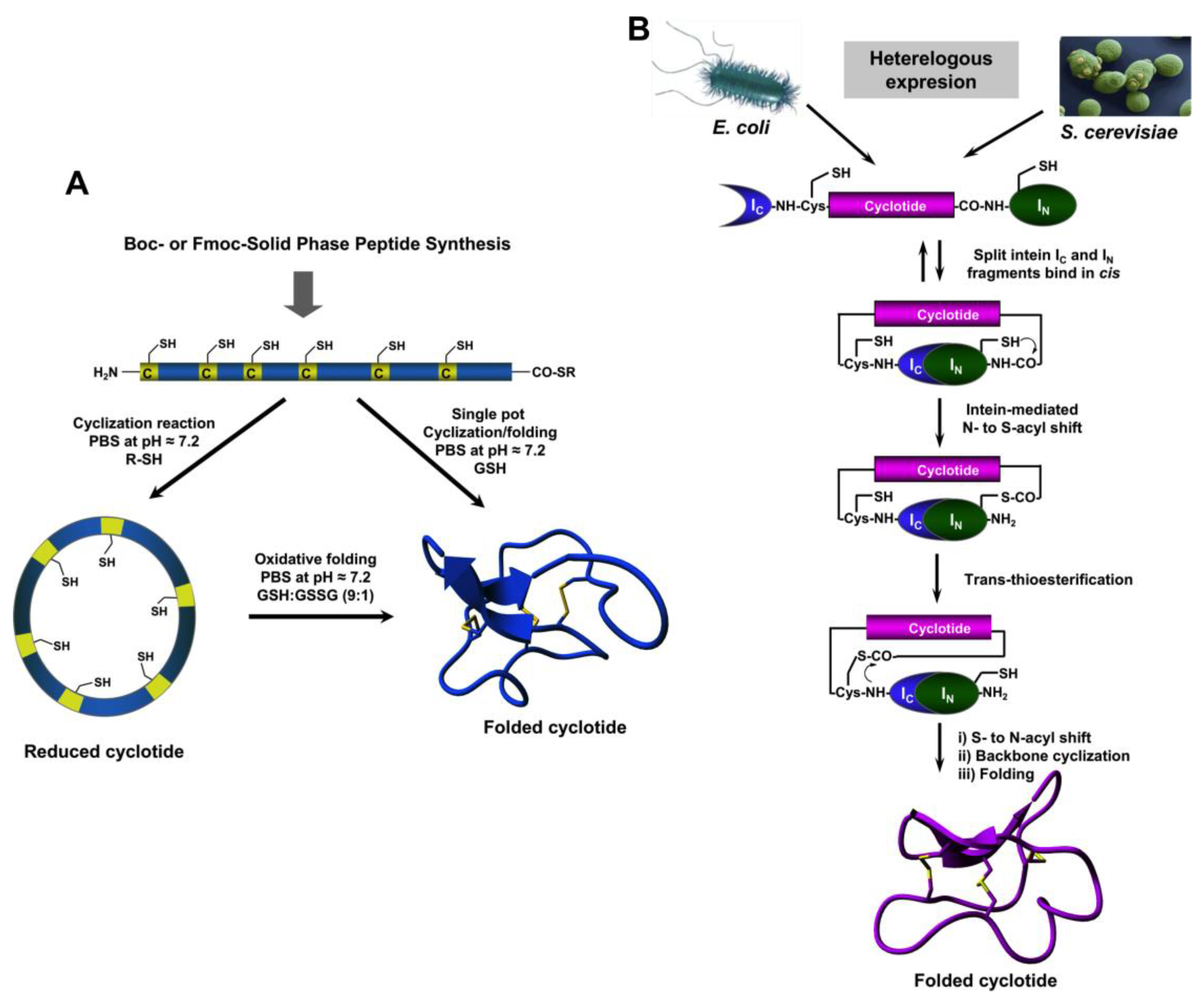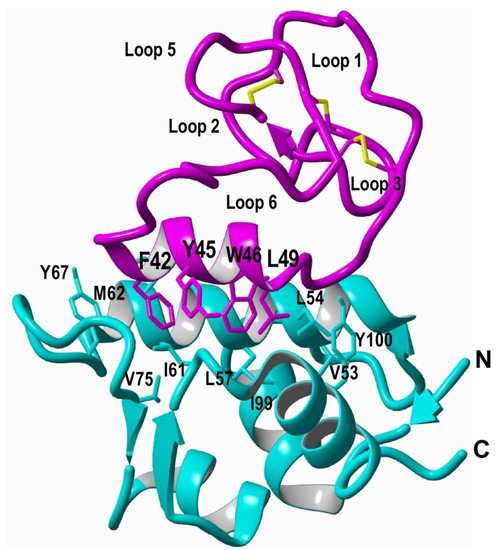 Figure 3.
Structure of a MCoTI-based cyclotide designed to antagonize an intracellular PPI [
5
]. The structure of the engineered cyclotide MCo-PMI (magenta) and its intracellular molecular target, the p53 binding domain of oncogene Hdm2 (blue), were determined in solution by nuclear magnetic resonance (NMR). Cyclotide MCo-PMI binds with low nM affinity to both the p53-binding domains of Hdm2 and HdmX.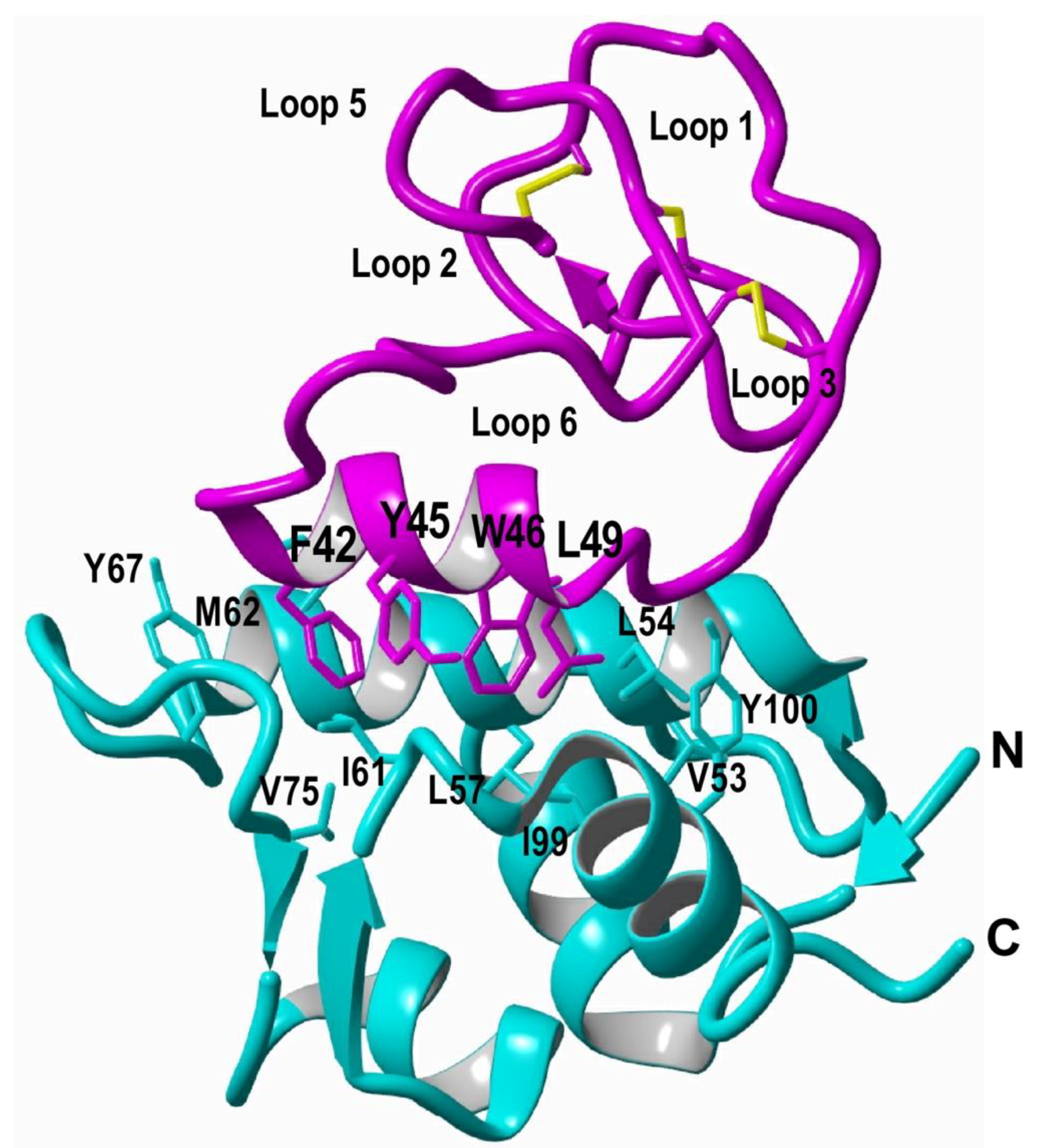 Table 1.
Engineered cyclotides described in the literature with novel biological activities leading to bioimaging and therapeutic applications. Table adapted and updated from a previous study [
17
].
Cyclotide
Biological Activity
Loop Modified
Application
Ref.
Möbius Subfamily
Kalata B1
VEGF-A antagonist
2, 3, 5, and 6
Anti-angiogenic, potential anti-cancer activity
[113]
Kalata B1
Dengue NS2B-NS3 Protease inhibitor
2 and 5
Anti-viral for Dengue virus infections
[134]
Kalata B1
Bradikynin B1 receptor antagonist
6
Chronic and inflammatory pain
[30]
Kalata B1
Melanocortin 4 receptor Agonist
6
Obesity
[115]
Kalata B1
Neuropilin-1/2 antagonist
5 and 6
Inhibition of endothelial cell migration and angiogenesis
[129]
Kalata B1
Immunomodulator
5 and 6
Protecting against multiple sclerosis
[135]
Kalata B1
Immunomodulator
4
Protecting against multiple sclerosis
[31]
Trypsin Inhibitor Subfamily
MCoTI-I
CXCR4 antagonist
6
Anti-metastatic and anti-HIV PET-CT imaging
[62,63,116]
MCoTI-I
p53-Hdm2/HdmX
6
Anti-tumor by activation of p53 pathway
[5]
MCoTI-II
FMDV 3C protease Inhibitor
1
Anti-viral for foot-and-mouth disease
[68]
MCoTI-II
β-Tryptase inhibitor
3, 5, and 6
Inflammation diseases
[120]
MCoTI-II
β-Tryptase inhibitor Human elastase inhibitor
1
Inflammation diseases
[114]
MCoTI-II
CTLA-4 antagonist
1,3, and 6
Immunotherapy for cancer
[130]
MCoTI-II
Tryptase inhibitor
1
Anti-cancer
[43]
MCoTI-II
VEGF receptor agonist
6
Wound healing and cardiovascular damage
[136]
MCoTI-I
α-Synuclein-induced cytotoxicity inhibitor
6
Parkinson's disease Validate phenotypic screening of genetically-encoded cyclotide libraries
[74]
MCoTI-II
BCR-Abl kinase Inhibitor
1 and 6
Chronic myeloid leukemia Attempt to graft both a cell penetrating peptide and kinase inhibitor
[122]
MCoTI-I
MAS1 receptor agonist
6
Lung cancer and myocardial infarction
[64]
MCoTI-II
SET antagonist
6
Potential anticancer
[125]
MCoTI-II
FXIIa and FXa inhibitors
1 and 6
Antithrombotic and cardiovascular disease
[137]
MCoTI-II
Thrombospondin-1 (TSP-1) agonist
6
Microvascular endothelial cell migration inhibition Anti-angiogenesis
[138]
MCoTI-II
Antiangiogenic
5 and 6
Anti-cancer
[139]
MCoTI-II
Kallikrein 4 (KLK4) inhibitor
1 and 8
Anti-cancer
[121]

© 2019 by the authors. Licensee MDPI, Basel, Switzerland. This article is an open access article distributed under the terms and conditions of the Creative Commons Attribution (CC BY) license (http://creativecommons.org/licenses/by/4.0/).