The Effect of Training-Induced Visual Imageability on Electrophysiological Correlates of Novel Word Processing
Institute for Experimental Psychology, Heinrich Heine University Düsseldorf, 40225 Düsseldorf, Germany
*
Author to whom correspondence should be addressed.
Received: 16 May 2018 / Revised: 20 June 2018 / Accepted: 21 June 2018 / Published: 1 July 2018
Abstract
The concreteness effect (CE) describes a processing advantage for concrete over abstract words. Electrophysiologically, the CE manifests in higher N400 and N700 amplitudes for concrete words. The contribution of the stimulus-inherent imageability to the electrophysiological correlates of the CE is not yet fully unraveled. This EEG study focused on the role of imageability irrespective of concreteness by examining the effects of training-induced visual imageability on the processing of novel words. In two training sessions, 21 healthy participants learned to associate novel words with pictures of novel objects as well as electron-microscopical structures and were additionally familiarized with novel words without any picture association. During a post-training EEG session, participants categorized trained novel words with or without picture association, together with real concrete and abstract words. Novel words associated with novel object pictures during the training elicited a higher N700 than familiarized novel words without picture-association. Crucially, this training-induced N700 effect resembled the CE found for real words. However, a CE on the N400 was found for real words, but no effect of imageability in novel words. The results suggest that the N400 CE for real words depends on the integration of multiple semantic features, while mere visual imageability might contribute to the CE in the N700 time window.
View Full-Text
►

▼

Figures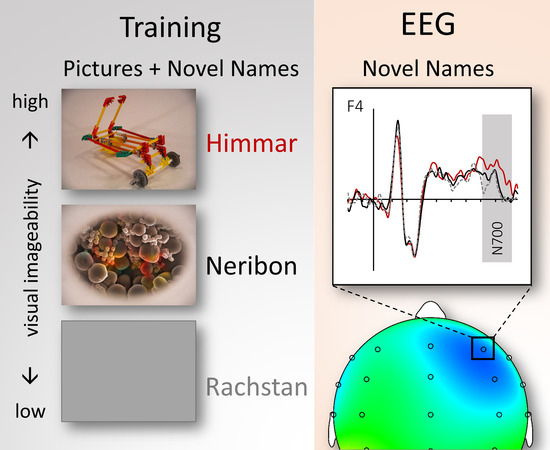 Graphical abstract
This is an open access article distributed under the
Creative Commons Attribution License
which permits unrestricted use, distribution, and reproduction in any medium, provided the original work is properly cited (CC BY 4.0).

Share & Cite This Article
MDPI and ACS Style
Bechtold, L.; Ghio, M.; Bellebaum, C. The Effect of Training-Induced Visual Imageability on Electrophysiological Correlates of Novel Word Processing. Biomedicines 2018, 6, 75.
Note that from the first issue of 2016, MDPI journals use article numbers instead of page numbers. See further details here.
Related Articles
Comments
[Return to top]