Human Depotentiation following Induction of Spike Timing Dependent Plasticity
1
Department of Psychology and Neurosciences, Translational Neuromodulation Unit, Leibniz Research Centre for Working Environment and Human Factors, Technical University Dortmund, 44139 Dortmund, Germany
2
UCL-Institute of Neurology, University College London (UCL), Queen Square, London WC1N 3BG, UK
3
Institute of Clinical Neuroscience and Medical Psychology, Medical Faculty, Heinrich Heine University, 40225 Düsseldorf, Germany
*
Author to whom correspondence should be addressed.
Received: 15 March 2018 / Revised: 17 May 2018 / Accepted: 4 June 2018 / Published: 18 June 2018
Abstract
Depotentiation (DP) is a crucial mechanism for the tuning of memory traces once LTP (Long Term Potentiation) has been induced via learning, artificial procedures, or other activities. Putative unuseful LTP might be abolished via this process. Its deficiency is thought to play a role in pathologies, such as drug induced dyskinesia. However, since it is thought that it represents a mechanism that is linked to the susceptibility to interference during consolidation of a memory trace, it is an important process to consider when therapeutic interventions, such as psychotherapy, are administered. Perhaps a person with an abnormal depotentiation is prone to lose learned effects very easily or on the other end of the spectrum is prone to overload with previously generated unuseful LTP. Perhaps this process partly explains why some disorders and patients are extremely resistant to therapy. The present study seeks to quantify the relationship between LTP and depotentiation in the human brain by using transcranial magnetic stimulation (TMS) over the cortex of healthy participants. The results provide further evidence that depotentiation can be quantified in humans by use of noninvasive brain stimulation techniques. They provide evidence that a nonfocal rhythmic on its own inefficient stimulation, such as a modified thetaburst stimulation, can depotentiate an associative, focal spike timing-dependent PAS (paired associative stimulation)-induced LTP. Therefore, the depotentiation-like process does not seem to be restricted to specific subgroups of synapses that have undergone LTP before. Most importantly, the induced LTP seems highly correlated with the amount of generated depotentiation in healthy individuals. This might be a phenomenon typical of health and might be distorted in brain pathologies, such as dystonia, or dyskinesias. The ratio of LTP/DP might be a valuable marker for potential distortions of persistence versus deletion of memory traces represented by LTP-like plasticity.
View Full-Text
►

▼

Figures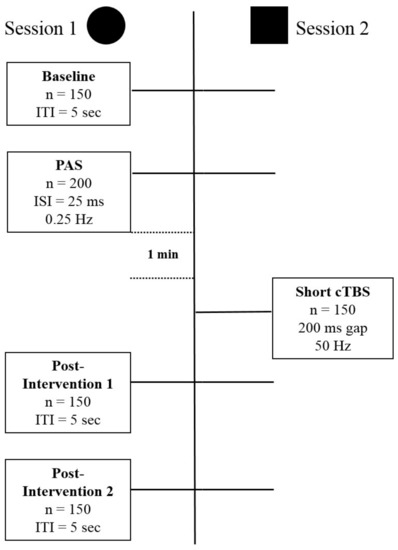 Figure 1
This is an open access article distributed under the
Creative Commons Attribution License
which permits unrestricted use, distribution, and reproduction in any medium, provided the original work is properly cited (CC BY 4.0).

Share & Cite This Article
MDPI and ACS Style
Pedroarena-Leal, N.; Heidemeyer, L.; Trenado, C.; Ruge, D. Human Depotentiation following Induction of Spike Timing Dependent Plasticity. Biomedicines 2018, 6, 71.
Note that from the first issue of 2016, MDPI journals use article numbers instead of page numbers. See further details here.
Related Articles
Comments
[Return to top]