Updates in the Development of ImmunoRNases for the Selective Killing of Tumor Cells
1
Medical Biotechnology and Immunotherapy Group, Institute of Infectious Disease and Molecular Medicine, Faculty of Health Sciences, University of Cape Town, Cape Town 7700, South Africa
2
South African Research Chair in Cancer Biotechnology, Department of Integrative Biomedical Sciences, Faculty of Health Sciences, University of Cape Town, Cape Town 7700, South Africa
3
Department of Experimental Medicine and Immunotherapy, Institute for Applied Medical Engineering, University Hospital RWTH Aachen, 52056 Aachen, Germany
*
Authors to whom correspondence should be addressed.
†
These authors contributed equally to this work.
Received: 8 February 2018 / Revised: 2 March 2018 / Accepted: 3 March 2018 / Published: 5 March 2018
Abstract
Targeted cancer therapy includes, amongst others, antibody-based delivery of toxic payloads to selectively eliminate tumor cells. This payload can be either a synthetic small molecule drug composing an antibody-drug conjugate (ADC) or a cytotoxic protein composing an immunotoxin (IT). Non-human cytotoxic proteins, while potent, have limited clinical efficacy due to their immunogenicity and potential off-target toxicity. Humanization of the cytotoxic payload is essential and requires harnessing of potent apoptosis-inducing human proteins with conditional activity, which rely on targeted delivery to contact their substrate. Ribonucleases are attractive candidates, due to their ability to induce apoptosis by abrogating protein biosynthesis via tRNA degradation. In fact, several RNases of the pancreatic RNase A superfamily have shown potential as anti-cancer agents. Coupling of a human RNase to a humanized antibody or antibody derivative putatively eliminates the immunogenicity of an IT (now known as a human cytolytic fusion protein, hCFP). However, RNases are tightly regulated in vivo by endogenous inhibitors, controlling the ribonucleolytic balance subject to the cell's metabolic requirements. Endogenous inhibition limits the efficacy with which RNase-based hCFPs induce apoptosis. However, abrogating the natural interaction with the natural inhibitors by mutation has been shown to significantly enhance RNase activity, paving the way toward achieving cytolytic potency comparable to that of bacterial immunotoxins. Here, we review the immunoRNases that have undergone preclinical studies as anti-cancer therapeutic agents.
View Full-Text
►

▼

Figures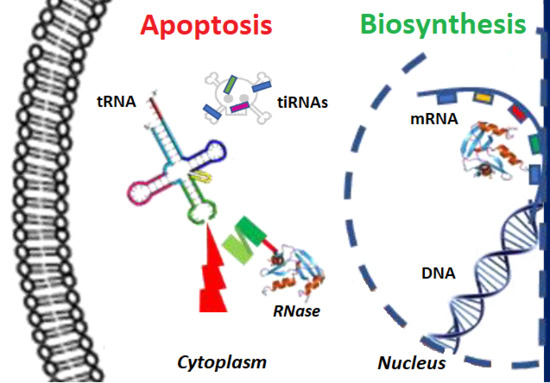 Graphical abstract
This is an open access article distributed under the
Creative Commons Attribution License
which permits unrestricted use, distribution, and reproduction in any medium, provided the original work is properly cited (CC BY 4.0).

Share & Cite This Article
MDPI and ACS Style
Jordaan, S.; Akinrinmade, O.A.; Nachreiner, T.; Cremer, C.; Naran, K.; Chetty, S.; Barth, S. Updates in the Development of ImmunoRNases for the Selective Killing of Tumor Cells. Biomedicines 2018, 6, 28.
Note that from the first issue of 2016, MDPI journals use article numbers instead of page numbers. See further details here.
Related Articles
Comments
[Return to top]