Nanoporous Silica-Dye Microspheres for Enhanced Colorimetric Detection of Cyclohexanone
Department of Chemical and Biomolecular Engineering, North Carolina State University, 911 Partner Way, Campus Box 7905, Raleigh, NC 27695, USA
Received: 18 July 2018 / Revised: 5 August 2018 / Accepted: 7 August 2018 / Published: 13 August 2018
Forensic detection of non-volatile nitro explosives poses a difficult analytical challenge. A colorimetric sensor comprising of ultrasonically prepared silica-dye microspheres was developed for the sensitive gas detection of cyclohexanone, a volatile marker of explosives 1,3,5-trinitro-1,3,5-triazinane (RDX) and 1,3,5,7-tetranitro-1,3,5,7-tetrazocane (HMX). The silica-dye composites were synthesized from the hydrolysis of ultrasonically sprayed organosiloxanes under mild heating conditions (150 °C), which yielded microspherical, nanoporous structures with high surface area (~300 m2/g) for gas exposure. The sensor inks were deposited on cellulose paper and given sensitive colorimetric responses to trace the amount of cyclohexanone vapors even at sub-ppm levels, with a detection limit down to ~150 ppb. The sensor showed high chemical specificity towards cyclohexanone against humidity and other classes of common solvents, including ethanol, acetonitrile, ether, ethyl acetate, and ammonia. Paper-based colorimetric sensors with hierarchical nanostructures could represent an alternative sensing material for practical applications in the detection of explosives.
1. Introduction
Today, there still remains a difficult scientific challenge in the accurate detection and identification of explosives and chemical or biological agents at trace amounts [
1
]. Sensitivity, specificity, reproducibility, ease of handling, environmental tolerance, and cost are all important factors that ought to be taken into account in the development of useful gas detectors for explosives [
2
]. Among many energetic materials, 1,3,5-trinitro-1,3,5-triazinane (RDX) and 1,3,5,7-tetranitro-1,3,5,7-tetrazocane (HMX) are two typical nitro-explosives that are widely used by terrorists and, therefore, pose a great threat to civilian and military security [
3
,
4
]. However, it is rather difficult to detect either RDX or HMX in the gas phase due to its extremely low volatility, with a saturated vapor pressure of only 10 ppt at ambient conditions. An alternative approach for the indirect identification of nitro explosives is to target more volatile, but non-energetic, species, introduced during their manufacturing, e.g., cyclohexanone, a common solvent used for the recrystallization of RDX or HMX [
5
,
6
]. Cyclohexanone has a significantly high vapor pressure of ~6500 ppm at 20 °C, thus, it is well-suited to act as a vapor signature for explosive sensing.
In the past decade, a large number of analytical methods for trace explosive screening have been investigated, including gas chromatography-mass spectrometry (GC-MS) [
7
,
8
,
9
,
10
], electronic noses [
11
,
12
,
13
,
14
], ion mobility spectrometry [
5
,
15
,
16
,
17
,
18
], surface acoustic wave devices [
19
,
20
,
21
] and fluorimetry [
22
,
23
,
24
,
25
]. Some effective approaches, such as solid-phase microextraction (SPME) [
26
,
27
,
28
], have been extensively explored for ultrasensitive gaseous detection of non-volatile explosives at the ppb or ppt level. Many of those techniques, however, suffer from at least one of the following drawbacks: Lack of portability, time-consuming sample preparation, demands in sophisticated instrumentation or highly trained personnel for operation and data acquisition [
28
,
29
].
I described in this work a new method that encapsulates a ketone-sensitive colorimetric indicator, pararosaniline, in the recently reported silica microspheres [
30
] for the sensitive detection of trace levels of cyclohexanone vapors. The sensor materials were made from the hydrolysis of siloxane monomers under mild heating and ultrasonic conditions, which lead to the formation of nanoporous, organically modified silica microspheres, with an average diameter of ~500 nm. The as-synthesized inks were pin-printed on the cellulose paper and solidified with the evaporation of solvents prior to the measurements on an ordinary flatbed scanner. The silica-dye composite sensor is optically responsive to cyclohexanone but insensitive to humidity or other common solvents found in explosives including ethanol, acetonitrile, ether, ammonia and ethyl acetate. The sensors show greatly improved sensitivity to cyclohexanone that can reach as low as ~150 ppb, four times higher than those made from the bulk plasticized films or amorphous sol−gel suspensions. This ultrasonic synthesis provided a scalable and continuous approach for the preparation of porous materials with hierarchical nanostructures for gas sensing applications.
2. Experimental Methods
2.1. Reagents and Materials
All chemical reagents, including tetraethoxysilane (TEOS), ethyltriethoxysilane (ETES), pararosaniline, hydrochloric acid, ethanol, polyethylene glycol and other solvents, were analytical-reagent grade and used as received unless otherwise specified.
2.2. Preparation of Silica-Dye Composite Microspheres
The synthesis of silica-dye composite microspheres, using a continuous ultrasonic setup, is shown in
Figure 1
; TEOS (0.01 mol) and ethyltriethoxysilanes (0.02 mol) were mixed with ethanol (13 mL), nanopure water (26 mL), and aqueous HCl (1 mL, 0.1 M) plus the ketone-responsive indicator, pararosaniline (100 mg). The precursor solution was introduced into a glass cell and nebulized by a home-made ultrasonic humidifier working at ~10 W/cm
2
. The resulting aerosol was carried by an N
2
gas through a tube furnace at a mild heating temperature of 150–300 °C to ensure the optimal porosity of the microspheres; the N
2
gas flow was set at 1.0 SLPM (standard liters per minute). The product was collected in a couple of connected bubblers containing a 1:1
v
/
v
mixture of nanopure water and ethanol, then it was centrifuged and washed with the same solvents three times to remove uncaptured indicators. The final product was redispersed in 9:1 mixture of ethanol and polyethylene glycol (Mw ≈ 10,000) prior to sensor printing.
2.3. Material Characterization
For characterization of silica-dye microspheres, powder X-ray diffraction (XRD) patterns were obtained on a Siemens–Bruker (Billerica, MA, USA) D-5000 XRD instrument, using Cu Kα radiation (wavelength 1.5418 Å) operated at 40 kV and 30 mA. SEM was carried out using a Hitachi (Chiyoda, Tokyo, Japan) S-4700 operated at 10 kV. Transmission electron microscopy (TEM) was performed using a JEOL (Akishima, Tokyo, Japan) 2000FX with an acceleration voltage of 200 kV. The Brunauer–Emmett–Teller (BET) specific surface areas were measured by a Quantachrome (Anton Paar, Graz, Austria) NOVA 2200e system.
2.4. Preparation of the Paper-Based Sensor
The colorimetric sensor was deposited on nitrocellulose paper (Whatman, Maidstone, UK) with a robotic pin printer, as described in details in previous literature [
31
,
32
,
33
], which delivered nanoporous inks with silica-dye microspheres encapsulating a ketone-responsive indicator, pararosaniline. After printing, the sensor was dried under vacuum for 1 h at room temperature and stored in an N
2
atmosphere for at least 24 h before any measurements were taken.
2.5. Measurement of Gaseous Cyclohexanone
Analyte flow streams were produced by bubbling dry N2 through the liquid cyclohexanone. The resulting saturated vapors were then mixed with a diluting stream of dry and wet N2 to attain the desired concentrations between 0.1 and 100 ppm, at 50% relative humidity (RH), using MKS (Andover, MA, USA) digital mass flow controllers (MFCs). The flow rate was kept at 0.5 SLPM for all the experiments performed in this work. Sensor responses were collected on an Epson (Suwa, Nagano Prefecture, Japan) Perfection V600 flatbed scanner; sensors were equilibrated with 50% RH nitrogen for 1 min to capture the before-exposure image. The after-exposure image was acquired after 2 min of exposure to cyclohexanone vapor.
2.6. Data Analysis
Colorimetric response of each sensor element was calculated from the differences in red, green, and blue (ΔRGB) values by comparing before and after exposure images using the online software ImageJ. For visualization purposes only, color difference RGB values were expanded from 3 bits (i.e., 3–10) to 8 bits (i.e., 0–255). For the measurement of the control of each concentration of cyclohexanone, quintuplicate trials were collected. Signal-to-noise ratio (S/N) was calculated from the Euclidean distance (ED, i.e., the square root of the sum of square of RGB channels) and incorporated in the final database for statistical analysis. For this, the signals were defined as the difference between the response of a certain concentration of cyclohexanone and that of the averaged control, and noise was defined as the standard deviation among quintuplicate trials of the control for ED of each spot, namely Equations (1) and (2):
3. Results and Discussions
4. Conclusions
A new method that encapsulates a chemo-responsive dye in highly porous organosilica matrices was reported for sensitive colorimetric detection of trace amounts of cyclohexanone, a volatile explosive indicator from nitro-compounds, such as RDX and HMX. Using ultrasonic and aerosol-gel synthesis, hierarchically nanoporous microspheres were produced at relatively low temperature as colorimetric sensor inks. Silica-dye composite microspheres had an average diameter of ~500 nm, with the size of nanopores being around 1–2 nm. The paper-based colorimetric sensor strip allowed for the quick quantification of gaseous cyclohexanone in 2 min, with a detection limit down to ~150 ppb. The silica-dye composite sensor was optically responsive to cyclohexanone but insensitive to common interferents involved in the production of nitro-explosives, including humidity, ethanol, acetonitrile, ether, ethyl acetate and ammonium hydroxide. The continuous and scalable ultrasonic spray synthesis provides a facile approach to prepare porous materials with hierarchical nanostructures for the ultrasensitive detection of gas analytes. This method has significant implications in the detection and identification of non-volatile nitro-explosives via the recognition of signature molecules from the headspace gas, and may pave a path for developing a useful complement to other available sensing technologies used in security checks and forensic assessment of improvised explosives.
Supplementary Materials
The following are available online at
https://www.mdpi.com/2227-9040/6/3/34/s1
, Figure S1: Powder XRD patterns of two silica-dye microspheres synthesized at 150 and 300 °C. The spectra confirm the amorphous structures of both microspheres. Figure S2: Proposed mechanisms showing the formation of porous microspheres at (a) 150 and (b) 300 °C. Figure S3: Humidity tests of microsphere-based sensors synthesized at 150 °C. (a) Before- and after-exposure images of the sensor spot and RBG difference profiles upon exposure of 1 ppm cyclohexanone with the 10–90% relative humidity (RH), which is displayed in the color range of 3–10. (b) Sensor response to 1 ppm cyclohexanone at different levels of RH.
Acknowledgments
Z.L. acknowledges the postdoctoral financial support from the Procter & Gamble Foundation (085310). This work was carried out in part in the Frederick Seitz Materials Research Laboratory Central Facilities at the University of Illinois and the Analytical Instrumentation Facility (AIF) at the North Carolina State University.
Conflicts of Interest
The author declares no conflict of interest.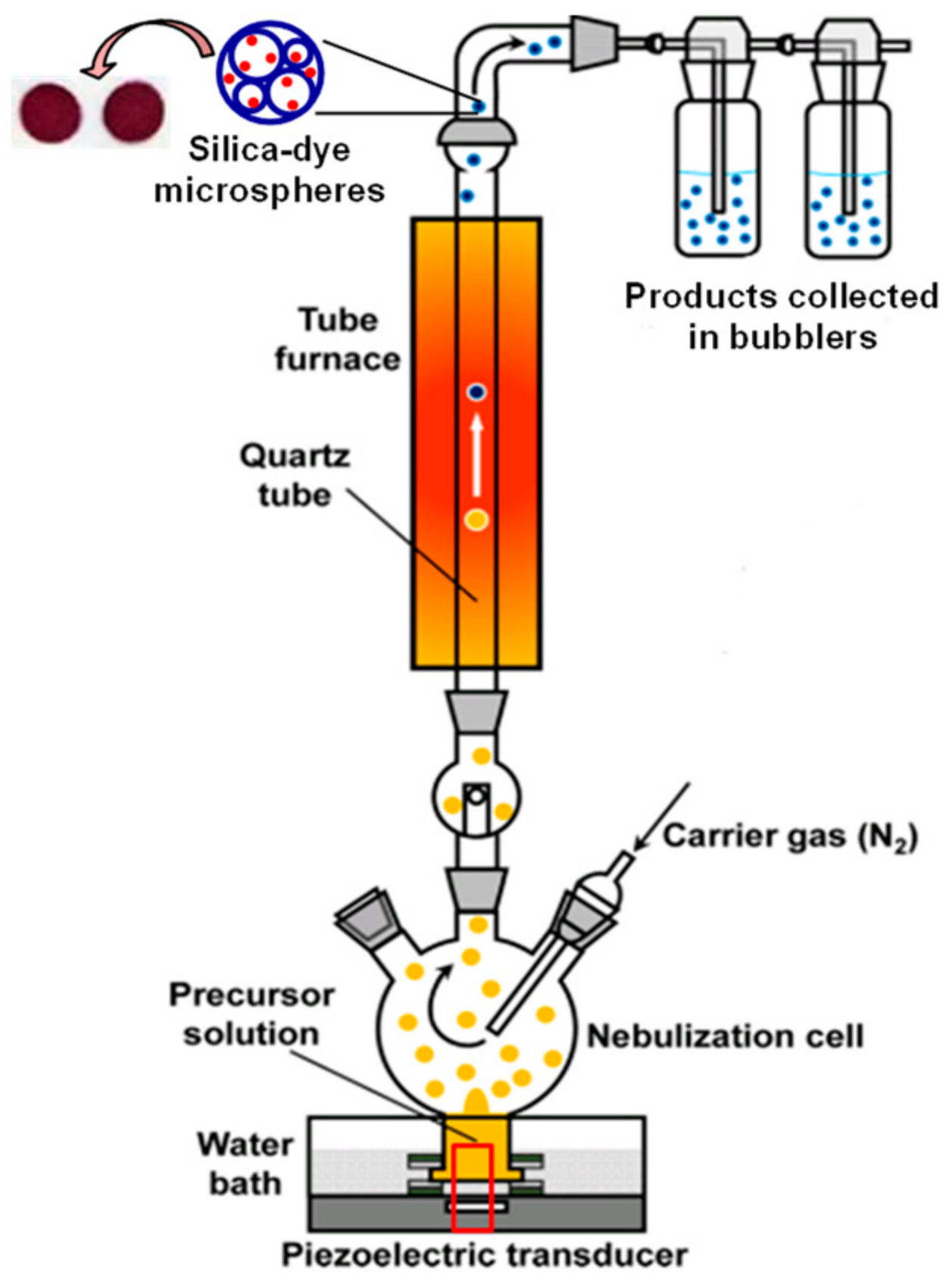 Figure 2. Morphologies of Silica-dye microspheres synthesized at (a) 150 °C and (b) 300 °C, with the particle size of 520 ± 50 nm and 440 ± 60 nm, respectively.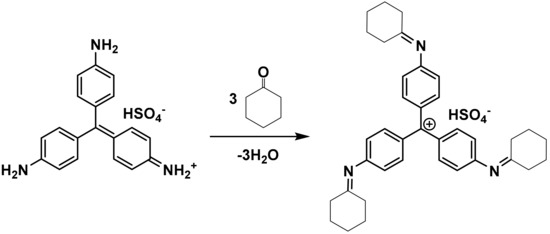 Figure 3. Colorimetric detection mechanism of cyclohexanone using an amine-based indicator, pararosaniline, in the formation of an imine product.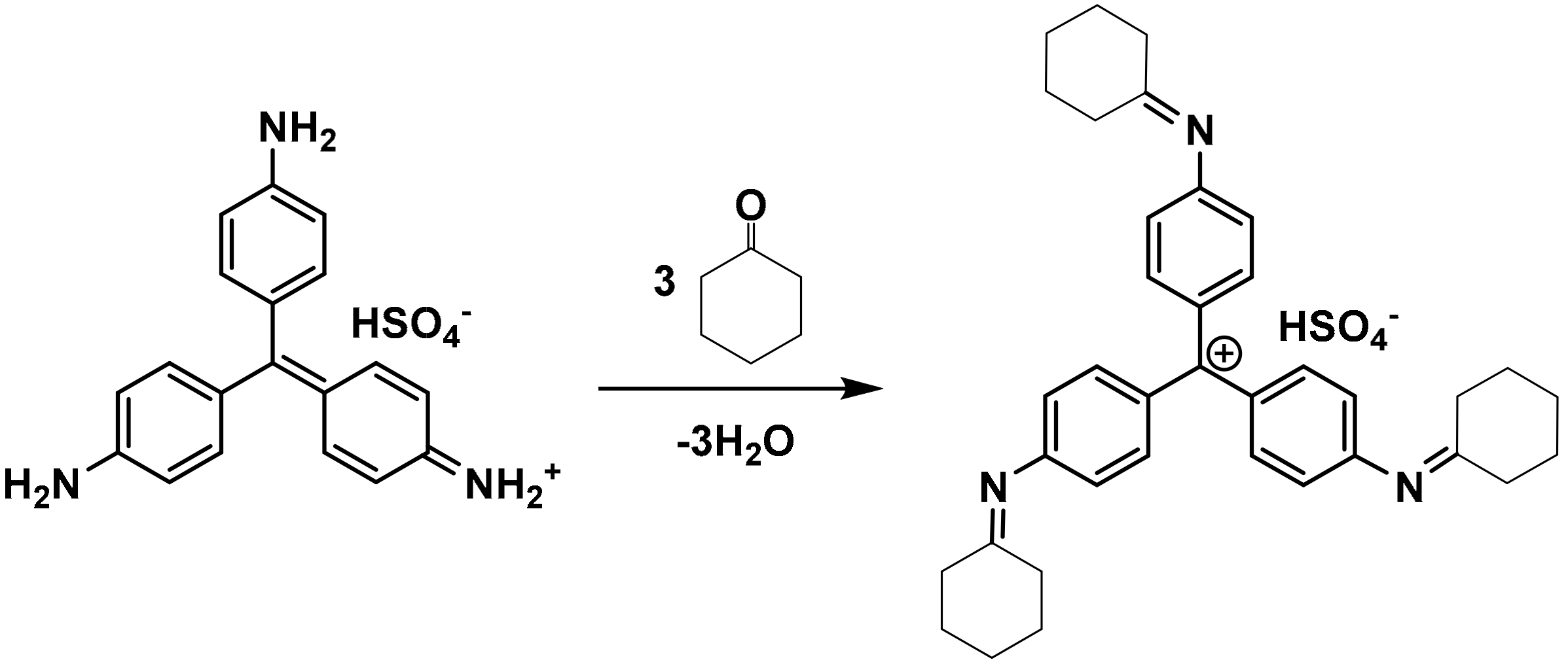 Figure 4. Images of sensors made from 150 (left spot of each sensor strip image) and 300 °C (right spot) microspheres before and after the vapor exposure, and RGB color different profiles (right) that show colorimetric sensor responses to different concentrations of cyclohexanone plus a control (i.e., N2) for 2 min. Each pattern was averaged out of three trials. For display purposes, each RGB profile was narrowed down from 8 bit (0–255) to 3 bit (3–10) color range.

Figure 5. Gas adsorption experiments of two microspheres. (a,b), N2 adsorption isotherms of two microspheres prepared at 150 and 300 °C, respectively; (c,d), pore size distributions of two microspheres based on Barrett-Joyner-Halenda (BJH) model. All measurements were performed with N2 at 78 K.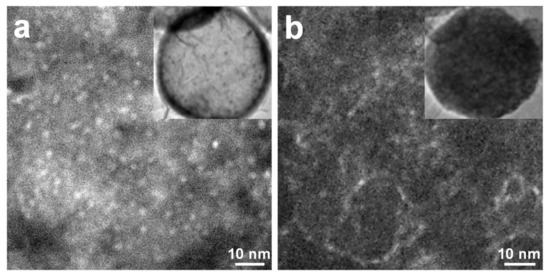 Figure 6. High resolution transmission electron microscope (HR-TEM) micrographs of microspheres synthesized at (a) 150 °C and (b) 300 °C. Hierarchical structure with nanopores is present in graph (a).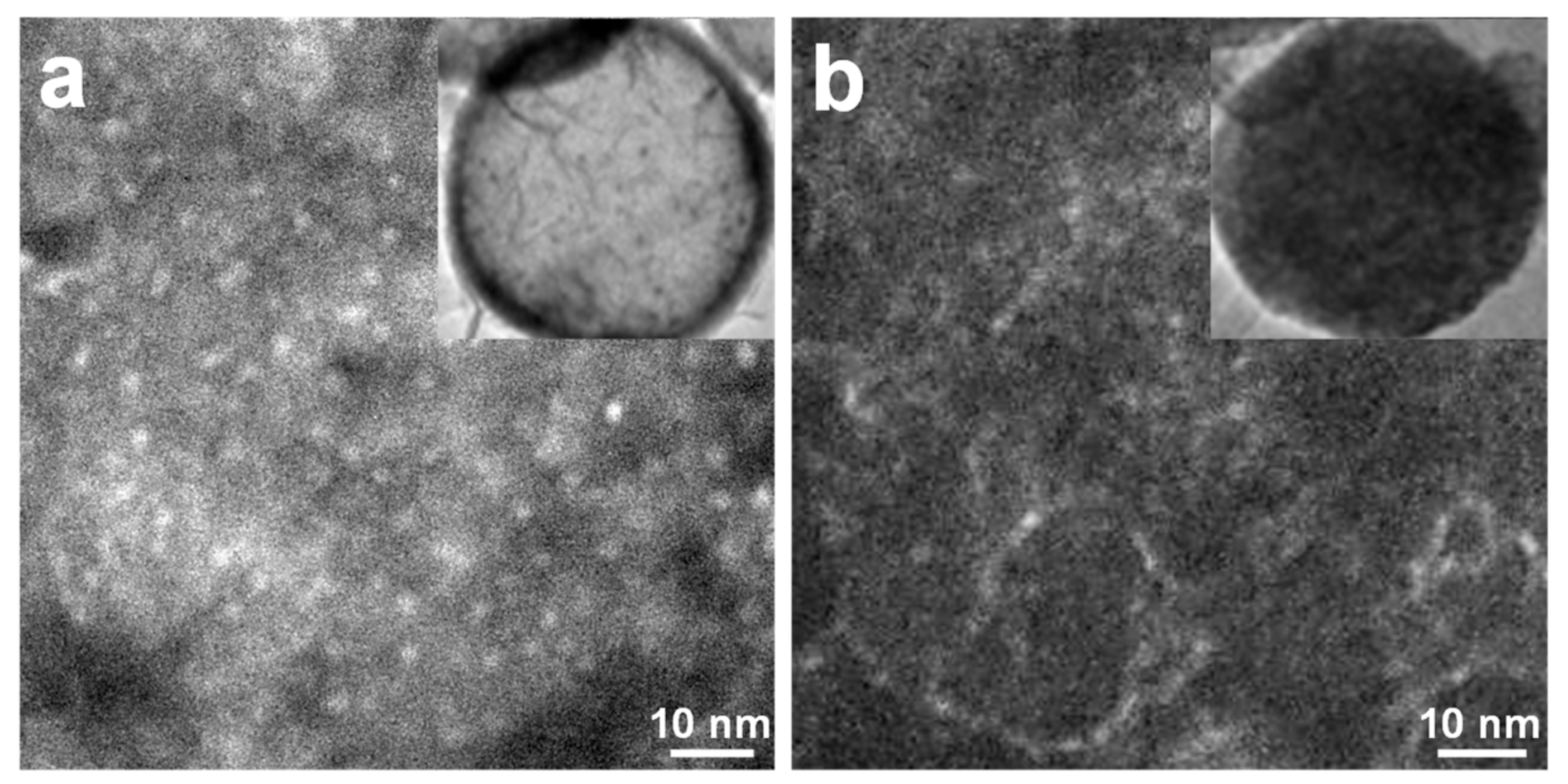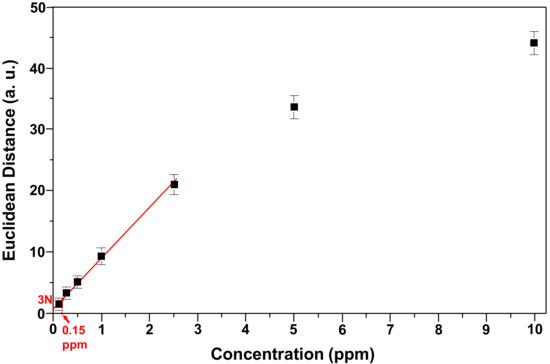 Figure 7. The calculation of the limit of detection of cyclohexanone. Data points between 0.1 and 2.5 ppm were linearly fitted and extrapolated to the concentration when signal-to-noise ratio (S/N) = 3. The limit of detection (LOD) is estimated to be ~0.15 ppm.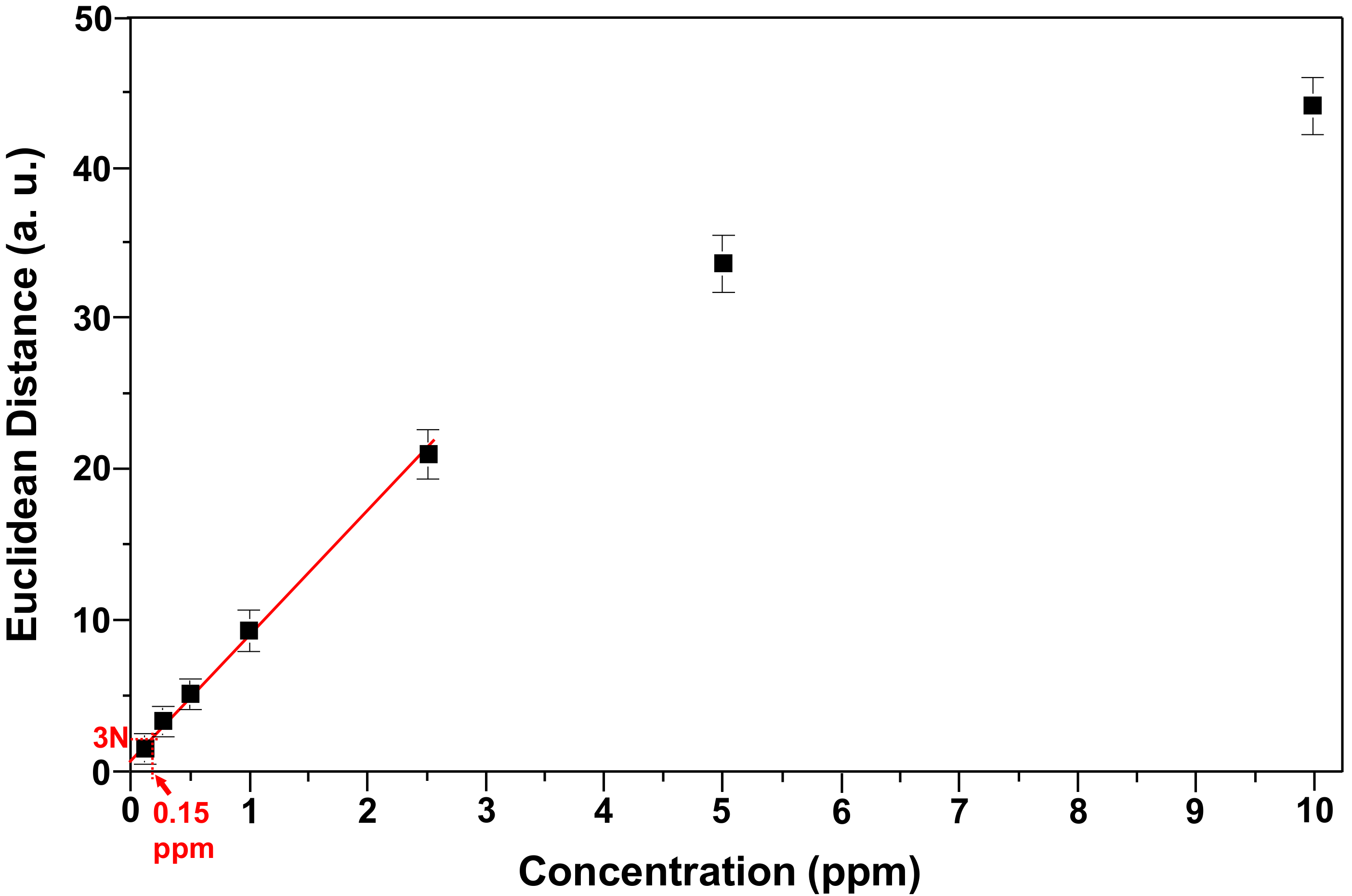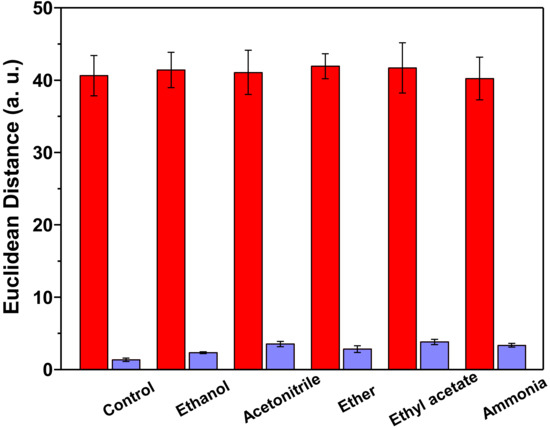 Figure 8. Sensor responses to 1 ppm cyclohexanone with (red bars) or without (blue bars) the presence of interferents, all at 1 ppm. Error bars showing the standard deviation among three replicates of each analyte are displayed.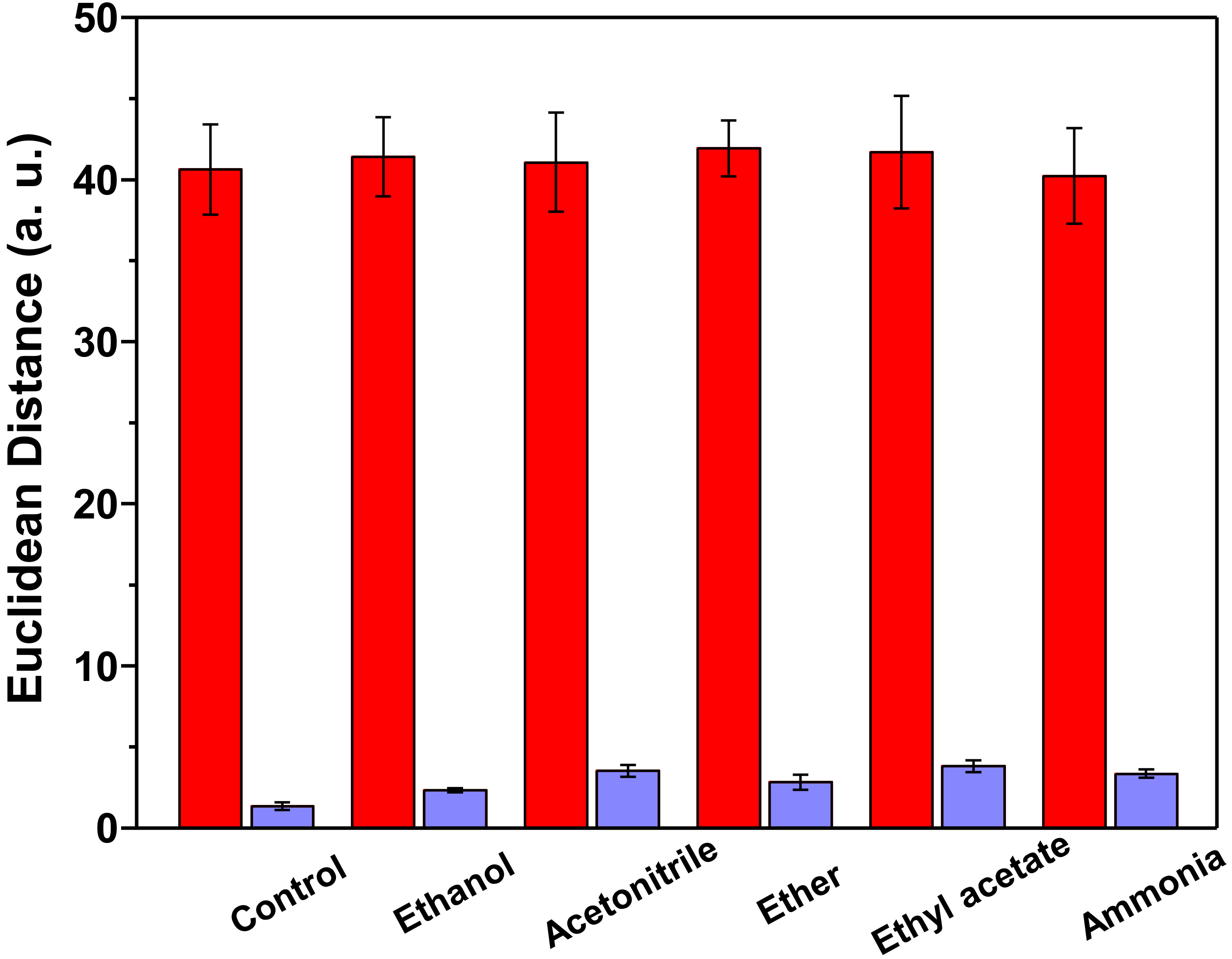 © 2018 by the author. Licensee MDPI, Basel, Switzerland. This article is an open access article distributed under the terms and conditions of the Creative Commons Attribution (CC BY) license (http://creativecommons.org/licenses/by/4.0/).