Nanoporous Silica-Dye Microspheres for Enhanced Colorimetric Detection of Cyclohexanone
Department of Chemical and Biomolecular Engineering, North Carolina State University, 911 Partner Way, Campus Box 7905, Raleigh, NC 27695, USA
Received: 18 July 2018 / Revised: 5 August 2018 / Accepted: 7 August 2018 / Published: 13 August 2018
Abstract
Forensic detection of non-volatile nitro explosives poses a difficult analytical challenge. A colorimetric sensor comprising of ultrasonically prepared silica-dye microspheres was developed for the sensitive gas detection of cyclohexanone, a volatile marker of explosives 1,3,5-trinitro-1,3,5-triazinane (RDX) and 1,3,5,7-tetranitro-1,3,5,7-tetrazocane (HMX). The silica-dye composites were synthesized from the hydrolysis of ultrasonically sprayed organosiloxanes under mild heating conditions (150 °C), which yielded microspherical, nanoporous structures with high surface area (~300 m
2
/g) for gas exposure. The sensor inks were deposited on cellulose paper and given sensitive colorimetric responses to trace the amount of cyclohexanone vapors even at sub-ppm levels, with a detection limit down to ~150 ppb. The sensor showed high chemical specificity towards cyclohexanone against humidity and other classes of common solvents, including ethanol, acetonitrile, ether, ethyl acetate, and ammonia. Paper-based colorimetric sensors with hierarchical nanostructures could represent an alternative sensing material for practical applications in the detection of explosives.
View Full-Text
►

▼

Figures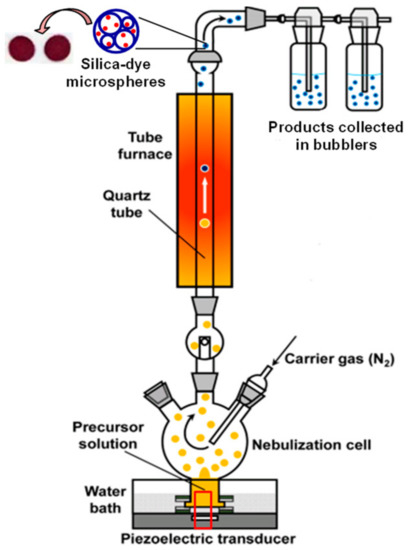 Figure 1
This is an open access article distributed under the
Creative Commons Attribution License
which permits unrestricted use, distribution, and reproduction in any medium, provided the original work is properly cited (CC BY 4.0).

Share & Cite This Article
MDPI and ACS Style
Li, Z. Nanoporous Silica-Dye Microspheres for Enhanced Colorimetric Detection of Cyclohexanone. Chemosensors 2018, 6, 34.
Note that from the first issue of 2016, MDPI journals use article numbers instead of page numbers. See further details here.
Related Articles
Comments
[Return to top]