Open Access This article is
freely available
re-usable
Article
Alarming and/or Alerting Device Effectiveness in Reducing Falls in Long-Term Care (LTC) Facilities? A Systematic Review
1
School of Health Administration, Texas State University, San Marcos, TX 78666, USA
2
School of Science, Technology, Engineering, and Math American Public University System, Charles Town, WV 25414, USA
*
Author to whom correspondence should be addressed.
Received: 15 February 2019 / Accepted: 21 March 2019 / Published: 25 March 2019
Abstract
:
Perceptions against the use of alarming devices persist in long-term care environments as they are seen as annoying, costly, and a waste of time to the staff involved. Ascertaining whether these perceptions are true or false via the literature was a focus of this study. Proper information to educate staff and to work past these perceptions can be a positive effector for resident safety. Many facilitators for the use of alarming devices were found, as well as many barriers to their use as well. New technology is changing the perceptions regarding these types of devices as time passes. Education is a key component for staff, residents, and families. There are "traditional" issues with the use of alarms such as alarm fatigue by caregivers, high costs of implementation, and issues with proper implementation of alarms. Alarms are perceived as intrusive and the noise from them can be a potential cause of falls. However, alarming devices can be a key intervention in the safety of those residents who are prone to falls. This requires proper implementation and education for all parties involved, and proper oversight surrounding use of the devices.
Keywords:
falls; alarms; skilled nursing; quality improvement; safety
Author Contributions
Conceptualization, M.M., M.B., J.T.; methodology, M.M., G.H., C.L., T.M., B.M.; validation, G.H., C.L., T.M., B.M., R.M.; formal analysis, G.H., C.L., T.M., B.M., R.M.; investigation, M.M., G.H., C.L., T.M., B.M., R.M.; resources, R.M.; data curation, G.H., C.L., T.M., B.M., R.M.; writing—original draft preparation, M.M., M.B., J.T., G.H., C.L., T.M., B.M.; writing—review and editing, M.M., M.B., J.T., R.M.; visualization, M.M., G.H., C.L., T.M., B.M.; supervision, M.M., M.B., J.T.; project administration, M.M.
Funding
This research received no external funding.
Conflicts of Interest
The authors declare no conflict of interest.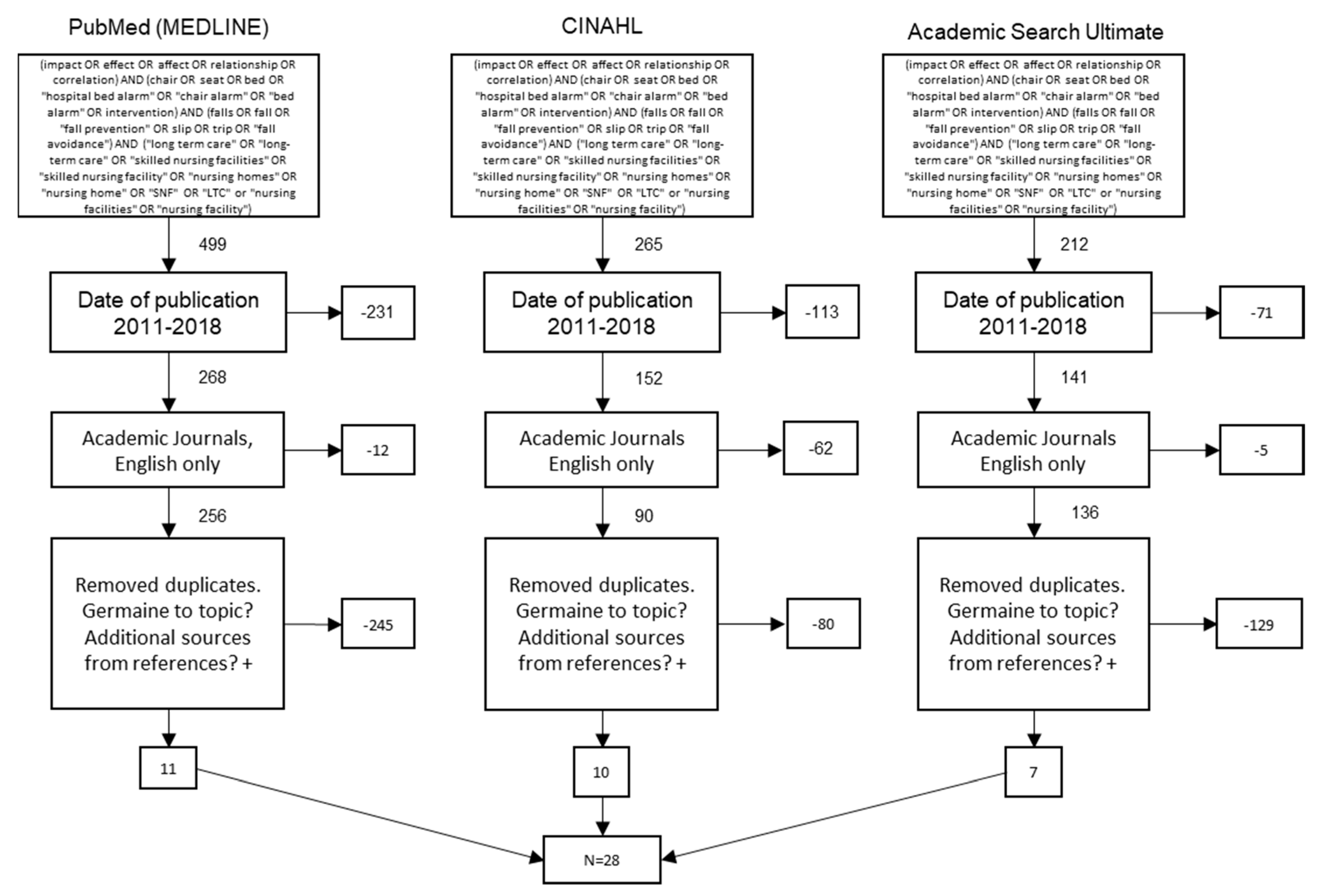 | Facilitators | Occurrences | Sum | % |
| --- | --- | --- | --- |
| Proper implementation of alarms improves care | [7,11,12,18,22,23,24,25] *, [16,17,28,29] | 17 | 29.80% |
| Technology improvements have increased alarm efficacy | [11,14,17] *, [12,13,15,16,20,21] | 16 | 28.10% |
| Proper implementation of alarms reduces fall risk | [15,32] *, [17,19,28,34,35] | 10 | 17.50% |
| Improved resident quality of life | [17,31], [26] * | 6 | 10.50% |
| Resident education about falls is important | [18,36] | 2 | 3.50% |
| Proper implementation of alarms improves alarm efficacy | [33] * | 2 | 3.50% |
| Improved care for residents with cognitive impairment with alarms | [27] | 1 | 1.80% |
| Staff in favor of alarms | [15] | 1 | 1.80% |
| Staff interaction with residents reduces fall risk | [21] | 1 | 1.80% |
| Staff training in alarm use | [19] | 1 | 1.80% |
| Total | | 57 | 100% |
* multiple occurrences mentioned in one article.
| Barriers | Occurrences | Sum | % |
| --- | --- | --- | --- |
| Ineffective as standalone intervention | [16,21,22,23,24,28] *, [12,13,15,19,25,27,30,31,32,36] | 23 | 37.70% |
| Alarm fatigue by caregiver | [17,22,23,26,34], [14,16,21,33] * | 12 | 19.70% |
| Difficult to implement properly | [7,12,14,15,16,18,28,37] | 8 | 13.10% |
| Expensive to implement | [16,18,28,33,35] | 5 | 8.20% |
| Increased staff burden | [15,18,22,29] | 4 | 6.60% |
| Alarm noise annoyance | [11,17,23] | 3 | 4.90% |
| Noise of alarms startles residents | [23] *, [11] | 3 | 4.90% |
| Resident reluctance | [26] * | 3 | 4.90% |
| Total | | 61 | 100% |
* multiple occurrences mentioned in one article.
Summary of Facilitators
Summary of Barriers
Nurses perceived bed/chair alarms as a useful way to prevent resident falls.
Alarms must be consistently monitored and kept in working order.
Alarm systems which send signals directly to caregivers for immediate action are more effective in use.
Concerns exist when alarms are used on residents who are isolated from others, or if there are too many alarms in use in one area.
Bed alarms as part of a comprehensive fall prevention plan reduce falls.
Alarms alone do not reduce fall rates.
The use of infrared beam detectors along with alarms can promote the timely activation of the alarm.
Alarms can startle residents, causing negative effects from this reaction, and could potentially cause a fall. These loud sounds may cause a flight response in residents.
Tailoring the alarm type to resident characteristics can improve alarm performance and ultimately reduce the risk of falls and related injuries.
Alarms can be viewed as loud and burdensome to other residents because of their environmental impact.
Alarms using dual pressure sensors plus infrared beam detectors were more accurate than only pressure sensitive alarms in identifying bed-exiting.
Equipment malfunctions associated with medical technology can increase workload for nurses.
Fall prevention initiatives and activities must be in the forefront of all activities in the facility for the best effectiveness.
Bed and chair alarms must be implemented correctly to reduce fall rates. Otherwise, they could be contributors.
Resident education about fall prevention and safety awareness can also be an effective method at reducing falls.
False alarms can be burdensome on staff and residents and can contribute to "alarm fatigue" by staff members.
Focus on resident self-assessment and feedback regarding fall risk can assist in reducing falls.
Devices became a "nuisance" to residents because of their functionality and application.
Use of monitoring system can have a positive impact on resident quality of life.
Residents with a fall risk can have a greater sense of security when using alarming systems.
Residents may be reluctant to wear alarms because they do not want to inconvenience others or lose their independence.
Residents who wore their fall detector felt more confident and independent and reported that devices improved their safety and decreased their fear of falling.
No consistent evidence that current sensor technology reduces fall rates
Bed-exit alarms used with confused and agitated residents may have helped reduce falls.
Those who consider alarming-device restraints perceive these devices to contribute to a lower quality of life for residents and a potential source of additional injuries.
Bed height alerting systems can also have a positive impact upon reducing resident falls.
Residents are often able to disconnect the alarms on their own, rendering them useless.
Interventions such as a falls risk flag in the records/on beds, additional supervision when the resident is mobilizing or in the bathroom, keeping areas clear of hazards, and use of chair/bed alarms can reduce falls.
Cost effectiveness of alarms and alarming systems is a concern.
Reducing the number of unassisted transfers through a modest improvement in response time to alarms can positively affect fall numbers.
Alarm signals may occur after residents had already fallen because they fell immediately on exiting the bed or chair.
Coworkers aware of and assisting with alarm devices decreased the noncompliance rates resident alarms from 50 to 30 percent.
Reduce false positives by using alarm systems that allow for adjusting sensitivities.

© 2019 by the authors. Licensee MDPI, Basel, Switzerland. This article is an open access article distributed under the terms and conditions of the Creative Commons Attribution (CC BY) license (http://creativecommons.org/licenses/by/4.0/).