A Proteomic View of Cellular Responses to Anticancer Quinoline-Copper Complexes
1
Chemistry and Biology of Metals, Univ. Grenoble Alpes, CNRS UMR5249, CEA, IRIG,CBM, F-38054 Grenoble, France
2
Laboratoire de Spectrométrie de Masse BioOrganique (LSMBO), Université de Strasbourg, CNRS, IPHC UMR 7178, 67000 Strasbourg, France
3
Nanosafety Platform, Medical Biology Laboratory (LBM), Univ. Grenoble-Alpes, CEA, 17 rue des Martyrs, F-38054 Grenoble, France
*
Author to whom correspondence should be addressed.
Received: 28 May 2019 / Revised: 18 June 2019 / Accepted: 21 June 2019 / Published: 24 June 2019
Abstract
Metal-containing drugs have long been used in anticancer therapies. The mechansims of action of platinum-based drugs are now well-understood, which cannot be said of drugs containing other metals, such as gold or copper. To gain further insights into such mechanisms, we used a classical proteomic approach based on two-dimensional elelctrophoresis to investigate the mechanisms of action of a hydroxyquinoline-copper complex, which shows promising anticancer activities, using the leukemic cell line RAW264.7 as the biological target. Pathway analysis of the modulated proteins highlighted changes in the ubiquitin/proteasome pathway, the mitochondrion, the cell adhesion-cytoskeleton pathway, and carbon metabolism or oxido-reduction. In line with these prteomic-derived hypotheses, targeted validation experiments showed that the hydroxyquinoline-copper complex induces a massive reduction in free glutathione and a strong alteration in the actin cytoskeleton, suggesting a multi-target action of the hydroxyquinoline-copper complex on cancer cells.
View Full-Text
►

▼

Figures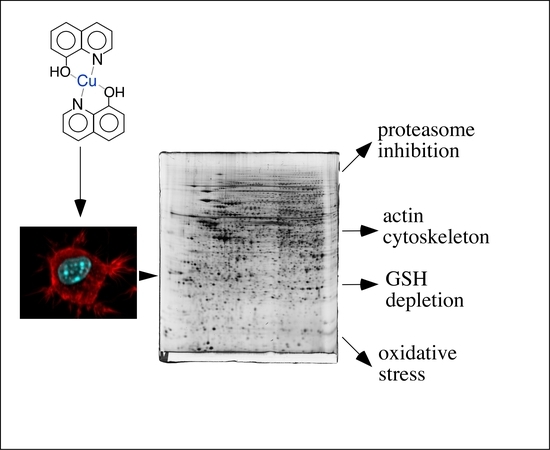 Graphical abstract
This is an open access article distributed under the
Creative Commons Attribution License
which permits unrestricted use, distribution, and reproduction in any medium, provided the original work is properly cited (CC BY 4.0).

Share & Cite This Article
MDPI and ACS Style
Dalzon, B.; Bons, J.; Diemer, H.; Collin-Faure, V.; Marie-Desvergne, C.; Dubosson, M.; Cianferani, S.; Carapito, C.; Rabilloud, T. A Proteomic View of Cellular Responses to Anticancer Quinoline-Copper Complexes. Proteomes 2019, 7, 26.
Note that from the first issue of 2016, MDPI journals use article numbers instead of page numbers. See further details here.
Related Articles
Comments
[Return to top]