Open Access This article is
freely available
re-usable
Review
Melanoma-Derived Extracellular Vesicles: Focus on Their Proteome
1
Department of Glycoconjugate Biochemistry, Institute of Zoology and Biomedical Research, Jagiellonian University, Gronostajowa 9, 30-387 Krakow, Poland
2
Department of Medical Physics, M. Smoluchowski Institute of Physics, Jagiellonian University, Łojasiewicza 11, 30-348 Krakow, Poland
*
Author to whom correspondence should be addressed.
Received: 27 March 2019 / Accepted: 6 May 2019 / Published: 13 May 2019
Abstract
:
Malignant melanoma is one of the most aggressive types of cancer, and its incidence is increasing rapidly each year. Despite the extensive research into improved diagnostic and treatment methods, early detection and disease constraint still present significant challenges. As successful isolation protocols have been developed, extracellular vesicles (EVs) have become the subject of extensive investigation in terms of their role in cancer progression and as a possible source of disease biomarkers. Besides functional studies, quantitative and qualitative proteomics have recently emerged as promising tools for the advancement of melanoma biomarkers. Nevertheless, the amount of data concerning the proteome of melanoma-derived EVs is still very limited. In this review we cover the current knowledge on protein content of melanoma-derived EVs, with a focus on their potential role in the development and progression of melanomas.
Keywords:
proteomics; extracellular vesicles; melanoma; ectosomes; exosomes; cancer
2. The Role of EVs in Melanoma Biology
All populations of EVs can be released by normal, as well as transformed, cancer cells. Upon their delivery to the recipient cells, EVs modulate a number of biological processes, including intercellular signaling, protein transport, cell proliferation, and cancer development. Melanoma-derived exosomes were shown to stimulate proliferation of cancer cells, to mediate activation of the epithelial-mesenchymal transition (EMT), and to induce pre-metastatic niche formation [
12
]. They also promote degradation of the extracellular matrix (ECM) by metalloproteinases (MMPs) [
13
], activate integrin signaling, and provide ligands for epidermal growth factor receptor (EGFR) and Notch receptor [
12
]. Furthermore, melanoma-derived exosomes modulate multiple functions of the immune system, most often by counteracting the anti-melanoma immune response [
14
]. They have also been shown to influence bone marrow progenitor cells toward a pro-metastatic phenotype through receptor tyrosine kinase MET [
15
] to regulate differentiation and maturation of antigen-presenting cells [
16
], to control survival and apoptosis of effector T-cells, and to control cytokine production and cytotoxicity of natural killer (NK) cells [
12
].
Although the vast majority of studies on melanoma-derived EVs have focused only on the exosome population, ectosomes may also facilitate disease development and progression. In the 1980s, different melanoma cell lines were shown to release ectosomes, which displayed the ability to boost metastatic potential when internalized by less invasive tumor cells [
17
]. More recent studies reported a two-fold higher number of ectosomes released in vitro by melanoma cells in comparison to normal melanocytes [
18
]. In addition, melanoma-derived ectosomes showed higher levels of tissue factor (TF), the main clotting initiator associated with cancer-related procoagulant state [
18
]. Melanoma-derived ectosomes may also promote tumor invasion and metastasis by transferring matrix-degrading metalloproteinases or their endogenous activators [
19
,
20
,
21
]. Finally, ectosomes may participate in tumor–stroma or tumor–immune cell interactions. Ectosome-mediated transformation of normal fibroblasts to tumor-associated fibroblasts has already been described in melanoma [
22
], as well as suppression of immune response by vesicle-associated Fas ligand (FasL) [
23
].
Even less is known about the role of apoptotic bodies in melanoma. However, in a sole study, apoptotic bodies released by mouse B16-F1 melanoma cells were isolated and revealed the highest procoagulant activity in in vitro coagulation assays in comparison to exosomes and ectosomes [
24
]. The procoagulant activity was attributed to the abundance of TF and phosphatidylserine in the apoptotic bodies under analysis. Additionally, mice inoculated with B16-F1 apoptotic bodies prior to inoculation with tumorigenic B16-F1 cells were protected from tumor development for up to 60 days, while a shorter tumor-free period was observed in mice immunized with B16-F1 exosomes or ectosomes. These results clearly demonstrated the involvement of melanoma-derived apoptotic bodies in procoagulant and immunogenic functions and their contribution to the prothrombotic state, as well as to anti-cancer immunity [
24
].
3. Isolation of Melanoma-Derived EVs for Proteomic Analysis
The credibility of proteomic data concerning any population of EVs depends primarily on the sample purity. Every single protocol for vesicle preparation and isolation should ideally lead to the obtainment of uncontaminated fractions of interest, i.e., within the predefined size and density range, free of cells, cellular debris, organelles, microorganisms, or aggregates, and characterized by a presence or absence of specific protein markers. Despite several decades of research and technological advancement, isolation of EVs still poses a significant challenge. Since the chosen isolation method may influence further analytical steps due to different chemical or physical factors used during the procedure, it should be decided based on the source of EVs (cell cultures or body fluids) and the specific downstream applications.
4. Proteomic Techniques in Studies on Melanoma-Derived EVs
5. Promising Results From In Vitro Studies on Melanoma-Derived EVs
6. Clinical Significance of Proteomic Studies on Melanoma-Derived EVs
7. Post-Transitional Modifications of Melanoma-Derived EVs: A Future Perspective
Proteomic techniques may also be applied to study post-translational modifications (PTMs) of proteins from melanoma-derived EVs. PTMs may influence several aspects of EV biology, including their biogenesis, protein sorting and localization, physical stability, and pathophysiologal action towards recipient cells. Glycosylation is the most common PMT and specific changes in glycosylation are considered the major hallmarks of cancer. Studies using Western Blot, flow cytometry, and lectin microarrays revealed the enrichment of melanoma-derived exosomes in high mannose, polylactosamine, α-2,6 sialic acid, and complex N-linked glycans [
49
,
50
], with the latter being directly involved in exosomal protein sorting [
50
]. Additionally, ectosomes were shown to be enriched mainly with fucose and complex type N-glycans with bisecting N-acetylglucosamine residues, which was demonstrated in our recent lectinomic study [
32
].
Proteomic techniques have not been applied to study PTMs in melanoma-derived EVs so far. However, glycosylation of EVs released by ovarian cancer cells has been analyzed by MS, which revealed the enrichment of heavily glycosylated tumor-associated galectin-3-binding protein G (LGALS3BP) in EVs [
51
]. Another MS-based study described the shift from high-mannose-type N-glycans to complex-type N-glycans in urinary EVs of patients with galactosemia [
52
]. Such changes in glycosylation with regards to particular disease states underline the importance of their analysis in the context of melanoma-derived EVs. In contrast to Western Blot, flow cytometry, or lectin microarray, which only confirm the presence of a given glycoepitope, MS-based analysis allows matching of specific glycan structures to proteins that possess them. Therefore, identification of particular proteins with aberrant glycosylation within EVs by MS should become a considerable direction in melanoma biomarker discovery.
Besides glycosylation, the presence of another PTMs in melanoma-derived EVs should be investigated. For instance, phosphorylation plays an important role in intercellular signaling and has already been addressed in the context of EVs by MS-based study. Gonzales et al. [
53
] identified 14 phosphoproteins in urinary exosomes from healthy donors, and multiple novel phosphorylation sites, including serine-811 in the thiazide-sensitive Na-Cl co-transporter protein. In an actual clinical context, label-free quantitative proteomic studies recently revealed 144 phosphoproteins that were differentially expressed in EVs from sera of breast cancer patients and healthy donors [
54
], indicating the need for similar studies on EVs derived from other types of cancer, including melanoma. Also, single proteomic studies reported the presence of ubiquitinated, sumoylated, oxidated, and myristoylated proteins in different types of EVs. The presence of these modifications may also affect protein sorting, EV aggregation, or their binding to the recipient cells, and has not been evaluated in melanoma-derived EVs so far [
55
].
8. Conclusions
A significant amount of data obtained from proteomic studies on melanoma-derived EVs provides a valuable background for identification of novel melanoma biomarkers and for their adjustment towards clinical use. Comprehensive proteomic characterization could be also used as a starting point for further studies on the molecular mechanisms leading to melanoma development and progression, and on the identification of the molecular pathways altered in melanoma subtypes, which could explain the various responses to the existing therapeutic treatments for this cancer. Nevertheless, the studies based on the proteomic analyses of melanoma-derived EVs only create the premise for the future prospective, large, independent, and multicenter trials that are necessary for the validation of any potential biomarker of cancer occurrence, tumor progression. or metastasis. However, the results of the already published studies are promising and suggest that these investigations should be continued in the future for melanoma, a disease for which effective biomarkers are lacking. Unfortunately, unlike well-explored methods for EV isolation and size characterization, the protocols for proteomic studies on melanoma-derived EVs are in the early stages of development. The few related studies that have been published so far used significantly different approaches, therefore, basic procedures for such experiments are still in need of normalization and verification.
Author Contributions
Conceptualization, M.S. and M.P.; writing—original draft and figure preparation, M.S.; writing—review and editing, M.P. and E.S. All authors have contributed substantially to the work reported.
Funding
Writing of this review was supported by the Jagiellonian University (K/ZDS/008062 and K/DSC/005541).
Conflicts of Interest
The authors declare no conflict of interest.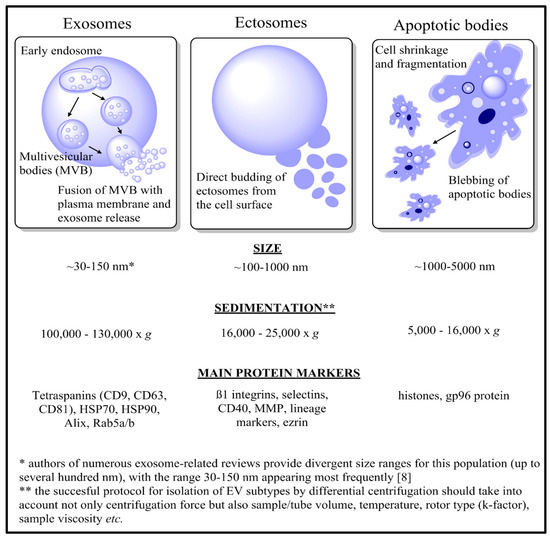 Figure 1. Brief characteristics of three major populations of extracellular vesicles: exosomes, ectosomes, and apoptotic bodies, in terms of their biogenesis, size, sedimentation, and main protein markers.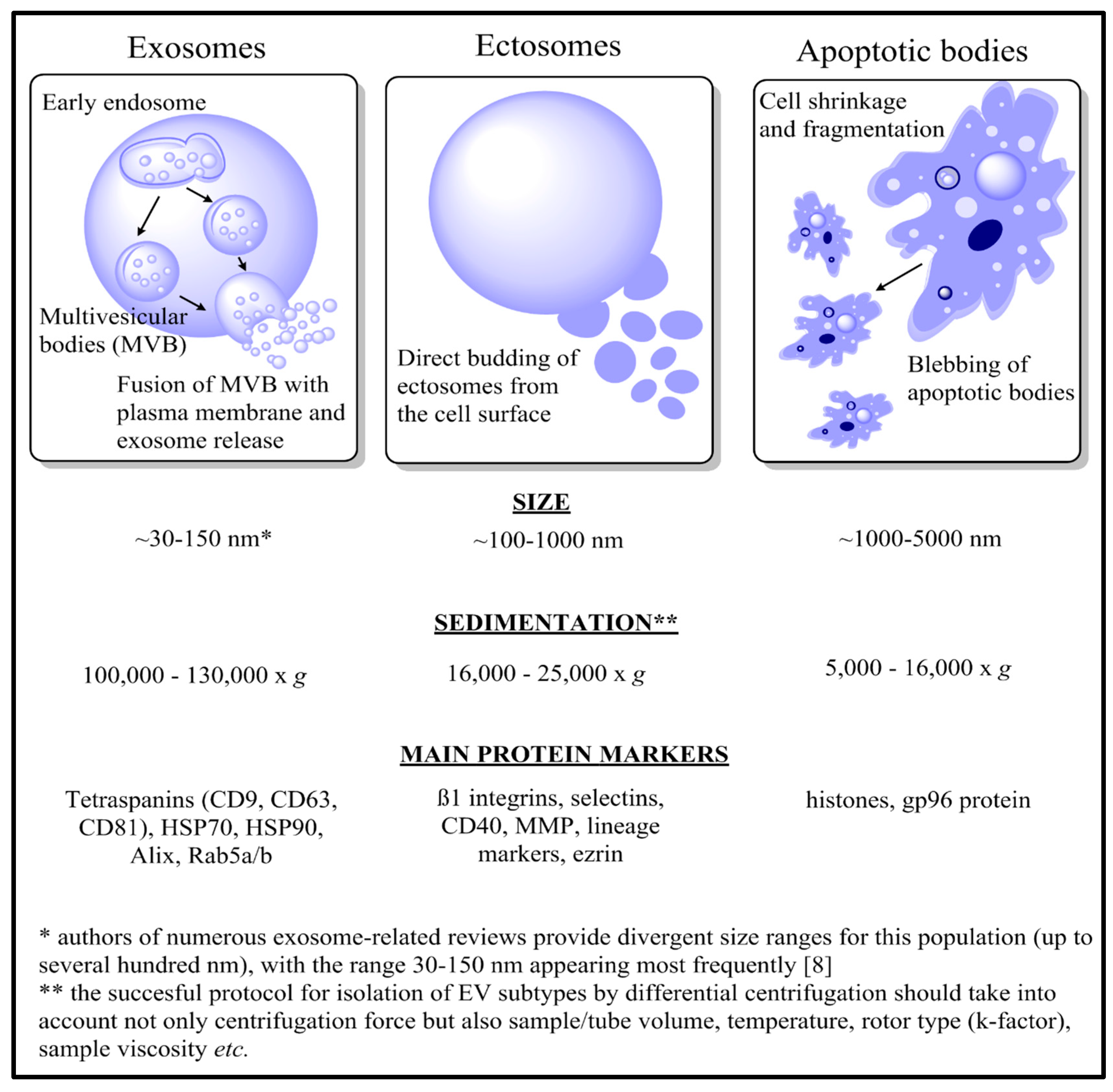 Source of EVs
Types of Isolated EVs
Methods of Isolation
Applied Proteomic Techniques
Number of Identified Proteins
Major Findings
Ref.
MeWo and SK-MEL-28 human melanoma cell lines
exosomes
0.1 µm filtration followed by ultracentrifugation at 100,000×

g

2D SDS-PAGE-MS/MS (MALDI-TOF)
Forty-nine common protein spots in the exosome samples corresponding to 41 different proteins
p120 catenin, radixin, and immunoglobulin superfamily member 8 were identified in exosomes for the first time; mitochondrial and lysosomal proteins were significantly reduced in exosomes, confirming the endosomal origin of exosomes
[26]
MNT-1, G1 and Mel501 (non-tumorigenic), Daju and SK-MEL-28 (tumorigenic), A375 and 1205Lu (metastatic) human melanoma cell lines
exosomes
ultracentrifugation (100,000×

g

) and separation in sucrose (0.25–2.5 M) density gradient
1D SDS-PAGE followed by nano LC-MS/MS
between 486 and 632 depending on the cell line (517 on average); 917 unique proteins in all samples
exosomes from aggressive cells contained specific proteins involved in cell motility, angiogenesis, and immune response that were less-abundant or absent in exosomes from less-aggressive cells
[28]
Mel501 human melanoma cell line cultured in standard or acidic (pH 6.0) conditions
exosomes
ultracentrifugation (130,000×

g

) and separation in iodixanol (OptiPrep) gradient
1D SDS-PAGE followed by RPLC-MS/MS
three replicates for exosomes from pH 6.0: 212, 211, and 217 proteins; control: 194, 239, and 130 proteins
lower pH 6.0 modified exosome protein profile, causing up-regulation of more than 50% of the proteins
[30]
B16-F1 melanoma cell line (established from C57BL/6 mouse)
exosomes, ectosomes, apoptotic bodies
centrifugation at 25,000×

g

to pellet ectosomes and apoptotic bodies; the remaining supernatant was then filtered (0.22 μm) and exosomes were pelleted at 100,000×

g

; exosomes and apoptotic bodies were further purified by discontinuous sucrose cushion or linear sucrose gradient, respectively
uHPLC-MS (nanospray source of a LTQ Orbitrap XL)
553 proteins common to all populations
procoagulant proteins were more abundant in ectosomes and apoptotic bodies than in exosomes, with tissue factor (and lipid-phosphatidylserine) critical for procoagulant activity
[24]
B16F10 mouse melanoma cell line
exosomes, ectosomes
10,000× g to pellet ectosomes; exosomes were then pelleted from the remaining supernatant at 110,000×

g

; sucrose density and Nycodenz gradients were also applied to further separate exosomes; independent isolation of exosomes was performed using size exclusion chromatography (SEC)
nanoLC-MS/MS
a total of 4421 proteins; 1540 proteins common to all populations, and 533, 354, and 110 proteins were identified exclusively in ectosomes and low- and high-density exosomes, respectively
bottom-loading (instead of top-loading) of exosomes on sucrose density and Nycodenz gradients resulted in separation of high- and low-density exosomes displaying distinct protein profiles
[29]
melanoma A375 and normal melanocytic HEMa-LP cell lines
exosomes
500 kDa cut-off ultrafiltration followed by ultracentrifugation at 100,000×

g

, Exoquick-TC precipitation
2D DIGE-LC-MS/MS
total number not provided, 114 protein spots detected
differential expression of annexin A1, annexin A2, syntenin-1, and hyaluronian and proteoglycan link protein 1 between melanocytes and melanoma exosomes
[27]
primary cell cultures established from 14 original tumor specimens of uveal melanoma patients
not isolated, entire secretome was analyzed
-
label-free nanoLC-MS/MS
total of 1843 proteins (758 with at least 3 unique peptides)
a subsets of 83 up-regulated and 80 down-regulated proteins in uveal melanoma secretome
[38]
sera of uveal melanoma patients and healthy controls
not isolated, entire secretome was analyzed
-
2D SDS-PAGE- LS-MS (CapLC system coupled to a Q-TOF spectrometer)
133 (on average)
cathepsin D and gp100 protein levels increased in sera of uveal melanoma patients
[25]

© 2019 by the authors. Licensee MDPI, Basel, Switzerland. This article is an open access article distributed under the terms and conditions of the Creative Commons Attribution (CC BY) license (http://creativecommons.org/licenses/by/4.0/).