P40 and P90 from Mpn142 are Targets of Multiple Processing Events on the Surface of
Mycoplasma pneumoniae
1
ithree institute, University of Technology Sydney, P.O. Box 123 Broadway, Ultimo, NSW 2007, Australia
2
Proteomics Core Facility, University of Technology Sydney, Cnr Harris and Thomas St, Ultimo, NSW 2007, Australia
*
Author to whom correspondence should be addressed.
Academic Editors: Michael Hecker and Katharina Riedel
Received: 20 September 2015 / Revised: 2 December 2015 / Accepted: 7 December 2015 / Published: 16 December 2015
Abstract
Mycoplasma pneumoniae
is a significant cause of community acquired pneumonia globally. Despite having a genome less than 1 Mb in size,
M. pneumoniae
presents a structurally sophisticated attachment organelle that (i) provides cell polarity, (ii) directs adherence to receptors presented on respiratory epithelium, and (iii) plays a major role in cell motility. The major adhesins, P1 (
Mpn141
) and P30 (
Mpn453
), are localised to the tip of the attachment organelle by the surface accessible cleavage fragments P90 and P40 derived from Mpn142. Two events play a defining role in the formation of P90 and P40; removal of a leader peptide at position 26 (
23
SLA↓NTY
28
) during secretion to the cell surface and cleavage at amino acid 455 (
452
GPL↓RAG
457
) generating P40 and P90. Liquid Chromatography Tandem Mass Spectrometry (LC-MS/MS) analysis of tryptic peptides generated by digesting size-fractionated cell lysates of
M. pneumoniae
identified 15 cleavage fragments of Mpn142 ranging in mass from 9–84 kDa. Further evidence for the existence of cleavage fragments of Mpn142 was generated by mapping tryptic peptides to proteins recovered from size fractionated eluents from affinity columns loaded with heparin, fibronectin, fetuin, actin, plasminogen and A549 surface proteins as bait. To define the sites of cleavage in Mpn142, neo-N-termini in cell lysates of
M. pneumoniae
were dimethyl-labelled and characterised by LC-MS/MS. Our data suggests that Mpn142 is cleaved to generate adhesins that are auxiliary to P1 and P30.
View Full-Text
►

▼

Figures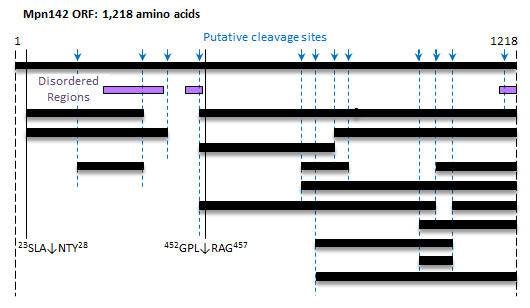 Graphical abstract
This is an open access article distributed under the
Creative Commons Attribution License
which permits unrestricted use, distribution, and reproduction in any medium, provided the original work is properly cited (CC BY 4.0).

Share & Cite This Article
MDPI and ACS Style
Widjaja, M.; Berry, I.J.; Pont, E.J.; Padula, M.P.; Djordjevic, S.P. P40 and P90 from Mpn142 are Targets of Multiple Processing Events on the Surface of Mycoplasma pneumoniae. Proteomes 2015, 3, 512-537.
Related Articles
Comments
[Return to top]