Open Access This article is
freely available
re-usable
Article
Visualizing the Greenhouse Effect: Restructuring Mental Models of Climate Change Through a Guided Online Simulation
Rossier School of Education, University of Southern California, Los Angeles, CA 90089-4036, USA
*
Author to whom correspondence should be addressed.
Received: 10 December 2018 / Accepted: 2 January 2019 / Published: 13 January 2019
Abstract
:
The purpose of this design based research study was to better understand and build from students' perceptual experiences of visual representations of the greenhouse effect. Twenty undergraduate students were interviewed as they engaged with an online visualization for the learning of the greenhouse effect. We found that, even though all students agreed that climate change is happening, a majority initially held a misconception about how it works. Upon engaging with the visualization, students made perceptual inferences and formulated causal rules that culminated in an improved description of how climate change works. This trajectory was supported with prompts from the interviewer to make predictions, observe specific interactions in the visualization and revise their causal inferences based on these observations. A case study is presented to illustrate a typical learning trajectory.
Keywords:
conceptual change; science education; climate change education; climate change; case study
Author Contributions
Conceptualization, G.M.S. and I.T.; methodology, I.T.; formal analysis, I.T.; investigation, I.T.; writing—original draft preparation, G.M.S. and I.T.; writing—review and editing, G.M.S. and I.T.; supervision, I.T.
Funding
This research received no external funding.
Acknowledgments
We thank Estela Bensimon, Christine Politte, Julie Posselt and members of the Motivated Change Research Lab for their helpful feedback on the conception, research design and on manuscript drafts.
Conflicts of Interest
The authors declare no conflict of interest.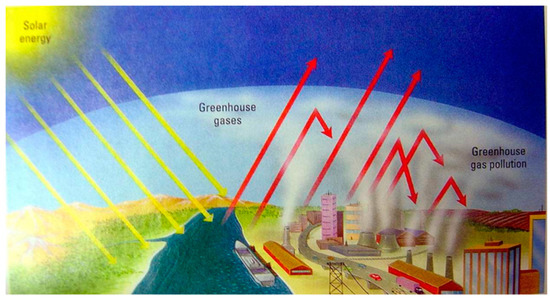 Figure 1.
Textbook graphic perpetuating a common misconception about the greenhouse effect: Greenhouse gas layer and pollutants as greenhouse gasses. The representation is misleading because it incorrectly depicts a single layer of visible smog as trapping infrared light rather than invisible greenhouse gasses that are uniformly distributed about the earth's atmosphere (Lapinski, Schoch, and Tweed 2003, as cited in Shepardson, Niyogi, Choi, and Charusombat, 2011) [
27
].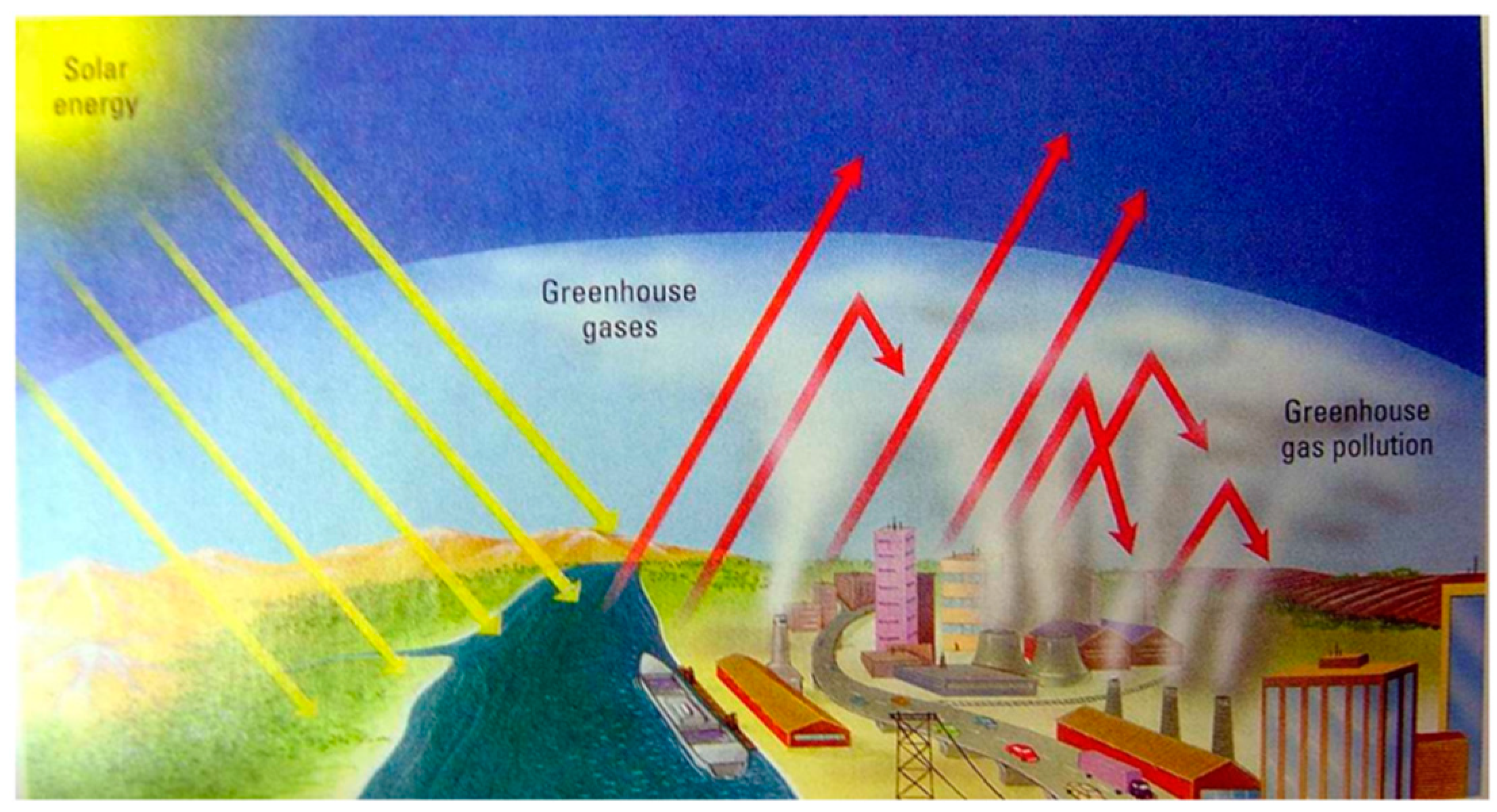 Figure 2. Screenshots from the Concord Consortium Simulation: Screen 1 of 4 "Sun on ground." (a) The "Sun on ground" screen before the play button has been clicked. (b) The "Sun on ground" screen after the play button has been clicked and the temperature has been given time to stabilize. When particles on the ground absorb sunlight they begin glowing, vibrating (increase in temperature) and then emit infrared light, losing their glow.


Table 1. Mechanisms referenced by participants to describe their model of climate change. 3.1. Subsection.
Pre-Intervention
% (N = 20)
Post-Intervention
% (N = 20)
Significance Test for Difference in Proportion
Chi-Squared (p)
Ozone Depletion or Ultraviolet Light *
45%
10%
6.0 (.014)
Visible Smog or Pollution *
30%
0%
6.9 (.009)
CO2
50%
75%
2.6 (.107)
Other Greenhouse Gasses
40%
70%
4.8 (.027)
Increases in Temperature
70%
80%
0.5 (.471)
Human Involvement
50%
25%
2.6 (.107)
Heat "Trapped" in Atmosphere
50%
80%
3.9 (.050)
Infrared Radiation
0%
100%
39 (<.001)
Sunlight is Transformed to Infrared
0%
85%
29 (<.001)
Note. * Denotes a common misconception.

© 2019 by the authors. Licensee MDPI, Basel, Switzerland. This article is an open access article distributed under the terms and conditions of the Creative Commons Attribution (CC BY) license (http://creativecommons.org/licenses/by/4.0/).